14 Programs To Help Single Mothers In Houston
---
In this resource guide, I will share 7 programs that can potentially provide help for single moms (or dads) in Houston.
Being a single parent is hard. In fact, it's often one of the most difficult situations in life. It can be tough to balance work and kids, all while trying to make enough money to take care of your family.
If you are having trouble making ends meet and caring for your children, this guide will help you to better understand which Houston programs are available to single moms or dads.
1.) WIC
WIC stands for Women, Infants, and Children. This food assistance program in Houston helps single moms by offering the following services:
A monthly supply of formula for your baby.

Funds each month to buy foods like milk, cereal, bread, eggs, fruits, vegetables, and more.

Breastfeeding support and equipment.

Nutrition education to ensure you and your baby are eating the right foods.
If you are a single dad that needs help in Houston, contrary to what you believe but fathers can also get WIC for their children.
To apply for this program, you will need to find the Houston WIC office nearest you. You can use our guide called How To Apply For WIC In Houston to find an office and learn more about this Houston program for single moms or dads.
2.) Medicaid
Medicaid is a state-sponsored health insurance plan for low-income families in Houston. If you are a single mother needing help, your child may qualify for Medicaid which will make affording doctor's visits, medications, and healthcare, in general, a lot more accessible.
To apply for this health insurance coverage you will need to visit a Medicaid office in Houston. These are also known as Texas Health and Humans Services offices. You can find the Medicaid office nearest you and learn more about this program that helps single mothers in Houston by reading our guide titled How To Apply For Medicaid In Houston.
3.) TANF
TANF also known as Temporary Assistance for Needy Families is managed by Texas Health and Human Services Department.
Editor's Note: If you have ever heard the term "welfare" that's what this program is. TANF is the official name for welfare.
This government assistance program can help single mothers in Houston by providing monthly cash payments. These payments can go toward basic needs like food, rent, utilities, and more.
If you are a single mother or father that wants to apply for welfare in Houston, you will need to find a Texas Health and Human Services office. You can locate the closest welfare office by reading our guide title How To Apply For TANF In Houston.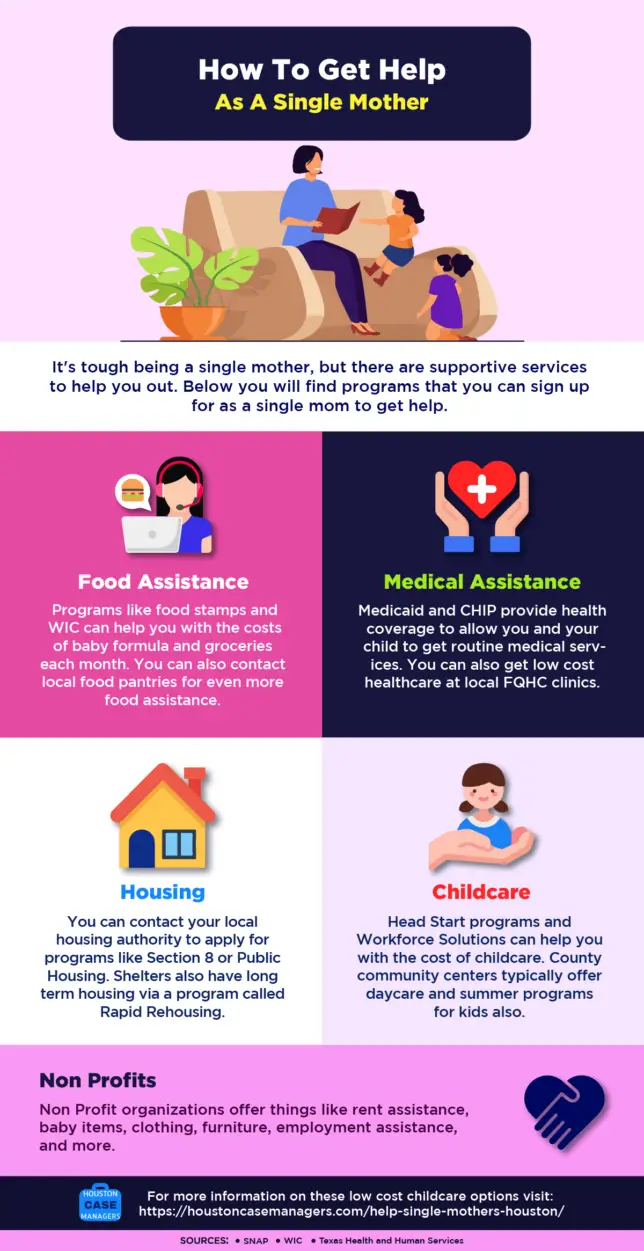 4.) Food Stamps
Another program that helps single mothers or fathers is the SNAP program. This is also known as food stamps.
If you are approved for food stamps in Houston, you will receive a monthly recurring amount of money that can be used to pay for groceries to feed you and your children.
The amount that you receive will depend on your monthly income and family size. The lower your income and larger your family or household size, the more money you will get in SNAP benefits.
To apply for SNAP benefits you will need to find a Houston food stamp office. The Texas Health and Human Services Department manages the food stamps program and Medicaid, so apply for both if you visit an office.
You can find a food stamp office in Houston and learn more about the requirements for this food program that helps single mothers in our guide titled How To Apply For Food Stamps In Houston.
5.) Houston Food Bank
Another way that single mothers can get food for the household is by visiting food banks.
A food bank or food pantry is a program that offers free food to families who need extra food. This may include bread, eggs, potatoes, fruit, vegetables, and canned goods.
There are a number of different food pantries in Houston, but you can find those closest to you by contacting the Houston Food Bank. They have a solid understanding of the food banks that operate in each part of the city.
To find the Houston food pantries that are closest to you, visit the Houston Food Bank website or call them at 832.369.9390 to get assistance.
6.) Single Mothers Housing Options 
Section 8 and Public Housing are housing programs that can potentially offer affordable housing for single mothers in Houston.
While both are housing programs, they differ in the options you have regarding housing. Section 8 offers you more options, but the waitlist is much longer. Public housing in Houston is more restrictive, but you can receive this benefit long before that of Section 8.
Section 8
Section 8 (or Housing Choice Voucher Program) provides vouchers to Houston single mothers who qualify. You can then use this voucher to pay for a portion of the rent each month with any landlord who accepts Section 8. This could be a landlord with a single-family home or an apartment complex or a condo.
Most people prefer Section 8 over public housing, but as aforementioned it's a lot harder to get a Section 8 voucher due to the long waitlists.
Public Housing
This is another housing option for single parents in Houston. If you are approved for public housing you will likely live at an apartment complex that is managed by the local housing authority. If you are familiar with the Cuney Homes Apartments in 3rd Ward, this is an example of a public housing apartment.
Editor's Note: The wait for Houston housing programs is generally 3 -4 years. Possibly longer due to the COVID 19 pandemic. If you want government housing, your best bet is to apply for housing in a less populated city or county. You may not know this, but you can apply for housing anywhere in the US. This includes any state, city, or town. Choose an area with a smaller population than Houston and you will get a housing voucher faster. Read our guide title Why You Should Apply For Housing Outside Of Houston to learn the fastest way to get government housing.
To apply for housing programs like Section 8 or Public Housing, you will need to contact your local housing authority. They manage both of these programs. If you live in the Houston area, you can contact Houston Housing Authority or Harris County Housing Authority for information on these programs.
Our guide titled 16 Affordable Housing Options In Houston can also help you find low-cost places to live if you are a single mother, so check it out as well.
7.) Rent And Utility Assistance Programs In Houston
There are many non-profits that help single mothers with financial needs like paying their rent, utilities, or providing basic needs.
Single mothers that need help paying rent or the light bill can contact the Houston non-profit that services their zip code to see if financial assistance funds are available. You can learn which Houston rental assistance agency helps your area by using the table below. Simply type in your zip code and you will see the non-profits that may be able to help.
In addition to getting help paying your rent or light bill, these organizations can help you with basic needs like:
Food

Clothing

Medications

School Supplies

Christmas Programs for Children

More
The following two blog entries may potentially assist you in locating Houston non-profits that can assist you to pay past due bills:
8.) Free Diapers In Houston
For single dads or moms with a small child, you likely need help with diapers. There are a few different diaper assistance programs in Houston that can help you if changing your little ones' diapers is becoming expensive! You can find these programs in our guide called Where To Find Free Diaper Banks In Houston.
9.) Free Formula In Houston
The best place to go for free formula for your baby is WIC. That being said, if you run out of formula you can use our guide titled How To Find Free Formula Programs In Houston to supplement your WIC supply.
10.) Head Start Programs (Low-Cost Child Care In Houston)
If you are a single mother who has a low income, consider applying for a Houston Head Start program as a way to pay for child care. These programs provide you with subsidies to give you access to affordable childcare in Houston.
A Head Start program is a federally funded program in the United States. They offer low-cost child care for single mothers who qualify. In order to qualify for a Head Start program, you must have a low income and have children no older than 5 years old.
The early head start program provides low-cost childcare in Houston for children 0 to 3 years old. The regular head start program provides childcare services to kids 3 to 5 years old.
To apply for a head start in Houston, you will need to find the individual head start programs to ask about availability. We wrote a guide titled How To Apply For Head Start Program In Houston that helps you to find head start programs in your neighborhood.
11.) Workforce Childcare Program
Texas Workforce Solutions provides working parents with assistance paying for childcare. To qualify for help paying for a babysitter, you will need to meet income guidelines and either be working or going to a school/training program.
If you're looking for childcare assistance in Houston, read our article about how the Workforce Childcare Program works to better understand the process.
12.) How To Get A Job As A Single Mom
Being a single parent sometimes leaves most (if not all) of the child-caring responsibilities on you. If you do have time in your schedule to work a part or full-time job, these are ways that you can find a job as a single mom in Houston.
Check With Staffing Agencies
Staffing agencies are great resources for single moms. They not only help you to find a job, but they do most of the legwork.
Since your time is limited as a single parent, it's great that staffing agencies can save you time by editing your resume, scouting employment opportunities, and then connecting you to those businesses that are hiring.
If you are short on time, due to your responsibilities as a single parent definitely contact a staffing agency to get help finding a job. Our guide titled Houston Staffing Agencies: A Motivated Job Seekers Guide To Finding Employment Fast can help you to connect with over 110+ local staffing agencies. The guide is separated by industry (admin, hospitality, industrial, etc), so no matter what your skills or interest are you can find a job to fit your schedule.
UpShift
This website connects you with employers who need a part to full-time work.
One of the more interesting things about this online employment website is it allows you to choose your own hours. As a single mom, you may not have a structured schedule, so UpWork gives you the ability to choose whether you want to work evenings, nights, or just weekends.
Some of the jobs that UpShift can connect you to include:
Admin jobs

Customer Service

Data entry

Housekeepers

Bartenders

Warehouse workers
To find a job that fits with your family schedule, visit UpShift to sign up for an account.
Remote Jobs
Work from home jobs offers a way for you to stay home with your children while also earning income to buy groceries and other basic needs. With many of these jobs if you have a computer/laptop, cell phone, internet connection, and the ability to communicate on a professional level you have everything that is needed to land one of these jobs.
You can find 3 great websites to search for work-from-home jobs here.
Indeed
Indeed is the largest job search board on the internet and a good place for a single mom or dad to find employment.
Houston Healthcare Jobs Board
If you are interested in working in healthcare, we have our own job board that we update with positions like:
Medical assistant

Dental assistant

Nursing jobs

Social worker positions

Mid management health care jobs

And more…
You can find these jobs on our job board called Houston Healthcare Jobs.
13.) Free Career Training In Houston
If you aren't quite ready to jump into the workforce due to a lack of experience or skills, career training can help you.
There are a number of different types of free career training in Houston. Options like SER Houston, to WorkFaith Connection, or Volunteers of America, can help you to gain the skills needed to find a rewarding career.
You can learn more about these Houston career training and more in our guide that covers training programs in the area.
14.) Free Legal Aid In Houston
There are many pro bono attorneys and legal assistance offices that can help single parents with legal issues. This can be anything from filing for divorce to getting child custody or visitation rights.
Our guide titled How To Find Free Legal Assistance In Houston can help you to better understand who can help you.
Conclusion
If you are a single parent in Houston, there is help out there for you through various programs.
Whether it's finding work, career training, housing, food, or legal aid programs. You simply need to know where to look!
Similar Articles That May Interest You:
Nick Bryant is the author of Understanding Healthcare Is Half The Battle and a Senior Counselor with 13+ years of experience working in community health and mental health. He enjoys spending time with his family, watching WWE on Friday nights, and working toward a Google Data Analytics certification. If you have additional questions about community resources or government assistance programs, simply leave a comment below and he will follow up as soon as possible.