How To Apply For A Charter School In Houston In Less Than 10 Minutes
---
As a parent you already have lots to do.
Cook, clean, get kids to practice, watch the Office reruns. Your time is limited is what I'm trying to say.
If your schedule is similar to this, the idea of spending even more precious time enrolling your child into a charter school probably seems like a drag.
What if I told you there was a way to apply for MULTIPLE Houston charter schools in less than 10 minutes. Would you be interested? 
If this does interest you, you're in luck because this guide will show you how to use a website called Apply Houston to apply to multiple Houston charter schools.
Before getting into the enrollment process, lets take a step back and first talk about what a charter school is as well as list some of the local charter schools.
What Is Apply Houston? 
Apply Houston is a website that simplifies the process of enrolling your child into a charter school.
Apply Houston is partnered with 7 different local charter schools. The website allows you to submit applications to as may of these charter schools as you like.
Best of all is this online process only takes 10 minutes.
What Is A Charter School? 
A charter school is an independently-operated public school.
Unlike public schools, charter schools have the freedom to customize their curriculums to the needs of the student, community or a growing job market. STEM  or Science, Technology, Engineering, Math studies are very popular within charter schools.
These schools are open to the public, however in many cases you must apply and be selected via a lottery selection.
Next I will list some of the charter schools in the area that are available to you and your child.
List of Houston Charter Schools
This is a list of Houston charter schools that have partnered with Apply Houston. When you apply online you will be matched to one of the following:
You can follow the links above to learn more about each of these Houston charter schools.
How To Apply For A Charter School In Houston via Apply Houston
I tested out the Apply Houston application and the process is so simple I finished the application in less than 10 minutes.  Here is the 3 step process to applying for a Houston charter school.
1. Provide Your Demographic Information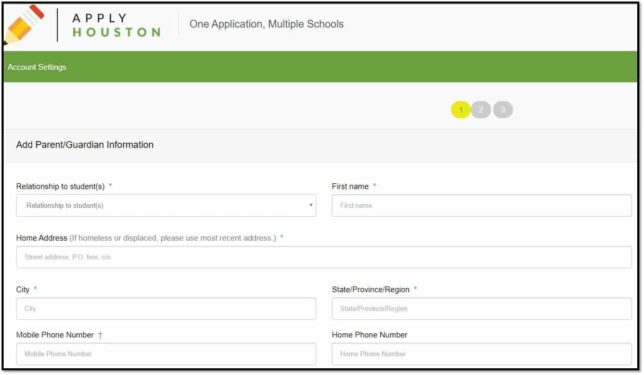 The first step is to visit ApplyHouston.org and enter demographic information for you (the parent) and your child. You can complete this section in less than 3 minutes.
2. Select A Houston Charter School
In this step you will need to select a charter school (s) that you would like your child to be considered for.
Apply Houston provides you with a map to see each charter school within your area. While using this feature be sure to pay attention to Grades column to ensure there is a correct grade level for your child.
Again you an select as many schools as you like.
This step will take you less than 2 minutes.
3. Complete The Charter School Application
In the final step you will need to answer questions for both the school your child is applying to and for Apply Houston. This section will take less than 5 minutes.
Much of the demographic information will already be autofilled in the "Basic Information" section.
In the following section you'll answer additional questions from the school you applied to whether it's KIPP, Yes Prep, or some other charter school.
Lastly, you will answer additional questions for Apply Houston. After this last section is complete you will review your information and then submit your application.
Conclusion
Many Houston charter schools have a waitlist and other things that make the enrollment process complicated however, Apply Houston attempts to simply this process.
Whether you are new to Houston or just considering alternatives to traditional public schools this could be your answer.
To apply for a Houston charter school simply follow the link below:
Find a charter school with Apply Houston 
Nick Bryant is the author of Understanding Healthcare Is Half The Battle and a Senior Counselor with 13+ years of experience working in community health and mental health. He enjoys spending time with his family, watching WWE on Friday nights, and working toward a Google Data Analytics certification. If you have additional questions about community resources or government assistance programs, simply leave a comment below and he will follow up as soon as possible.