Are You Ok Program: Harris County Precinct 3 Welfare Checks For Seniors
---
The Are You OK Program (or RUOK Program) is a free county program where volunteers, county workers and deputies contact senior citizens to ensure they are doing ok.
Harris County Precinct 3 offers this service in addition to other services for the senior community. The goal of the Are You Ok Program is to empower older adults, promote safety, and build resilience among them by providing access to resources and responses that address their needs.
This article will go into more detail about what the Harris County Precinct 3 Senior Are You Ok Program does, how it helps people, and why we think it's important!
What Is The Are You Ok Program? (RUOK Program Harris County)
This free program contacts seniors living in Harris County's Precinct 3 to ensure they are in fact doing ok.
As aforementioned, senior citizens are contacted by volunteers, county workers, and sometimes Precinct 3 deputies will show up (if you invited them to your home) to provide a face to face welfare check.
Where Is Harris County Precinct 3?
Precinct 3 is in the east and north east part of Harris County. Areas that fall within Harris County Precinct 3 include:
McNair

Baytown

Highlands

Barret Station

Channelview

Crosby

Sheldon

Summerwood

Parts of NE Houston
How The Are RUOK Program Works
You contact Harris County Precinct 3 and sign up to receive either schedule calls or personal visits from Harris County deputies to your home.
The Harris County caller will ask "Are you ok"? If you are doing well, they may engage you in some small talk and then end the call. If you are not ok, then you can tell the Harris County deputy about your current needs and they will work on helping you or getting you referred to an organization that can help you.
RUOK participants who do not answer, may have a friendly county deputy dispatch to your home for a welfare check just to be certain you are ok.
Benefits Of The Harris County RUOK Program
Participates can benefit from weekly welfare checks in a number of ways like:
Establishing a good relationship with the county deputies.

Harris County can inform family members living out of town that their loved one here is doing well, giving the family member peace of mind.

Seniors can talk to volunteers or Precinct 3 deputies about scams they've noticed in the community.

Precinct 3 can potentially refer you to Houston community resources to better assist you.
How To Apply For The RUOK Program (Harris County)
To apply for the program you will need to either:
Visit the Harris County RUOK webpage to complete an online form

Contact Harris County Precinct 3 at

713.274.2500

.
Conclusion
Whether you are a senior citizen in east Harris County or have an older relative in this area, the RUOK Program is there to help those in the community feel more safe.
To apply for the program simply visit the Harris County Precinct 3 website or call them at 713.274.2500.
Similar Articles That May Be Of Interest To You: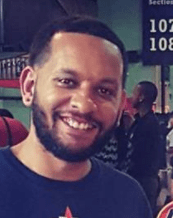 Nick Bryant is a Counselor with 11 years of experience working in community health. He enjoys concerts, walks with the doggo and wife, mocking Dallas Cowboy fans, and sharing community resources. Jump on the Houston Case Managers email list to receive weekly community resource guides delivered directly to your inbox.