Mark Cuban's Cost Plus Website: How It Can Help You Save Money on Prescription Drugs
---
In this community resource guide, you will learn about Mark Cuban's discount pharmacy website called Cost Plus Drug Company.
If you ever feel like you're paying too much for prescription drugs, you're not alone. In fact, the average American spends more on healthcare than they do on food. But there is hope! Mark Cuban has created a new pharmacy website that can help you save money on your prescriptions.
Cost Plus Drug Company offers transparent pricing and reduced costs on medications. If you are uninsured, underinsured, recently lost your job, a senior on a fixed income, or homeless continue reading to see how you can get deep discounts on prescriptions that you take on a daily basis.
What Is Cost Plus Drug Company (Mark Cuban's Pharmacy Website)
Cost Plus is a website that was started by Mark Cuban. The website provides a way for people to buy prescription medications at a lower cost. Cost Plus works with pharmacies to negotiate lower prices for medications. The website also offers coupons and discounts on medications.
Who Should Use Cost Plus For Discount Prescriptions?
You should use Cost Plus for discount prescriptions if you cannot afford your medications.
Individuals who are uninsured or underinsured can also benefit from the savings.

Homeless individuals often have difficulty accessing affordable medications, but Cost Plus can help.

Patients with high deductible plans can also benefit from the savings.
Essentially anyone who has run out of options and needs help paying for medications can use Cost Plus. If you need assistance affording your medications, look no further than Cost Plus.
What Prescriptions Are Available On Mark Cuban's Website?
Mark Cuban's Cost Plus Drug Company offers prescriptions at a reduced cost. The website works with pharmacies to negotiate prices and also offers coupons and discounts.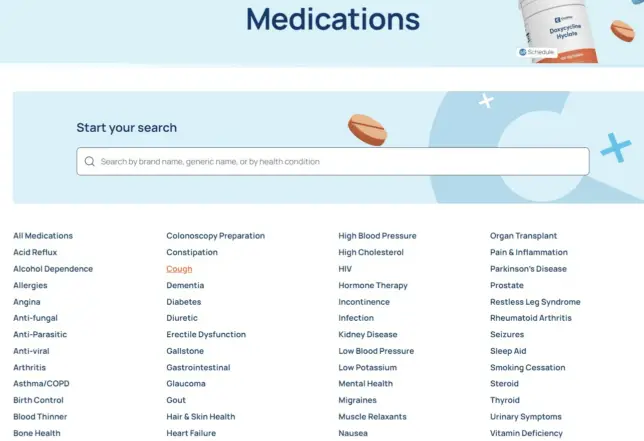 Here are just a few of the discounted medications that this online pharmacy offers:
Lisinopril

Mesalamine

Albendazole

Imatinib

Benozonate
You can search for medications by name or by condition (cough, allergies, Sleep aid, etc).
How To Get Discounted Prescriptions From The Cost Plus Website
To get medications from Mark Cuban's pharmacy website you will need to:
Visit Cost Plus

Search for your medication by name or medical condition.

Create an account once you find your medication.

Contact your doctor to have them write a prescription and send it to Cost Plus for you.

Look for an email alert after your doctor has submitted your prescription.

Pay for your prescription.

Pick up your medications from your doorstep.
Here are step-by-step directions on using Mark Cuban's pharmacy website to get low-cost medications.
1.) Visit The Cost Plus Website
First, you'll need to visit the Cost Plus Drug Company website.
2.) Search For Your Medication
You can search for your medication by name or the medication. For instance, if you take a cancer medicine, you can type "cancer" to see all the medications that Cost Plus offers at a discount. Below is a screenshot of some of the discounted cancer medications that is offers.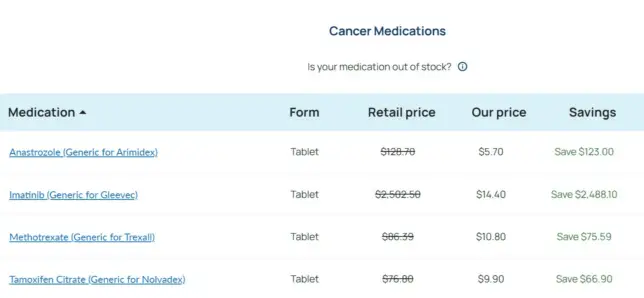 3.) Create An Account
Once you find the medication you need, you'll need to create an account. Sign-up takes less than 5 minutes. Doing this will allow you to request medications, order your medications, and receive them delivered directly to your doorstep.
4.) Contact Your Doctor To Get A Prescription
After finding your medication and creating your account, you will need to contact your doctor regarding a prescription. Once your doctor provides you with a prescription, you will be able to buy the medication on the Cost Plus website.
There are two options for getting a prescription from your doctor.
Have your doctor write a new prescription and include your name, email address, date of birth, the name of your medications, and Cost Plus pharmacy information like the ID number and telephone. You can find the pharmacy information here.
Download and provide your doctor with a Prescription Cover Letter. All of the instructions will be on this prescription. Below is an example of the prescriber cover letter.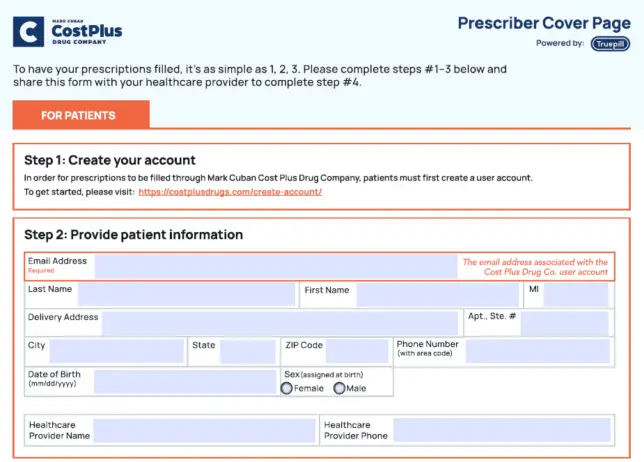 Some pharmacies will coordinate these services for you, but Cuban's website does not. They do this to help keep the costs of medications low.
5.) Look For An Email Alert From Cost Plus
Once you have completed all of the steps above, Cost Plus will send an email alert with your prescription is ready for purchase.
6.) Pay For Your Prescription
Open the email and pay for your discounted medication prescriptions. Cuban's discount prescription site will show you the full price that you will pay for your prescription so that you are fully aware of the cost.
7.) Pick Up Your Medications From Your Door Step
Last, you pick up your prescriptions from your doorstep. This discounted pharmacy website delivers your medications directly to your doorstep so you do not have to drive to a pharmacy to get your script.
Cost Plus Does Not Advertise (Which Keeps Costs Down)
To provide you with the best possible prices on your medications, Mark Cuban's pharmacy website does not advertise. This is the reason you probably did not know that Mark Cuban had a pharmacy website.
There are no expensive commercials because the website relies on word-of-mouth to spread the news about its services.
Conclusion
Cost Plus is a website that is owned by Mark Cuban that offers discounts on prescription medications. The website is easy to use and can help you save money on your prescriptions.
If you are looking for an easy way to get your medications at a discounted price, then Cost Plus is a great option for you. All you need is a computer/phone and an internet connection and you're good to go.
Similar Articles That May Interest You:
Nick Bryant is the author of Understanding Healthcare Is Half The Battle and a Senior Counselor with 13+ years of experience working in community health and mental health. He enjoys spending time with his family, watching WWE on Friday nights, and working toward a Google Data Analytics certification. If you have additional questions about community resources or government assistance programs, simply leave a comment below and he will follow up as soon as possible.