Screen Share App: How To Share Your Phone Screen With Clients
---
In this resource guide, I will show you how to share your cell phone screen with others. 
There are several easy-to-use tools out there that will allow you to share your screen with clients, coworkers, or family members. This feature can be helpful if you work with individuals who are not comfortable with technology because you can share the content on your cell phone so that they can see your every movement! 
I'm Nick Bryant, founder of HoustonCaseManagers.com, where we help medical professionals and clients connect to community resources with the help of assistive devices like the one you will learn about in this guide. 
Today I will tell you about a tool that I often use called Screen Share. This tool can be used to visually guide seniors through the enrollment process of a website if they are not necessarily tech-savvy. 
What Is the Screen Share – Remote Assistance app? 
Screen Share – Remote Assistance is a free app that allows you to share your cell phone screen with someone else. In addition, you can give another person permission to share their screen with you if they are having problems navigating a website.
Only Works With Android Phones
One thing to note is that this screen share tool only works with Android phones. If you have an iPhone you will have to find another way to share your screen.
Scenarios In Which You Would Use This Tool
Working in community health, you encounter lots of clients who are not comfortable with technology. This includes seniors, individuals with disabilities, those who speak English as a second language, friends, family, or even remote coworkers.
You can use this assistive device to help each of those individuals navigate the internet if you cannot physically meet with them.
Here are situations that you might use Screen Share: 
You are working with a senior who needs help completing an online application for a benefits program. In this situation, you can have them share their screen with you and you walk them through the steps they need to take. 

A client lost their email password and now they need help to retrieve it or possibly setting up a new email account. 

A coworker needs help navigating a new community resource, so you share your screen with them. I was able to remotely show one coworker how to start the process of an APS report with Screen Share. 

You are an insurance agent and need to go over different Medicare health care plans with your client. 

Your parent needs help logging into the Netflix account.
As you can see the scenarios are endless. Any situation where you need to help someone navigate a website, but you aren't physically with the person is a situation to use Screen Share. 
How To Use The Screen Share App
In the section below I will show you how to use this remote screen share app. The first step starts with downloading the app. 
In addition to you downloading the app, the individual that you will be sharing your screen with will also need to visit the Google Play store and download the Screen Share app.  
Download The Screen Share – Remote Assistance App
Go to your Google Play app and search for: Screen Share – Remote Assistance. You can also follow this link to download the Screen Share app.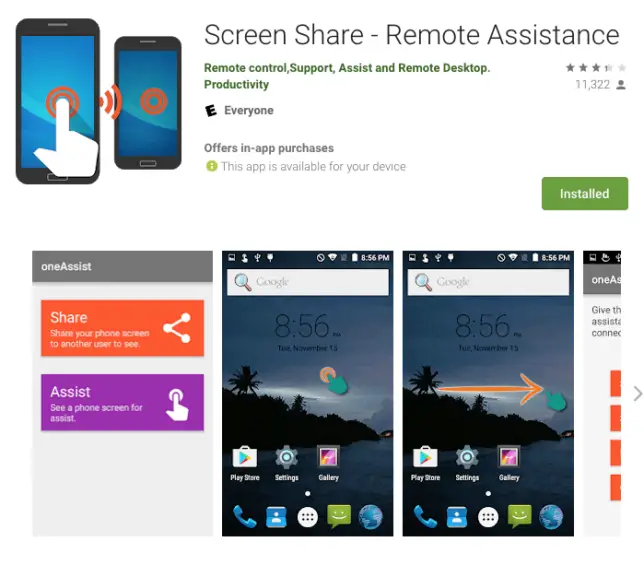 Once you find the app you will want to click "install". 
Editor's note: I have already installed the app on my phone, which is why the picture above says "installed", instead of "install".
Search For The Remote Assistance Icon On Your Phone
Next, you will need to open the Screen Share app. Look for the icon that says "Remote Assistance" and click it.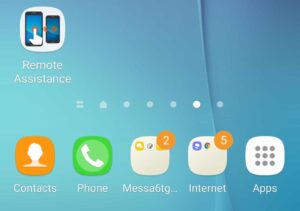 What The Screen Share Home Screen Looks Like
When you open the Screen Share app, your screen will look like this: 
Here is a quick summary of what you are looking at: 
Code – In this section you can enter the code of the other person's Screen Share account. To find your Screen Share code, simply look next to "Local Code". To share your screen with someone else, enter their code and click "call".

Model – This is the model of your phone and the Android operating system that you are using. Don't judge me for my old phone. : ) 

Local Code – This is where you can find your own Screen Share account code. 

Share Button – If the individual that you are sharing your screen with has not downloaded the "Screen Share" app, you can share a download link. The text message below is how the download link will look.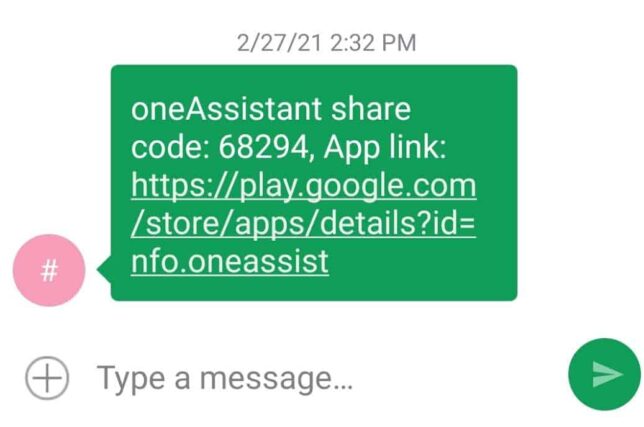 How To Share Your Screen With Someone Else 
To share your screen with someone else enter their "code" and click "call".  You will see a screen that asks if the app can start capturing your screen, just click "start now".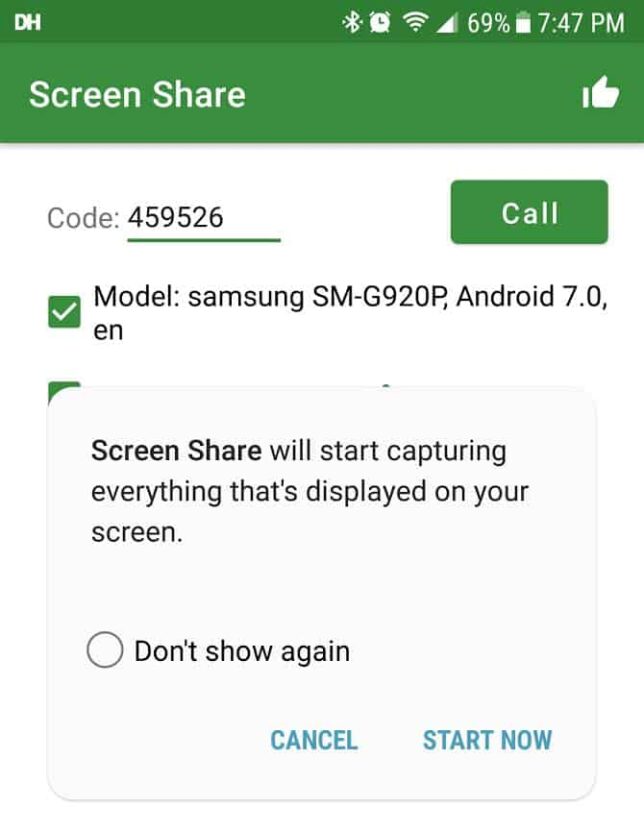 While you are waiting for the other person to accept your screen share, you will see this.
How To Accept A Screen Share Request From Someone Else 
When you invite someone to see your screen, they simply need to click "accept" when they see this screen.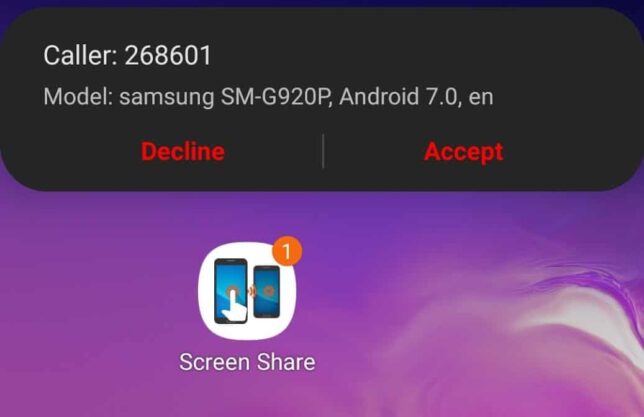 Once they click the accept button, your screen will be shared with them.
How To Turn Off Your Camera Once Your Screen Is Shared
Once the other person accepts your screen share request, your phone camera will turn on. To turn off your camera simply hit your Android phone's home button to return to your home screen and then you can begin sharing your screen.
Conclusion
While this screen share app is far from perfect and there may be better paid alternatives, it has worked fine for me in the past. 
If you have a client or coworker who is having trouble navigating a website or starting an application this the Screen Share – Remote Assistance app can help you if you and the other user have Android phones.
Nick Bryant is the author of Understanding Healthcare Is Half The Battle and a Senior Counselor with 13+ years of experience working in community health and mental health. He enjoys spending time with his family, watching WWE on Friday nights, and working toward a Google Data Analytics certification. If you have additional questions about community resources or government assistance programs, simply leave a comment below and he will follow up as soon as possible.