Are you or someone you know struggling to find affordable housing in Houston?
Maybe you're a veteran, someone with special needs, an elderly person living on a fixed income, or even an ex-offender looking for a fresh start.
It doesn't matter where you've been, what matters is where you're going, and I have some good news for you! Let me introduce you to Veteran Home Solutions, a reliable Communal Homes that offers a caring, compassionate environment for Houstonians just like you.
Eligibility for Housing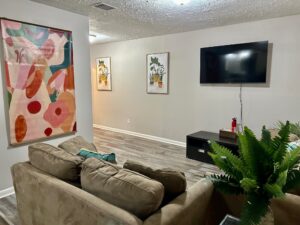 At Veteran Home Solutions, they take a holistic approach to eligibility. Forget about rigid checklists and restrictive requirements. What really matters to them is your story, your journey, and how they can be a part of your future. It's a place that believes in second chances. Here's who they provide housing for:
Low-income individuals

Veterans

Seniors (ADL and without disabilities)

Individuals with unfavorable backgrounds (on a case-by-case basis)

Ex-offenders

Aged-out foster children (ages 18-24)

Individuals with mild special needs
Amenities Offered
But it's not just about a roof over your head. Veteran Home Solutions offers a comfortable, welcoming environment that's fully furnished, and guess what, all utilities are paid! Here's what you can expect:
All Utilities Paid

Home Phone & Wifi

Fully Furnished Rooms

Drug & Alcohol-Free

Private & Shared Rooms

Washer & Dryer

Security System

No Credit Checks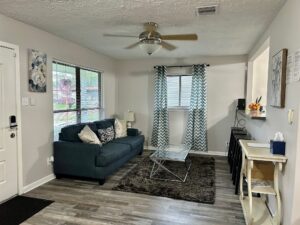 Who Should Apply for This Houston Co-Living Home?
If you're a Houstonian looking for a fresh start, Veteran Home Solutions is the place for you. No matter your past or your circumstances, they are ready to welcome you.
Have you been released from prison? No worries, they've got you covered. They are committed to providing you with a nurturing living environment as you work towards becoming a model citizen.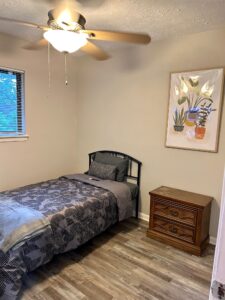 Are you a senior living on a fixed income? Look no further. They have properties designed specifically for seniors like you. In addition, they also work with 3rd party organizations that offer home caregiver services to you. 
Or perhaps, you are one of our brave veterans who is experiencing a difficult time due to a low income. You're in the right place. They understand your challenges and are here to provide you with the comfort and stability you deserve.
How To Apply For Veteran Home Solutions
Feeling like this is the right place for you? That's awesome! The application process is straightforward.
Most of their residents come through shared referral sources like doctors, nurses, social workers, and community organizations. If you have a case worker, they are more than welcome to visit the home and meet with you there.
To start the application process, you can:
Conclusion
As you continue your journey toward stability and prosperity, know that you're not alone. There are caring organizations like Veteran Home Solutions that are eager to support you.
Remember, no matter your background or circumstances, Veteran Home Solutions is here to provide you with a safe, comfortable, and affordable home in Houston. It's more than just a room and board, it's a place where you can start afresh, build connections, and grow. So, why wait? Reach out to them today, and let your new journey begin!
Nick Bryant is the author of Understanding Healthcare Is Half The Battle and a Senior Counselor with 13+ years of experience working in community health and mental health. He enjoys spending time with his family, watching WWE on Friday nights, and working toward a Google Data Analytics certification. If you have additional questions about community resources or government assistance programs, simply leave a comment below and he will follow up as soon as possible.