How To Find Christmas Assistance Programs To Receive Free Holiday Gifts
---
Do you need help this year providing your children with gifts? If so a Christmas assistance program may be able to help you.
Christmas is a time for friends, family, and fellowship. But Christmas can also be an especially difficult time for those who are struggling to make ends meet.
No one should have to go without Christmas gifts because they don't know where to turn. Fortunately, there are Christmas assistance programs that provide free Christmas gifts to low-income families during the holiday season.
This article will review some of the best Christmas assistance programs in America so you can find help this Christmas!
What Is Are Christmas Assistance Programs?
A Christmas assistance program offers free Christmas gifts to low-income families during the Christmas season. Christmas assistance programs provide Christmas presents such as free toys, Christmas dinner, a Christmas tree, and more to families in need during Christmas time.
Community organizations like nonprofits, social service agencies, and even your local church are places that may offer a holiday assistance program. 
Who Qualifies For Holiday Assistance Programs?
Each nonprofit will have different requirements for its Christmas program. That being said in general your family's household income will need to be below certain thresholds. In addition, these are other requirements to Christmas help from these organizations:
Applicants can't be enrolled in any other type of Christmas assistance programs such as Angel Tree, the local Salvation Army, or other non-profit organizations' initiatives.

Individuals must show their own photo identification and documentation of their total household income (most recent check stubs).

All family members must have their Social Security cards. Additionally, proof of residency (utility/phone bill) is necessary.
You must meet income requirements to receive free Christmas gifts. Many times this means falling under around 150% of the Federal Poverty Level.
Where Can You Get Free Christmas Presents? (Christmas Assistance Programs)
The easiest way to find free holiday gifts and Christmas assistance programs near you is by calling 211.
This is a 24-hour helpline that is managed by the United Way. No matter whether you are in Texas, New York City, or Cinincinatti, if you dial 211 on your mobile phone, you will be connected to local operators who can help you find Christmas assistance programs near you.
These operators will likely provide you with a listing of local non-profits that help out families who are interested in programs that offer free toys for kids during Christmas, free Christmas meals, free Christmas trees, and more.
We will discuss specific Christmas assistance programs in the next paragraph, but to find those programs near you, simply call 211 United Way.
How To Find The 211 Chapter Near You
To find the 211 chapter in your area you can either call 211 or visit the 211 website. Once you are on the website, type your zip code, city or address, into the search bar and you will be directed to the United Way that services your area. 
Specific Places To Get Free Christmas Gifts
In this section, you will find a list of organizations that offer Christmas assistance programs near you. Most of these nonprofits have chapters in every city, so they should be available to you.
If these organizations are not in your area, then simply call 211 United Way to find holiday assistance programs in your area.
Angel Tree: Free Toys For Children During Christmas
This is a Christmas program that gives Christmas gifts to families in need. The Angel Tree program is managed by the Salvation Army.
The way this holiday program works is trees are set up with tags that have children's names and the Christmas gift that they want. People can then pick out a tag and buy the gift for that specific child or family.
If you would like to sign your child up for the Angel Tree program, you will need to find your local Salvation Army. To do this simply visit the Salvation Army's Angel Tree assistance page and enter your zip code to find your local Salvation Army chapter.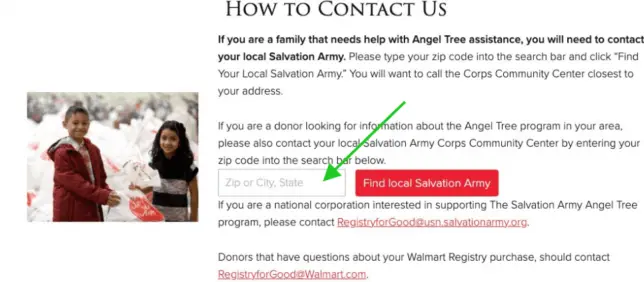 Salvation Army Christmas Assistance Programs
If you are uncertain where to look for holiday assistance programs in your city, the first place you should look is to the Salvation Army in your area. Again this is the organization that manages the Angel Tree program.
These non-profits are located in most states, cities, and towns. If there is no Salvation Army in your area, they can also help you find nonprofits that offer free Christmas gifts, so consider calling them for help during Christmas.
How To Apply For Operation Santa
Operation Santa is a Christmas program that is managed by the United States Postal Service and helps children to get the items on their wish list.
To participate in this program you will need to:
Write a letter with pens and paper detailing the toys, free clothing, or Christmas gifts your child would like.

Mail your letter to the "North Pole". You can find the complete address here on the USPS website.
You will need to have your letter postmarked before December 10th, to give yourself the best chance of receiving a free gift from Operation Santa.
For more information, visit the USPS Operation Santa webpage.
How Can You Apply For Help From Toys For Tots
The Marine Toys for Tots Foundation is a charitable organization that collects and gives away unwrapped toys to children who are less fortunate.
The Toys for Tots program provides Christmas gifts to children who are in need. You can apply for help from Toys for Tots by completing an application form.
To request a free Christmas toy for your child, you can visit the Toys For Tots "apply for toys" webpage.
If you have questions about the Toys for Tots program, it's best to contact the chapter in your city. Each chapter will have different rules regarding their specific program, so contact the chapter near you. You can use the following link to find the Toys for Tots local chapter. From there, choose your state and county and you will see your local chapter.

Contact Your Local Church For Free Christmas Gifts
Another way to locate Christmas assistance programs is by contacting your local church. These organizations often give Christmas food baskets and toys to those in need, so they would be a good Christmas help resource.
To find the churches in your city that offer holiday gifts you can use Nextdoor or Facebook, call 211, or stop by any church that is in your neighborhood to see if they offer holiday help programs.
How To Find Places To Volunteer At During Christmas
If you're looking for a way to give back to your community this Christmas, consider volunteering your time at one of any of the Christmas help programs mentioned in this guide.
These programs provide free Christmas gifts, meals, and other services to low-income families and individuals. Some of the most popular Christmas assistance programs include Toys for Tots, Christmas in Action, and the Salvation Army's Angel Tree Program.
To find a list of Christmas volunteer opportunities in your area, contact 211 United Way. They can provide you with a list of non-profits who can surely use your help during the holidays.
Conclusion
Christmas assistance programs are a great way to get Christmas gifts for your family without spending too much money or if you are on a limited budget.
Whether you want free Christmas toys, food baskets, or other holiday help there are plenty of places that can provide this to you.
To find these organizations in your area simply contact 211 United Way who will then give you the phone number and address of local Christmas support groups near you.
You can also contact your local Salvation Army's Angel Tree program or Toys For Tots to get free Christmas gifts for children.
If all else fails, churches often offer Christmas help programs to those in need during the holidays which is another great place to start looking when trying to find Christmas assistance programs.
I want to wish you and your family a Merry Christmas and best wishes for the New Year my friend!
Similar Articles That May Interest You:
Nick Bryant is the author of Understanding Healthcare Is Half The Battle and a Senior Counselor with 13+ years of experience working in community health and mental health. He enjoys spending time with his family, watching WWE on Friday nights, and working toward a Google Data Analytics certification. If you have additional questions about community resources or government assistance programs, simply leave a comment below and he will follow up as soon as possible.