4 Ways To Increase Your Monthly Food Stamp Amount
---
Did you know that roughly 95% of participants in the food stamp program are not receiving their full amount of benefits?
If you are here, there is a good chance you too are being shortchanged on food stamps!
While it's unfortunate that you could be missing out on a portion of government resources that you are entitled to, the good news is this article will provide you with 4 easy steps to potentially increase your monthly amount of food stamps.
Before getting into the steps needed to increase your monthly food stamp amounts, let's discuss the program in more detail.
What Is The Food Stamp Program? 
Most people refer to this benefit as food stamps, although the official government name is SNAP.  SNAP stands for Supplemental Nutrition Assistance Program.
The SNAP program provides families with specific dollar amounts each month that allows low-income individuals or families to purchase food.
Those in the SNAP program use an EBT Card (Electronic Benefits Transfer) to purchase food at grocery stores and restaurants.
If you are in Houston and need to apply for food stamps see this article.
Should you live outside of Houston, use this link to enroll in the SNAP program.
Now that the basics of food stamps are out of the way lets move into the things you can do to increase your monthly benefits.
4 Steps To Increase Your Monthly Food Stamp Amount
To give yourself the best chance of obtaining the maximum monthly food stamp benefit that you are entitled to you must know these four steps.
Know the Food Stamp Algorithm
Know your household size
Use EVERY deduction available to you
Contact SNAP if you need to recalculate your benefits
The case managers at your local food stamp office are trained to screen for all of these things but don't simply depend on them to get things right. Some case managers are more knowledgable than others, which is why you should have a basic understanding of the process.
1. Know the Food Stamp Algorithm
You can't win the game if you don't know the rules.
In the game of "getting the maximum amount of monthly food stamps,"  the rules are determined by the Food Stamp Algorithm.
The Food Stamp Algorithm is a set of guidelines which determines how much money you will receive in SNAP benefits each month. 
The algorithm works like this: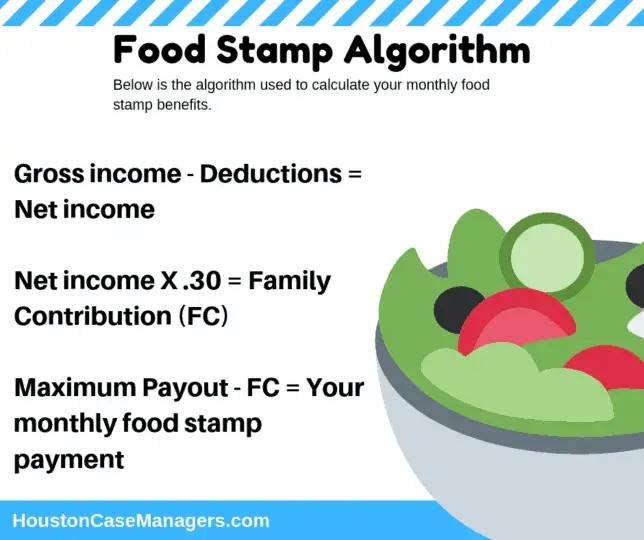 Here is the break down of all that above.
Gross income – Deductions = Net income
Your gross income is the money you make before taxes and insurance is taken out.
The deductions are things like medical expenses, housing, rent, child and other things the food stamp office counts as your deductions.
Later in this article, I will provide you with a list of deductions that the food stamp office allows you to use.
Your deductions are subtracted from the gross income and this determines your net income.
Net income X .30 = Family Contribution 
At this point, you must multiply your net income by .30 or 30%. The food stamp office is having you to pay for at least 30% of your cost of food.
Once you multiply your net income by .30 you will get your Family Contribution (FC). Again this is the amount they think is fair for you to contribute toward the cost of food.
Maximum payout – Family Contribution = Your monthly food stamp payment
Depending on how many people live in your household determines your maximum payout. The more people in the household the higher the maximum payout.
Below is an example of maximum monthly payouts for food stamps:
1 in household = $192 max
2 in household = $353 max
3 in household = $505 max
4 in household = $642 max
5 in household = $762 max
6 in household = $914 max
7 in household = $1,011 max
8 in household = $1,155 max
Each additional person past  = $144
Take your Family Contribution and subtract it from your maximum payout for your household size. What's leftover from this is your monthly food stamp payment. 
2. Know Your Household Size – Do not skip this section!
In the previous section, you learned what the maximum monthly food stamp payments were for your household size. Now I want to show you how to determine who is in your household.
You would think that anyone who lives in your home is considered part of your household, but this is not necessarily the case. To count as someone to include in your household (for food stamp purposes ) BOTH of the following must be true:
The individual must live in the same home. AND…
You must share and prepare food with them.
Again both of these must be true to consider someone as part of your household.
Here are two scenarios to help you better understand how you determine the members of your household.
Scenario 1: Family of 4 with husband, wife and two kids
This family all lives under the same roof, which satisfies the first requirement.
They also share and prepare all their food together which satisfies the second requirement. When the wife cooks a meal she cooks it for herself, husband and two kids. The husband spends the money he makes on food for his wife and two children. This again is an example of a family that shares and prepares food together.
Scenario 2: Two college roommates
I'll use an example from my own past for this scenario.
During my days at Texas Southern University, I shared a house with my cousin. We both lived under the same roof which satisfied the first requirement.
As for sharing and preparing food, we bought our own groceries (rather Jack in the Box tacos because we were broke).  My cousin was not responsible for my food, nor was I for his. We lived in the same household, but we did not share and prepare meals together. Had I applied for food stamps back then, I would not have listed my cousin as a part of my household.
Why it's important to know your household size for food stamps 
Your food stamp office factors the gross income of everyone you list as a member of your household.
In my example, had I listed my cousin as a household member I would have received a much lower amount of food stamps because they would've taken into account the income he was making at his job. We weren't sharing food, so he didn't need to be listed as a household member.
Here are other examples of people who may live in the same house, but don't need to be listed as a household member.
A roommate
Your girlfriend/boyfriend. From the things I've read the food stamp offices looks at this relationship the same way they do a roommate. Now, if the girlfriend gets pregnant and has a child things change. The parent of your child, even if unmarried, is viewed the same way as a spouse and would need to be listed as part of your household.
An uncle who is unemployed but living with you
A cousin living with you to attend college
Someone who you rented a room to on Craigslist
Children who live with you who are older than 22
A caregiver who takes care of a senior
These are just a few examples, but the bottom line, if you do not share and prepare food together with the individual they do not need to be listed as part of your household.
Who should and shouldn't be considered apart of your household income can be confusing, so be sure to ask your food stamp case manager about any unique living situations you may have.
3. Use EVERY deduction available to you
Knowing what deductions you can claim is important if you want to get the maximum monthly food stamp benefit.
A deduction is an expense (like housing, childcare, etc) that lowers your gross income. Potentially the more deductions you receive the more money you get in monthly food stamp benefits.
Next, I will list some of the deductions that could be available to you.
Note: The screenshots used in this section were taken from the Texas SNAP application.
20% Deduction from earned income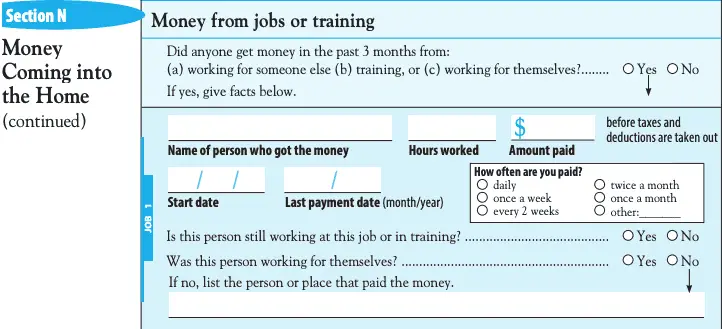 You receive a 20% eduction on all of your earned income. Earned income is your wages from a job that you work. This does not include interest, dividends, child support, pensions. All of those are examples of unearned income.
This deduction is a work incentive that favors individuals that are currently working.
Standard Deduction for Food Stamps
Your standard deduction depends on your household size. Below are the deductions per household size:
1 in household = $164 standard deduction
2 in household = $164 standard deduction
3 in household = $164 standard deduction
4 in household = $174 standard deduction
5 in household = $174 standard deduction
6 in household = $174 standard deduction
This deduction is automatically given to you, so you don't have to claim it.
Housing Cost Deductions

Claiming housing cost deductions is another way to increase your monthly food stamp benefits.
This section may seem tedidous, but if you leave this section blank you are likely leaving food stamp benefits on the table. 
The following housing expenses can be counted as deductions:
Rent and mortgage
Utility costs. This includes heating and cooling your home
Water bill
Taxes on your home
Home repair costs due to a natural disaster (Hurricane Harvey, Tax Day Floods, etc)
Cell phone bills
Note: See Section A – 1429 Shelter Costs for more housing deductions. This is for Texas residents although if you are in another city the deductions are likely similar.

Note: If you are homeless, you may be able to take advantage of a Homeless Shelter Deduction. If you can show proof of expenses of things like motels or rent paid to friends you could receive more food stamps.
Cost To Support Others Deductions 
Childcare
You can claim not only the costs of daycare but transportation costs to get your child to daycare. As long as the childcare is used to give you time to work, go to school or seek either, you can use this deduction.
Child Support 
If you are paying child support through the courts you are entitled to a deduction. Anyone currently receiving food stamps, who didn't list their payments on the application should definitely consider recalculating their benefits.
Note: Alimony is not deductible.
Caring For Adults w Disabilities
If you are paying to take care of an adult with disabilties you should also list this in Section P of the application.
Medical Cost Deductions

This section is for individuals who are 60 and older or who have a disability.
The following qualify as disabled:
Receives SSI benefits
A disabled veteran
Receives disability retirement
Railroad retirement disability
SNAP allows deductions for the following medical expenses:
Medical care provided by a qualified health professional
Dental care
Psychotherapy
Rehabilitation care
Hospitalization
Outpatient treatment
Nursing care
Diapers for children with disabilities
Hearing aids
Eyeglasses
There are lots more deductions found in this link. See Section A – 1428.1 Allowable Medical Expenses for the complete list. If you see anything on this list complete Section Q of the food stamp application to increase your monthly benefits.
4. Contact Your Food Stamp Office To Have Your Benefits Recalculated
You can have your food stamps recalculated anytime there is a change in income.
If you submitted your application and didn't list some of the deductions from above you should have your benefits recalculated. All you need to do is contact your state's Health and Human Services Department or stop by a local office.
Lots of people wait until the next year's recertification period to report changes. Don't do this. Have your benefits recalculated as soon as possible!
Other Things To Consider
Your food stamps are calculated based on the month that you apply for benefits. If there is a month that you get paid 3 times in the month they will count this amount as your regular income although this won't happen again for the year.  Consider applying in a month where you only get paid twice per month to ensure you get the maximum benefit.
If your income is above the gross income limit and you are disabled you may only get the minimum amount; typically $15 per month. You qualify for food stamps based on your disability, but your disability income is above the gross income which is why you only receive $15 per month.
If you have questions about your food stamps try visiting the office for answers.  You can try getting an answer by phone, but the first person you speak to at these offices may not be the best source of information. Your case manager at the office can provide you with the most accurate information.
Conclusion 
I created this article because of the countless number of clients who question why they are receiving only $15 a month for food stamps. While everyone's situation is different the criteria for calculating monthly food stamp amounts is the same.
To give yourself the best chance to receive the maximum monthly amount of food stamps it is important to know the rules. 
Understanding the Food Stamp Algorithm, who is in your "household", what deductions you qualify for and how to recalculate your benefits can help to increase your amount of monthly food stamps.
For anyone in Houston who has questions about any of this, you can contact Texas Health and Human Services at 877.541.7905.  If you need to find a Houston food stamp office you can find one here.
If you live in another state you can find a link to your state's Health and Human Service Department here.
Nick Bryant is the author of Understanding Healthcare Is Half The Battle and a Senior Counselor with 13+ years of experience working in community health and mental health. He enjoys spending time with his family, watching WWE on Friday nights, and working toward a Google Data Analytics certification. If you have additional questions about community resources or government assistance programs, simply leave a comment below and he will follow up as soon as possible.