Finding a low-income apartment with no waiting list may seem like an elusive dream, but it's more attainable than you might think.
One of the first places to look for apartments with no wait list is your local housing authority, which may have available units or can direct you to local resources; especially if you live in a less populated city. Smaller cities with low populations often have shorter waiting lists or even immediate availability. Websites like AffordableHousingOnline.com offer searchable databases, and Low-Income Tax Credit apartments are another lesser-known option for quick move-ins.
My name is Nick Bryant, a 13-year case manager and creator of Houston Case Managers Academy. Throughout my career I've worked in social services helping people just like you to find affordable housing. In this article, we'll delve deeper into each of these options previously mentioned to help you secure affordable housing as quickly as possible.
Where To Find Low Income Housing With No Wait List 
You can start your search for housing with no waiting list with any of the options found on the table below. 
| Housing Name | Definition | Who It's For |
| --- | --- | --- |
| Local Housing Authority | Manages subsidized housing programs like Section 8 and Public Housing.  | Individuals and families who meet income eligibility criteria for subsidized programs. |
| Section 8 Program | Provides rental assistance vouchers that cover a portion of rent, which can be used at private landlords who accept Section 8. | Low-income families that want more options, like vouchers to rent a house, condo, or apartment complex.  |
| Public Housing Program | Offers housing units managed by the local housing authority, which can include individual, multi-family, and senior housing. | Low-income individuals and families, including seniors, based on income eligibility. You are typically limited to apartment complexes.  |
| Small Cities and Counties | Areas with smaller populations often have shorter waiting lists for low-income housing. | Those willing to live in less populated areas or are willing to move to a smaller city to move up a waitlist faster.  |
| AffordableHousingOnline.com | A searchable database for open housing waitlists across the country. | Anyone seeking low-income housing and wanting to stay updated on open waiting lists around the country.  |
| AffordableHousing.com (formerly Go Section 8) | Specializes in listing options for affordable rental housing, both for those with and without Section 8. | Individuals and families looking for low-income housing, including those without Section 8 vouchers who need Section 8 landlords.  |
| Rooming Houses | Offers rooms to single adults at weekly rates.  | Best for single adults without many possessions who need to find affordable housing.  |
| Regular Apartment Finder Websites (e.g., Apartments.com) | Not specialized in low-income housing but may list affordable options. | Those who need housing and can independently verify low-income opportunities. |
| Low-Income Tax Credit Apartments (LITCAs) | Landlords receive tax incentives to offer reduced rent to low-income tenants. | Households falling within specific income ranges relative to the Area Median Income (AMI). |
1. Contact Your Local Housing Authority
The first place you should look regarding low-income apartments with no waiting list is your local housing authority. 
Housing authorities are just that. They know the most about low-income housing because they manage multiple subsidized housing programs. Two of those programs are Section 8 and Public Housing. 
Section 8 Program
Housing Choice Voucher Program is the official name of this program, but we'll just refer to it as Section 8 in this article. 
Section 8 is an affordable housing program that provides low-income families with a voucher to use for rental assistance. The voucher pays a certain portion (sometimes 70% of rent) and the tenant is responsible for the remainder. 
A tenant can take this voucher to private landlords who accept Section 8. This housing opportunity gives you access to both apartments and homes. 
To apply for Section 8 you will need to contact the housing authority in your area to learn about eligibility, annual income limits, and exactly how their application process works. 
Note: You can apply for Section 8 or Public Housing in any city, county, or state, not just your own. The only catch is individuals who live in that area will be a higher priority to help. 
Public Housing Program
Public Housing is another program that you can apply for at your local housing authority.  This program offers housing units for individuals, multifamily housing, and even senior housing.
The difference between Public Housing and Section 8 is with the former you are limited to apartments. Typically these are income-based housing apartments that are managed by the local housing authority. 
Other Ways The Local Housing Authority Can Help You
If you live in a big city there is a good chance that you will not find a listing of income-restricted housing with no waiting list, so just temper those expectations a bit bucko. I'll explain why this is the case in the next section. 
Despite this news, all is not lost. Housing authorities can help you in a number of other ways: 
Helping you understand housing options

– The better you understand the rules, programs, and eligibility requirements the better chance you will have to find assistance. With so many people searching for low-income housing or even a rental assistance program to help, you need to find as many advantages as possible.  Your local PHA can help you with this. 

Get a person on the inside

– Knowing someone who works at a local public housing agency will keep you informed about waiting lists that will be opening soon. 
How To Find A Housing Authority 
There are two ways to find a housing authority. 
You can simply "Google" it. Just type in the city you have in mind followed by "housing authority". For instance, if I wanted to find the telephone number for the Houston office I would Google "Houston Housing Authority". 

Use the HUD site to search for a

Local Housing Authority

.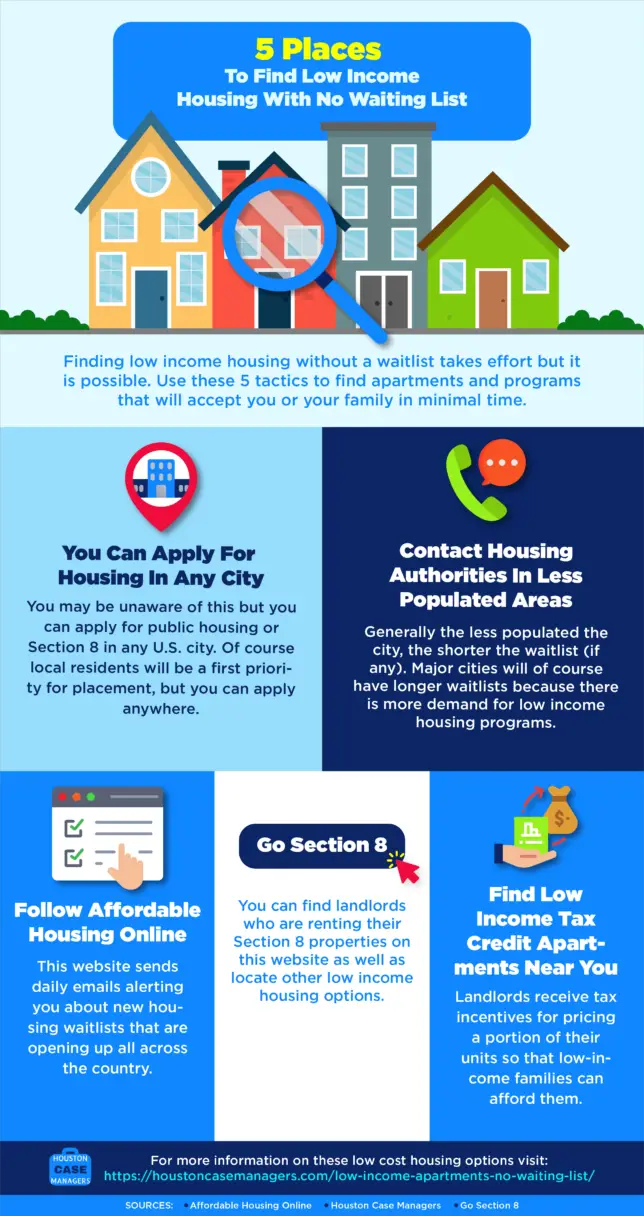 2. Search Small Cities And Counties For Low-Income Apartments With No Waiting Lists
Earlier when I said the low-income housing with no waiting list "may not be your first choice due to location" well this is what I meant. 
Apartments in the country can be just as nice as city apartments, although most people prefer to live in a big city. If you are someone who is retired or simply doesn't mind living in a less populated city or county this could be a good option for you. 
Why Are There Shorter Waitlists In Less Populated Towns?
Smaller populations in rural areas often mean shorter waitlists for low-income apartments.
Houston for example is a population of 4 million people, therefore Section 8 waitlists are backed up for years here.  Compare the number of people on a Houston waiting list to a smaller Texas town and that smaller town will likely have a shorter wait for housing assistance. 
Plainly put this all comes down to supply and demand. 
How To Find Shorter Waiting Lists In These Less Populated Towns
Consider looking in smaller towns near your city, as moving away from populated areas often results in shorter waitlists. Driving 30 minutes from downtown is a good way to find shorter housing waiting lists. 
If you are not sure how to find less populated cities use a tool called Stats America. Type in the name of a city and you'll see the estimated population. 
Find a city with a low population and contact their local housing authority to see if they have housing with no waiting list.  Type a city near you to see what the population is. Search for anything under 80,000 and this will give you the best chance of moving up a housing waitlist fast. 
If you are not sure how to find the housing authority in a city, call the PIH Customer Service phone number at 800.955.2232. This call center can answer questions about public housing and Section 8 programs in the U.S. 
3. Use AffordableHousingOnline.com To Find Low-Income Apartments With No Waiting List
Visit AffordableHousingOnline.com to find open housing waitlists nationwide. This is the best tool for anyone who is seeking open waiting lists for low-income apartments. 
The two things that his housing website does great are: 
Help you to understand housing programs better and…

Send email alerts when Section 8 waitlists open up
For instance, check out the screenshot below…
You can sign up for the Affordable Housing Online email list to receive alerts about Section 8 waitlists that will be opening soon. You can receive updates from only the state you live in or all 50.  
4. AffordableHousing.com (formerly Go Section 8)
AffordableHousing.com offers listings for low-income housing, for those with and without Section 8 vouchers. 
Editors Note: This website was formerly called Go Section 8 but its now called Affordable Housing. 
This housing website specializes in listing affordable rental properties.  You'll find a mixture of apartments, townhouses, and regular houses to choose from. 
One unique feature of the Affordable Housing website is its Waiting Lists & Housing Agencies page.
Here you can type in your city and you'll get a listing of housing authorities close by. If you are not familiar with the names of surrounding towns, you can use this as an easy way to learn about housing authorities in your area. 
5. Social Serve (No Waiting List Low Income Housing)
Social Serve is a similar website to AffordableHousing.com because it also focuses on affordable housing for anyone seeking a low income apartment. 
One feature that may be helpful to you is the advanced search feature. You can use this to find housing for seniors, people with disabilities, and access to public transportation. 
For more information about Social Serve, you can call them at 877.428.8844. 
6. Search A Regular Apartment Finder Website
If you need affordable housing and are wondering how to find low income apartments with no waiting list near me you can also search a website like Apartments.com. 
This type of website does not focus on low-income housing, however, you can still find these types of properties here. To do so, simply type the lowest, most reasonable price for your area.
Below is a low-income apartment in Houston I found for potentially $366 a month. The reason this 1 bedroom is priced from $366 to $810 is that it's probably a Low Income Tax Credit Apartment. We'll discuss LITCAs is just a second…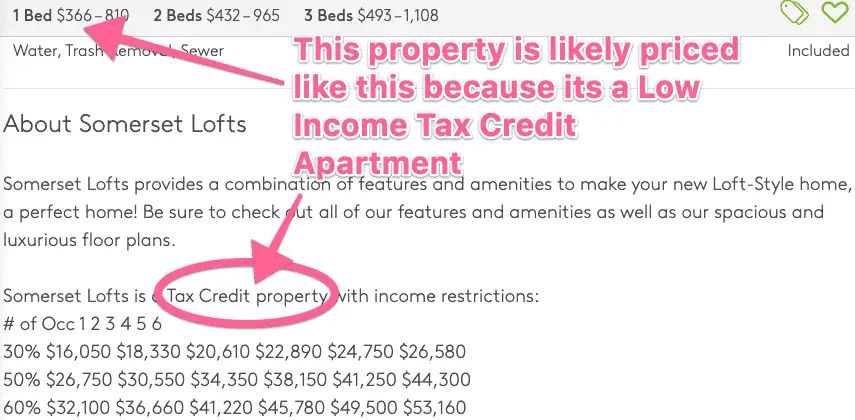 Again, regular apartment finder sites like this don't specialize in affordable housing however, you still can find low-income apartments with no waiting list, so don't overlook these websites. 
7. Rooming Houses: An Affordable Option for Single Adults
Rooming houses, also commonly known as boarding homes, offer a cost-effective housing option primarily for single adults. Unlike traditional apartments, rooming houses allow residents to rent a private room within a larger dwelling, sharing common spaces such as the kitchen and bathroom with other tenants. This communal living setup is especially beneficial for those who do not require an abundance of personal space and enjoy a sense of community, all while adhering to a budget.
In terms of cost, rooming houses are generally less expensive than traditional apartments or other low-income housing options. Prices can vary significantly depending on the location and amenities provided, but they are often far less prohibitive than alternatives. In Houston, Texas, for example, the cost of living in a rooming house typically ranges from $100 to $150 per week. This can be a more feasible option for individuals who are facing financial constraints but still seek a degree of independence and privacy.
Unfortunately, there isn't a national database specifically dedicated to rooming houses, making it slightly challenging to find these accommodations compared to other types of housing. However, you can likely locate rooming houses in your area with a simple Google search. Entering terms such as "rooming houses near me" or "boarding homes in [your city]" can yield a list of potential options. Online classifieds and local bulletin boards are also good resources for finding available spaces.
8. Continuum of Care Programs: Fast-Tracking Low-Income Housing Through Government Funding
One of the most direct avenues to securing housing with no waitlist is through the Continuum of Care (CoC) Programs.
Funded by the U.S. Department of Housing and Urban Development (HUD), these initiatives provide critical resources to local non-profits and homeless shelters, with the goal of helping people rapidly access stable housing. By participating in a CoC program, applicants can receive a higher priority on housing waitlists, giving them a crucial edge in competitive housing markets where affordable options are scarce.
To become eligible for the benefits of a CoC program, you'll first need to get screened by designated local agencies. These agencies can be found through the HUD website, which maintains a comprehensive directory. Local non-profits, community organizations, and sometimes even government bodies conduct the screening, evaluating various factors such as your current housing situation, income level, and any vulnerability factors like a history of homelessness or mental health issues.
Once accepted into the Continuum of Care Program, individuals can benefit from a wide spectrum of housing-related assistance. This assistance varies based on individual needs but can range from short-term solutions like a month of rental assistance to more long-term options such as permanent supportive housing. Particularly for those with a history of homelessness or mental health challenges, these resources can be life-changing, providing not just a home but the support needed to maintain it.
9. Low-Income Tax Credit Apartments
Lastly, we'll discuss Low-Income Tax Credit Apartments. These are apartments where landlords receive tax incentives for pricing a portion of their units so that low-income families can afford them.
How Much Is Rent At A Low-Income Tax Credit Apartment
The price you pay at a LITCA depends on your gross income. 
For instance, low income households will likely pay 60%, 40%, or 30% of the cost of the rent. These percentages are determined by where your income falls on the AMI or Area Median Income level. 
In Houston, these would be the maximum levels for 60% AMI: 
1 Person household = $32,100

2 Person household = $36,60

3 Person household = $41,220

And so on…
If you make over these figures you wouldn't qualify. If you make significantly less, you could fall in the range where you'd only pay 40% or even 30% of your rent.
For the individual who is in the 60% AMI range, they would pay $600 for an apartment that regularly rents for $1000.   
How To Apply For A Low-Income Tax Credit Apartment 
To apply for this program you will have to apply at the actual apartment. Unlike the Section 8 and Public Housing Programs, you do not apply for a LITCA at your local housing authority. 
How To Find A Low-Income Tax Credit Apartment
There are a couple of ways to find LITCAs in your area. One way is to simply Google your city, followed by "Low Income Tax Credit Apartment". 
Your search would look like this —–>  Houston + Low-Income Tax Credit Apartments <—— for LITCAs in Houston. 
Another way is using some of the websites we've already discussed like Apartments.com, AffordableHousingOnline, Go Section, and Social Serve. These sites will likely have something indicating that an apartment is a LITCA. 
Note: If you are in Houston check out our guide called Where To Find Low-Income Tax Credit Apartments In Houston to find a map of these apartments. 
Conclusion
In this article, I've provided you with 9 places to find low-income apartments with no waiting list, offering various avenues to secure affordable housing.
While the options range from local housing authorities and specialized websites to less-populated areas and tax credit apartments, it's crucial to remember that finding such housing options can be challenging.
The demand is high, so it requires a proactive approach—be ready to do your homework, fill out forms, ask plenty of questions, and perhaps most importantly, be patient. Securing a no-waitlist apartment can feel like a part-time job, but your diligence can pay off in the end.
Best of luck in your search for affordable housing!
Similar Articles That May Interest You: 
Nick Bryant is the author of Understanding Healthcare Is Half The Battle and a Senior Counselor with 13+ years of experience working in community health and mental health. He enjoys spending time with his family, watching WWE on Friday nights, and working toward a Google Data Analytics certification. If you have additional questions about community resources or government assistance programs, simply leave a comment below and he will follow up as soon as possible.