7 Places To Find Low-Income Apartments With No Waiting List
---
In this guide, you WILL find 7 places to find low-income apartments with no waiting list however there is good news and bad news. 
Everyone prefers the bad news first so let's start there…
The places where these low-income apartments with no waiting list are located may not be your first choice regarding location. I'll explain this later in the 2nd listing of this article. 
As far as the good news, well THERE ARE actually places to find low-income apartments with no waitlist.
1. Contact Your Local Housing Authority
The first place you should look regarding low-income apartments with no waiting list is your local housing authority. 
Housing authorities are just that. They know the most about low-income housing because they manage multiple subsidized housing programs. Two of those programs are Section 8 and Public Housing. 
Section 8 Program
Housing Choice Voucher Program is the official name of this program, but we'll just refer to it as Section 8 in this article. 
Section 8 is an affordable housing program that provides low-income families with a voucher to use for rental assistance. The voucher pays a certain portion (sometimes 70% of rent) and the tenant is responsible for the remainder. 
A tenant can take this voucher to private landlords who accept Section 8. This housing opportunity gives you access to both apartments and homes. 
To apply for Section 8 you will need to contact the housing authority in your area to learn about eligibility, annual income limits, and exactly how their application process works. 
Note: You can apply for Section 8 or Public Housing in any city, county, or state, not just your own. The only catch is individuals who live in that area will be a higher priority to help. 
Public Housing Program
Public Housing is another program that you can apply for at your local housing authority.  This program offers housing units for individuals, multifamily housing, and even senior housing.
The difference between Public Housing and Section 8 is with the former you are limited to apartments. Typically these are income based housing apartments that are managed by the local housing authority. 
Other Ways The Local Housing Authority Can Help You
If you live in a big city there is a good chance that you will not find a listing of income restricted housing with no waiting list, so just temper those expectations a bit bucko. I'll explain why this is the case in the next section. 
Despite this news, all is not lost. Housing authorities can help you in a number of other ways like: 
Helping you understand housing options

– The better you understand the rules, programs, and eligibility requirements the better chance you will have to find assistance. With so many people searching for low-income housing or even a rental assistance program to help, you need to find as many advantages as possible.  Your local PHA can help you with this. 

Get a person on the inside

– Knowing someone who works at a local public housing agency will keep you informed about waiting lists that will be opening soon. 
How To Find A Housing Authority 
There are two ways to find a housing authority. 
You can simply "Google" it. Just type in the city you have in mind followed by "housing authority". For instance, if I wanted to find the telephone number for the Houston office I would Google "Houston Housing Authority". 

Use the HUD site to search for a

Local Housing Authority

.
2. Search Small Cities And Counties For Low-Income Apartments With No Waiting Lists
Earlier when I said the low-income housing with no waiting list "may not be your first choice due to location" well this is what I meant. 
Apartments in the country can be just as nice as city apartments, although most people prefer to live in a big city. If you are someone who is retired or simply doesn't mind living in a less populated city or county this could be a good option for you. 
Why Are There Shorter Waitlists In Less Populated Towns?
The reason it's easier to find low-income apartments with no waiting list "in the country" is that there are smaller populations, which means fewer people are signing up for the waitlist, which means your stay on the waiting list is shorter. 
Houston for example is a population of 4 million people, therefore Section 8 waitlists are backed up for years here.  Compare the number of people on a Houston waiting list to a smaller Texas town and that smaller town will likely have a shorter wait for housing assistance. 
Plainly put this all comes down to supply and demand. 
How To Find Shorter Waiting Lists In These Less Populated Towns
If you live in a big city I want you to imagine all the smaller towns and counties that are surrounding your city.  
Do you have them in your mind? 
Ok good, now consider all the even smaller towns and counties just outside of those areas…
Essentially the further you get away from the big city the smaller the population will be but the greater the likelihood will be that the waitlist is shorter.
If you really want to nerd out regarding population you can use a tool called Stats America. Simply type in the name of a city and you'll see the estimated population as well as other interesting stats. 
3. Use AffordableHousingOnline.com To Find Low-Income Apartments With No Waiting List
Man listen…
I do not know who runs this website or how they do it but if there is an open Section 8 waitlist anywhere in the country AFFORDABLE HOUSING ONLINE knows about it. 
This website is a great tool for anyone interested in finding an open waiting list for low income apartments.
The two things that they do great are:   
Help you to better understand housing programs and…

Send email alerts when Section 8 waitlists open up
For instance, check out the screenshot below…
You can sign up for the Affordable Housing Online email list and get alerts regarding Section 8 waitlists that will be opening soon. You can choose to receive updates from only your own state or all 50 if you like.  
4. Go Section 8 
This website is another way to locate low-income housing with no waiting list. While having Section 8 makes it easier to find cheap rental housing here, it is not a necessity. 
Go Section 8 is a website that specializes in listing options for affordable rental housing. Because of this, it's a great place to search for low-income housing. You'll find a mixture of apartments, townhouses, and regular houses to choose from. 
One unique feature of Go Section 8 is their Waiting Lists & Housing Agencies page.
Here you can type in your city and you'll get a listing of housing authorities close by. If you are not familiar with the names of surrounding towns, you can use this as an easy way to learn about housing authorities in your area. 
5. Social Serve
Social Serve is a similar website to Go Section 8 because it also focuses on affordable housing for anyone seeking a low income apartment. 
One feature that may be helpful to you is the advanced search feature. You can use this to find housing for seniors, people with disabilities, and access to public transportation. 
For more information about Social Serve, you can call them at 877.428.8844. 
6. Search A Regular Apartment Finder Website
There are many of these websites to choose from, but we'll go with generic ole Apartments.com. 
These types of websites do not focus on low-income housing, however, you can still find these types of properties here. To do so, simply type the lowest, reasonable price for your area.
Below is a low-income apartment in Houston I found for potentially $366 a month. The reason this 1 bedroom is priced from $366 to $810 is that it's probably a Low Income Tax Credit Apartment. We'll discuss LITCAs is just a second…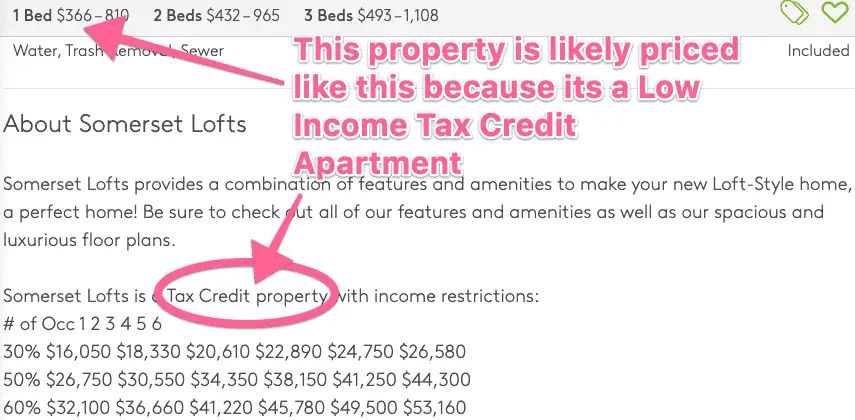 Again regular apartment finder sites like this don't specialize in affordable housing however you still can find low-income apartments with no waiting list so don't overlook these websites. 
7. Low-Income Tax Credit Apartments
Lastly, we'll discuss Low-Income Tax Credit Apartments. These are apartments where landlords receive tax incentives for pricing a portion of their units so that low-income families can afford them.
How Much Is Rent At A Low-Income Tax Credit Apartment
The price you pay at a LITCA depends on your gross income. 
For instance, low income households will likely pay 60%, 40%, or 30% of the cost of the rent. These percentages are determined by where your income falls on the AMI or Area Median Income level. 
In Houston these would be the maximum levels for 60% AMI: 
1 Person household = $32,100

2 Person household = $36,60

3 Person household = $41,220

And so on…
If you make over these figures you wouldn't qualify. If you make significantly less, you could fall in the range where you'd only pay 40% or even 30% of your rent.
For the individual who is in the 60% AMI range, they would pay $600 for an apartment that regularly rents for $1000.   
How To Apply For A Low-Income Tax Credit Apartment 
To apply for this program you will have to apply at the actual apartment. Unlike the Section 8 and Public Housing Programs, you do not apply for a LITCA at your local housing authority. 
How To Find A Low-Income Tax Credit Apartment
There are a couple of ways to find LITCAs in your area. One way is to simply Google your city, followed by "Low Income Tax Credit Apartment". 
Your search would look like this —–>  Houston + Low-Income Tax Credit Apartments <—— for LITCAs in Houston. 
Another way is using some of the websites we've already discussed like Apartments.com, AffordableHousingOnline, Go Section, and Social Serve. These sites will likely have something indicating that an apartment is a LITCA. 
Note: If you are in Houston check out our guide called Where To Find Low-Income Tax Credit Apartments In Houston to find a map of these apartments. 
Conclusion
I provided you with 7 places to find low-income apartments with no waiting list, but don't be fooled into thinking this will be easy.
Literally everyone and their mother wants to get into these places, so be prepared to work, ask questions, have your paperwork ready, network with other people, wake up early, and do what you have to do. 
Affordable housing is out there, but again just be ready to work and pack your patience, because this can be like a part-time job. 
Best of luck to you my friend!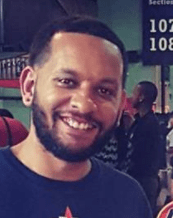 Nick Bryant is a Counselor with 11 years of experience working in community health. He enjoys concerts, walks with the doggo and wife, mocking Dallas Cowboy fans, and sharing community resources. Jump on the Houston Case Managers email list to receive weekly community resource guides delivered directly to your inbox.