Pediatric Urgent Care In Houston: How To Get Emergency Medical Care For Your Child
---
In this community resource, you will find a listing of pediatric urgent care clinics in Houston.
If you wake up one Saturday morning and your child has pink eye, you recognize that they need medical attention, but you may be unsure who to contact.
Your doctor does not work on the weekends and the potential cost of going to an emergency room has you considering other options. What are you to do in this situation?
Thankfully, there are affordable medical options for sick children during the evening or on weekends. Those options are pediatric urgent care clinics in Houston.
If you have children, continue reading to learn more about Houston pediatric urgent care clinics. These facilities can help you save money and time by avoiding an expensive and packed hospital ER!
What Is Pediatric Urgent Care?
Urgent care clinics provide same-day appointments for patients with minor, non-life-threatening illnesses or injuries.
They are staffed with pediatricians and other medical professionals who have experience caring for children.
Some pediatric urgent care clinics also offer on-site x-rays and laboratory services.
Why Should A Child Be Taken To Urgent Care?
Medical conditions that pediatric urgent care clinics can treat include:
Allergies

Asthma

Bronchitis

Colds and flus

Cuts and scrapes

Dehydration

Diarrhea

Ear infections

Fever

Headaches

Nausea and vomiting

Pink eye

Bruises from falls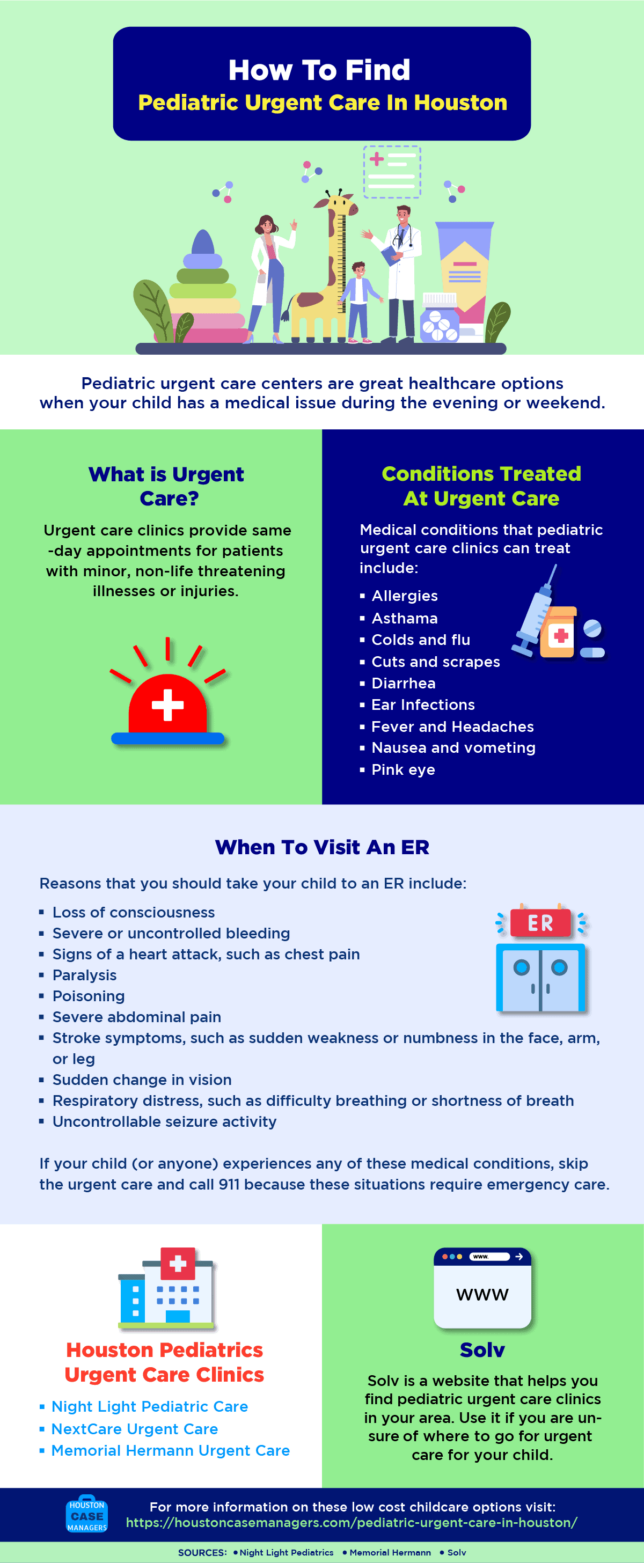 When Should A Child Visit An Emergency Room?
Reasons that you should take your child to an ER include:
Loss of consciousness

Severe or uncontrolled bleeding

Signs of a heart attack, such as chest pain

Paralysis

Poisoning

Severe abdominal pain

Stroke symptoms, such as sudden weakness or numbness in the face, arm, or leg

Sudden change in vision

Respiratory distress, such as difficulty breathing or shortness of breath

Uncontrollable seizure activity
If your child (or anyone) experiences any of these medical conditions, skip the urgent care and call 911 because these situations require emergency care.
Find Houston Pediatric Urgent Cares
These are pediatric urgent care clinics in Houston that your child can visit if there is a medical emergency during the evening hours or on the weekend.
Night Light Pediatric Urgent Care
Night Light has 8 different pediatric urgent care locations in the Houston area. The locations are:
Cy Fair – 19708 Northwest Fwy, Suite 500, Houston, TX 77065 – 713.957.2020
Humble – 20440 US-59, Suite 500, Humble, TX 77338 – 832.602.4040
Garden Oaks – 4208 Ella Blvd, Houston, TX 77018, 832.831.4660
Pearland – 2803 Business Center Drive, Suite 118, Pearland, TX 77584 – 281.990.3030
Sugar Land – 15551 Southwest Fwy, SugarLand, TX 77478 – 281.325.1010
Katy – 22720 Morton Ranch Rd, Suite 150, Katy, TX 77449 – 832.321.5848
Webster – 19325 Gulf Freeway, Suite 170, Webster, TX 77598 – 832.992.5050
Tanglewood – 1814 Fountain View, Houston, TX 77057 – 346.867.1932
Some of the conditions that they treat here include:
Fever management

Dehydration

Cough, Cold & Flu

Earaches

Rashes

X-rays

Wart removal at some locations

Nausea and stomach pains

COVID 19 testing
You can visit these clinics Monday through Friday from 3 pm to 11 pm. On Saturdays and Sundays they are open from 11 am to 9 pm. Holiday hours are from 12 pm to 7 pm. Contact any clinic that you wish to visit to confirm their hours, services, and insurance accepted. You can also visit the Night Light Pediatrics website for more information.
NextCare Urgent Care
You can also visit a NextCare clinic in Houston for emergency pediatric care. In addition to in-person care, you can also get virtual care through this urgent care facility.
The services that are offered at NextCare include things like:
Vaccinations

COVID 19 testing

Treatment of injuries

Physical exams

X rays and labs

Antibody testing

Pediatric care in Houston – flu, asthma, rashes, sore throat, headaches, infections, cuts, fractures, sprains, insect bites and more.
NextCare has 7 urgent care clinics in the Houston area:
Pasadena – 6825 Spencer Highway, Pasadena, TX 77505
Pearland – 2705 E. Broadway St, Pearland, TX 77581 – 281.412.0508
1960 – 10906 FM 1960 Rd W, Houston, TX 77070 – 281.477.7490
Clear Lake – 1202 E NASA Pkwy, Houston, TX 77058 – (281) 335-0606
Kingwood – 1331 Northpark Dr, Kingwood, TX 77339 – (281) 359-5330
Spring – 1104 Rayford Rd , Spring, TX 77386 – (281) 825-3265
You can find all the NextCare clinics in Texas and other states here.
To learn more about clinic hours and insurances accepted visit the NextCare website.
Houston Pediatric Clinic
These urgent care clinics for kids are located in north Houston Texas. Care is offered to babies, toddlers, children, and adolescents. This clinic is open Monday through Friday from 7:45 am to 5 pm.
Medical conditions that these urgent care clinics treat include:
Allergies

Whooping cough

Strep throat

Flus and colds

Infections

Burns

ADHD

Tonsilitis

Pink eye
Here are the two pediatric clinics in north Houston that they offer:
7333 North Freeway #122, Houston, TX 77076 – 713.694.3177

1625 Romano Park Lane, Houston, TX 77090 – 832.968.6050
For more information visit the Houston Pediatric Clinic website to learn about the hours and services offered.
Memorial Hermann Urgent Care Clinics In Houston
These Houston pediatric urgent care clinics treat children 6 months and older. Nonlife-threatening conditions are treated at these clinics. These include medical issues like flu, fever, earaches, eye injuries, and more. Other services for children include school and sports physical exams. You can see the complete listing of conditions that these pediatric clinics treat here.
Their urgent care facilities are open daily from 9 am to 9 pm and walk-ins are accepted.
Here is a listing of Houston area Memorial Hermann urgent care clinics:
Clear Lake – 19419 Gulf Freeway Ste 3, Dept. 100, Webster, TX 77598 – (281) 316-0885
Friendswood – 1505 E. Winding Way Ste 112, Friendswood, TX 77546 – (281) 993-3860
Katy – 5102 FM 1463 Ste 1200, Katy, TX 77494 – (281) 574-1104
Spring – 4057 Riley Fuzzel Ste 1100B, Spring, TX 77386 – (281) 602-0450
Heights – 300 North Loop Ste 100, Houston, TX 77008 – (713) 426-9650
Washington Avenue – 4500 Washington Ste 100, Houston, TX 77007 – (713) 861-6490
West University – 3501 W. Holcombe Blvd, Houston, TX 77025 – (713) 814-2680
Sugar Land – 1227 Museum Square Ste A, Sugar Land, TX 77479 – (281) 265-8125
Spring Branch – 12740 Memorial Ste 100, Houston, TX 77024 – (832) 658-3110
To learn about insurance acceptance visit the Memorial Hermann website.
Brazos Urgent Care
This network of walk in pediatric clinics is open daily. On weekends they are open from 9 am to 6 pm and Monday through Friday they see pediatric patients from 9 am to 8 pm.
Brazos Urgent Care clinics offer face-to-face appointments as well as telemedicine visits.
Medical conditions that this Houston walk in clinic can treat include:
Flu and fever

Rash

Earaches

Eye infections

Sprains

Nausea

Asthma

Sore throat

Sports and school physicals for children

Vaccinations and immunizations

X rays

Labs

EKGs
Here are the Brazos Urgent Care clinics in the Houston area:
Conroe – 3600 FM 1488 Rd, Conroe, TX 77384 – 832.447.1367
League City – 4420 W. Main Street, League City, TX 77573 – 832.632.8803
SW Houston – 9380 W. Sam Houston Parkway S, Houston, TX 77099 – 832.553.6216
1960 Champions – 6930 FM 1960 Rd, W. Houston, TX 77069 – 281.836.6085
Fairbanks – 6306 Fairbanks N. Houston Road, Suite 500, Houston, TX 77040 – 832.831.9094
Visit the Brazos Urgent Care website to learn more about insurances accepted or to have any other questions answered.
Lifeline Urgent Care
Lifeline Urgent Care is a pediatric urgent care clinic that is open 7 days a week. They are open Monday through Friday from 9 am to 9 pm. On Saturdays they are open from 9 am to 7 pm. Sunday hours are 10 am to 6 pm.
This pediatric clinic offers services for children of all ages. Some of the medical conditions they treat include:
Colds and flu

Fever

Infections

Nebulizer treatment

Ear pain

Sore throat

Broken bones

Cuts

Rashes

Asthma

Nausea and vomiting

Sprains and fractures

School physicals
They have one location at 13410 Briar Forest Suite 190, Housotn, TX 77077. Their phone number is 281.771.1144.
Family Urgent Care Clinic (Missouri City, TX)
This clinic is open every day from 8 am to 8 pm. This Missouri City Texas walk in clinic offers non-life-threatening medical care to adults and children. In addition to face-to-face urgent care, you can also get telemedicine consultations with a doctor.
Family Urgent Care Clinic offers treatment for various medical conditions, orthopedic services, and wellness care. Specific conditions treated are:
Constipation

Asthma

Colds and flu

Eye infections

Ear wax removal

Head lice and ringworms

Sore throat

Pink eye

Fever

Nausea and diarrhea

Allergies

School physical exams

Strep
This Missouri City urgent care clinic is located at 6202 Highway 6 C, Missouri City, TX 77459. You can reach them at 281.778.7555 to learn about insurances accepted or have any other questions answered.
St. Elizabeth Urgent Care
This urgent care clinic offers face-to-face pediatric visits and telemedicine appointments. The business hours for this urgent care in Dickinson Texas are Monday through Friday 8 am to 7 pm. On Saturdays they are open from 9 am to 2 pm.
The pediatric services offered here include help with:
Fevers

Ear, nose, or throat infections

Asthma

Broken bones

Lacerations

Sprains

Labs

X rays

COVID 19 testing
There are two 2 St. Elizabeth urgent care clinics in the Houston area:
Jersey Village – 17376 NW Freeway, Jersey Village, TX 77040 – 832.919.8445
Dickinson – 676 FM 517 Road West, Dickinson, TX 77539 – 713.482.4535
To speak to someone at St. Elizabeth's you can dial 713.482.4535.
Solv: How To Find Walk In Clinics In Houston
Solv is a website that helps you find pediatric urgent care clinics in your area.
To use Solv, enter your location and the type of care you are looking for. Then, choose an appointment time that works for you. You can also view reviews and ratings for each clinic before making a decision.
Using Solv is a great way to find pediatric urgent care clinics in Houston because it takes the guesswork out of finding a reputable clinic.
In addition to urgent pediatric care, Solv can also help you find family practice doctors, dentists, therapists, and more.
Conclusion
Pediatric urgent care clinics in Houston offer shorter wait times than ERs, no appointments are necessary and your child gets the quick treatment for minor medical conditions. If you are looking for pediatric care that is more convenient and efficient than the ER, then an urgent care clinic is a great option.
If your kid gets sick on a Saturday or Sunday, they may be treated at any of the above pediatric clinics in Houston.
Similar Articles That May Interest You: 
What Is A Walk in Clinic? (Quick, Convenient, Healthcare Option)
How To Apply For Harris Health Gold Card Insurance
15 Low Cost Clinics In Houston That Treat The Uninsured
Nick Bryant is a Counselor with 11 years of experience working in community health. He enjoys concerts, walks with the doggo and wife, mocking Dallas Cowboy fans, and sharing community resources. Jump on the Houston Case Managers email list to receive weekly community resource guides delivered directly to your inbox.