How To Renew Your Harris Health Gold Card
---
If you currently have a Harris Health Gold Card and want to continue coverage for the next 12 months you will need to renew your coverage. 
In this guide I will show you the simple steps to follow to renew your Gold Card for the upcoming year. 
When To Reapply For Gold Card
You will need to reapply for Gold Card 11 months after you initially qualify for coverage. 
The Gold Card will provide you with 12 months of medical coverage, but, Harris Health encourages you to reapply 30 days before your coverage ends. If you were to qualify for coverage in the month of October, you would want to reapply for Harris Health in September. 
Gold Card Renewal Application
To reapply you will need to complete a Harris Health application. This application is the exact same document that you completed when you first applied for Gold Card coverage. Below is an example of the Gold Card renewal application as well as a link to download your application.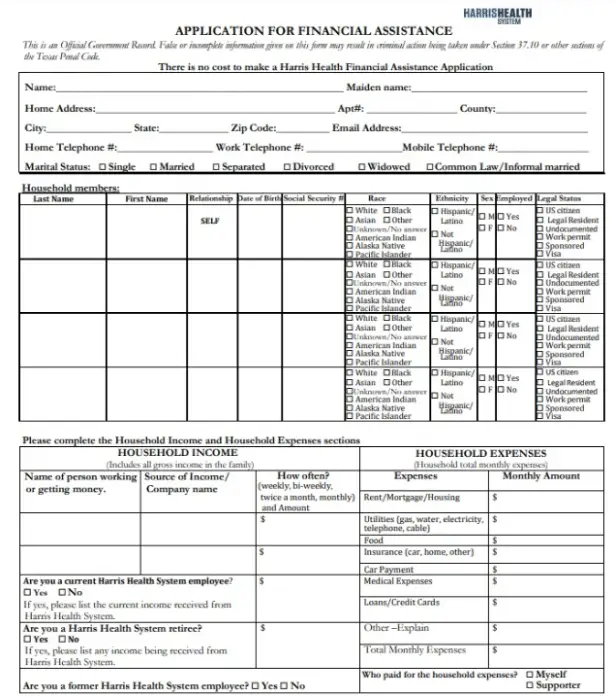 Download Gold Card Application in Spanish and English
You can use the following links to download the Gold Card application of your choice:
In addition to completing the Gold Card renewal application, you will also need to provide some supporting documents like: 
Identification

Birth Certificates for dependents

Proof of residency (bills in your name)

Proof of income or paycheck stubs are important when reapplying for Gold Card. Be sure to submit these documents so that there are no delays in getting your Gold Card processed. 

Current health insurance if you have any
You can refer to this list of supporting documents needed for Gold Card to ensure you have everything that is needed. 
Where To Deliver Your Application (Harris Health Eligibility Centers)
Once you have completed your Gold Card application you can deliver it to any of the Harris Health eligibility centers listed below: 
Acres Homes Clinic – 818 Ringold St, Houston, TX 77088
MLK Eligibility Center – 3550-A Swingle Road, Houston, TX 77047
El Franco Lee Clinic – 8901 Boone Road, Houston, TX 77099
Strawberry Clinic – 927 Shaw Ave, Pasadena, TX 77506
These clinics are open Monday through Friday although the hours at each eligibility center vary.  If you need to contact a particular eligibility center you can call the main Harris Health phone number at 713.566.6509 for more information. 
Conclusion 
It is important that you renew your Gold Card prior to it expiring. Failing to renew your coverage could mean that you have to start the enrollment process all over again. 
The key things to remember regarding renewing your Gold Card are: 
You will use the same Gold Card application that you used when you first applied. 

The Gold Card needs to be renewed every 12 months, but to be on the safe side it's best to start this process 30 days before your coverage ends. 
If you have more questions regarding Gold Card renewals you can contact the Harris Health eligibility line at 713.566.6509 or see our guide titled How to Apply for Harris Health Gold Card. 
Similar Articles That May Interest You:
Nick Bryant is the author of Understanding Healthcare Is Half The Battle and a Senior Counselor with 13+ years of experience working in community health and mental health. He enjoys spending time with his family, watching WWE on Friday nights, and working toward a Google Data Analytics certification. If you have additional questions about community resources or government assistance programs, simply leave a comment below and he will follow up as soon as possible.