Workforce Childcare Solutions: How To Get NCI Daycare In Houston
---
In this community resources guide, I will show you how to apply for the Workforce Childcare Solutions program in Houston.
This childcare assistance program will help you to send your children to NCI daycare while you work, attend school, or a job training program.
If you need help paying for childcare in Houston, then continue reading to see how your local Houston Workforce Solutions office can help you qualify for NCI daycare financial assistance.
What Is The Workforce Solutions Child Care Assistance Program?
Workforce Solutions is an employment agency in Houston that provides you with supportive services to help you find work. For those who are already working parents, also offer financial assistance to help you pay for child care services.
What Is The NCI Daycare Program?
The NCI Daycare Programs (Neighborhood Centers Incorporated) is a federal childcare assistance program that helps working families in Houston with childcare costs.
Your local WrkSolutions office can screen you to see if you qualify for this childcare resource.
What Are The Requirements To Apply For The Workforce Child Care Assistance Program?
Eligible families that can potentially qualify for this child care financial assistance in Houston must meet these guidelines:
Live in a county that Texas Workforce Commissions serves

Have a job, be attending school, or some type of job training

Also, you must meet income guidelines to receive a child care subsidy
We'll explain more about each child care program requirement below.
Counties That Workforce Serves
Low income families in the following counties can apply for help with child care services:
Austin

Brazoria

Chambers

Colorado

Fort Bend

Galveston

Harris

Liberty

Matagorda

Montgomery

Walker

Waller

Wharton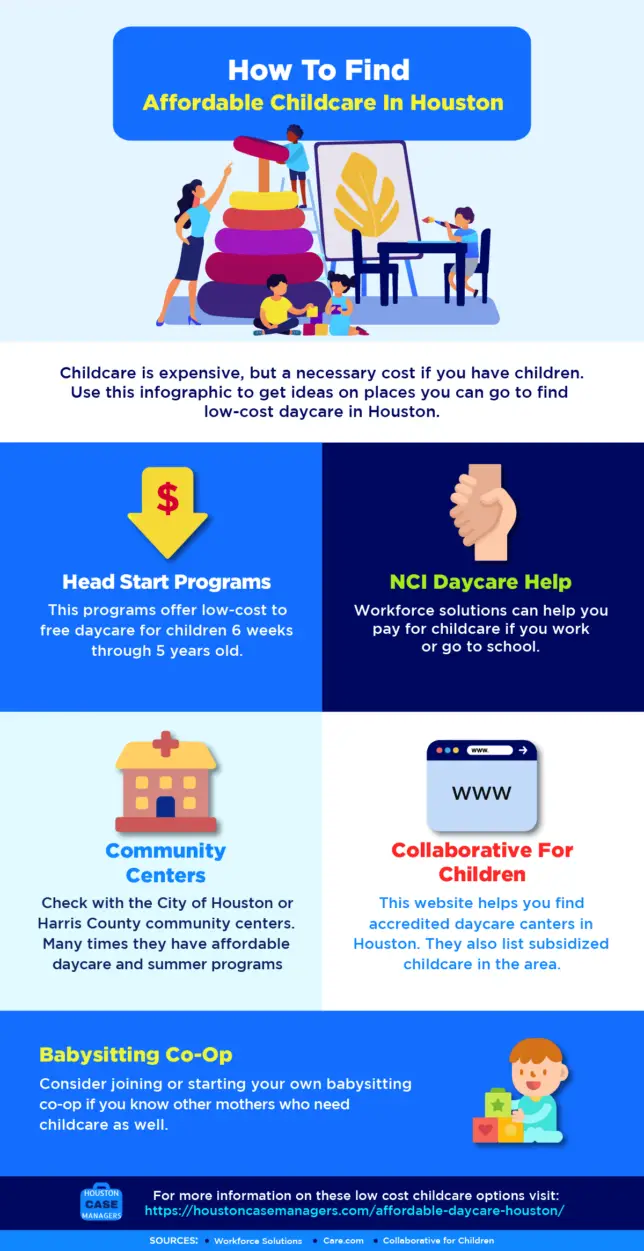 Work And School Requirements To Receive Child Care Assistance
You must meet one of the following below:
Work at least 25 hours per week

Go to school full-time

Work and attend school for at least 25 hours per week
Income Requirements For Workforce Child Care Assistance
The chart below details the income requirements to receive assistance from this program.
| | | |
| --- | --- | --- |
| Household Size | Initial Eligibility 200% FPL | Sustaining Eligibility 85% FPL |
| 2 | $2903 | $4113 |
| 3 | $3660 | $5081 |
| 4 | $4417 | $6049 |
| 5 | $5173 | $7016 |
| 6 | $5930 | $7984 |
| 7 | $6687 | $8166 |
| 8 | $7443 | $8347 |
| 9 | $8200 | $8528 |
| 10 | $8710 | $8710 |
How Long Is The Houston Child Care Assistance Waitlist?
The time it takes to move up the Houston Workforce Childcare Solutions waitlist is 2 – 3 months.
How To Apply For Workforce Child Care Assistance?
You have two options to apply for Workforce child care assistance in Houston.
Completed the online child care assistance application and then either, fax, email, or deliver it to the nearest Workforce office in Houston.

Visit the closest Houston Workforce office and complete the application in person.
Texas Workforce Child Care Application
Follow the links below to complete the online NCI child care application.
If you cannot complete the online child care application, then call Workforce Solutions at 713.334.5980.
What Is The Houston Workforce Solutions Child Care Number? 
The number is 713.334.5980. You can call this number to apply for NCI daycare assistance in Houston. 
Houston Workforce Solutions Offices
Below is a listing of Workforce Solutions in Houston. Contact these locations before visiting them whether you need help applying for NCI daycare benefits or help to find a job.
Some locations on the listing below like the homeless shelters (Star of Hope, Covenant House, Salvation Army) may only help those who are residents at the shelter. Again, to prevent a blank trip, call these locations ahead of time to see if they help with NCI for childcare.
Astrodome Workforce Office – 9315 Stella Link Rd, Houston, TX 77025. 713.661.3220.
Baytown Workforce Office – 4308 – B- Garth Rd, Baytown, TX 77521. 281.837.0079.
Bay City Workforce Office 3501 Avenue F, Bay City, TX 774414 – 979.245.4808.
Conroe Workforce Office – 2018 Interstate 45 N, Conroe, TX 77301 936.441.0037.
Cypress / 1960 Workforce Office – 70A Farm to Market 1960 Rd W, Houston, TX 77073 – 281.891.2850.
Covenant House Workforce Office – 1111 Lovett Blvd, Houston, TX 77006 – 713.523.2231.
Cuney Homes Workforce Office – 3260 Truxillo St, Houston, TX 77004 – 713.741.7590.
East End Office – 5104 Harrisburg Blvd, Houston, TX 77011 – 713.228.8848.
Houston Central Library Workforce Office – 500 McKinney Houston, TX 77002 – 832.393.1313.
Humble Workforce Office – 281.446.4837.
Huntsville Workforce Office – 901 Normal Park Dr, #7, Huntsville, TX 77320 – 936.291.3336.
Katy Mills Workforce Office – 5000 Katy Mills Circle, Ste 659, Katy, TX 77494 – 281.644.1030.
Lake Jackson Workforce Office – 491 This Way, Lake Jackson, TX 77566 – 979.297.6400.
Metropolitan Multi-Service Center Workforce Office – 1475 West Gray St, Houston, TX 77019 – 832.394.0814.
Northeast Workforce Office – 4217 Tidwell Rd, Houston, TX 77093 – 713.697.3437.
Northline Workforce Office – 4424 North Freeway, Houston, TX 77022 – 713.692.7755.
North Shore Workforce Office – 14355 Wallisville Rd, Houston, TX 77049 – 281.458.1155.
Ring Neighborhood Library Workforce Office – 8835 Long Point Rd, Houston, TX 77075 – 832.393.2000.
Rosenberg Workforce Office – 28000 SW Freeway, Suite D, Rosenberg, TX 77471
Greenway Workforce Office – 3355 West Alabama St #350, Houston, TX 77098 – 713.688.6890.
Sealy Workforce Office – 3701 Outlet Mall Dr. #140, Sealy, TX 77474. – 979.627.0241.
Southeast Workforce Office – 12148 B Gulf Fwy, Houston, TX 77075 – 713.576.2580.
Southwest Workforce Office – 12710 Bissonnet St, Houston, TX 77099 – 281.564.2660.
Star of Hope Men's Shelter Workforce Office – 1811 Ruiz Street, Houston, TX 77002 – 713.227.8900.
Star of Hope Women and Family Workforce Office – 2527 Reed Rd, Houston, TX 77051 – 713.222.2220.
Texas City Workforce Office – 3549 Palmer Hwy, Texas City, TX 77590 – 409.949.9055.
Salvation Army Men's Shelter Workforce Office – 2407 Main Street, Houston, TX 77009 – 713.224.2875.
Westheimer Workforce Office – 8373 Westheimer Rd, Houston, TX 77063 – 713.953.9211.
Waller Workforce Office – 640 10th St, Hempstead, TX 77484 – 979.826.0653.
Willowbrook Workforce Office – 17517 TX – 249, Houston, TX 77064 – 281.807.9462.
Conclusion
If you are a parent who cannot currently afford the cost of child care programs, then consider contacting a Houston Workforce Childcare Solutions office.
They can screen you to see if you qualify for the NCI daycare program. This program can connect you to Houston childcare assistance if you are a parent that meets income guidelines.
For more information on how Workforce can help you funds to pay for childcare services, contact them at 713.334.5980. 
Similar Articles That May Interest You:
Texas NCI Daycare FAQ
How Does NCI Work In Texas?
Texas provides government financial assistance with the National Childcare Initiative (NCI) and Texas's Comprehensive Childcare Management System (CCMS). NCI offers limited funds to low-income parents who work or attend job training in order to help cover daycare expenses.

Does The US Have Free Daycare?

The United States does not have a national program for free daycare. Child care is considered a personal responsibility and is generally not provided for free by the government. However, some states and municipalities may offer subsidies or assistance to low-income families to help with the cost of child care. Programs like National Childcare Initiative (NCI) and Texas's Comprehensive Childcare Management System (CCMS) offer help paying for daycare to single mothers with low incomes.

Does Texas Workforce Help With Childcare?
The Texas Workforce Commission offers a variety of assistance to help working families access and pay for child care. One way they provide assistance is through Child Care Scholarships, which can help eligible families access child care while they work or attend school. Additionally, the Texas Workforce Commission offers a range of programs that are designed to meet the needs of different families, including options for a family member to provide care for a child. The commission also provides access to workforce support and other resources, such as information about quality educational opportunities for children.

Nick Bryant is the author of Understanding Healthcare Is Half The Battle and a Senior Counselor with 13+ years of experience working in community health and mental health. He enjoys spending time with his family, watching WWE on Friday nights, and working toward a Google Data Analytics certification. If you have additional questions about community resources or government assistance programs, simply leave a comment below and he will follow up as soon as possible.