How To Find Apartments In Houston That Accept Felons
---
This community resource will help you how to find apartments in Houston that accept felons. 
It can be difficult to find an apartment that will take you in if you are evicted, have a broken lease, or have a felony criminal record. You can improve your chances of getting approved for an apartment by working with apartment locators who are experts in this area.
Continue reading to learn about three Houston apartment locators that can help you find the right place for you, even if your rental history is not great.
Contacting A Houston Second Chance Apartment Locator
A 2nd Chance Apartment Locator is available for those who are having difficulty finding an apartment. This professional will help you locate an apartment in Houston for people with poor rental histories, eviction records, or criminal backgrounds.
There are many types of people who might need to work in 2nd Chance Apartments:
People who are trying to get their feet back on the ground after being in prison or jail.

Houston residents are looking for eviction apartment locators because of their poor rental history.

People with poor rental history, such as multiple late payments or broken leases.

Family members who are trying to get back on track after losing their job or going through a divorce, bankruptcy, or other crisis situation.
Whether or not a 2nd chance apartment locator can help you, will depend on your criminal history or rental history.  There will be some rental issues that are easier to deal with than others.
If you have a felony criminal record, it is best to contact a 2nd Chance Apartment Locator to save time and money.
Finding An Apartment With A Felony
A felony criminal record will make it more difficult to find an apartment, but all is not lost. If you have the income to pay your rent each month, there are definitely landlords out there who will rent to you.
To save yourself time and frustration, consider working with a 2nd chance apartment locator in Houston. They know exactly which apartments will and will not rent to individuals with felonies. Also, the number of years since your offense and type of felony will determine the apartments that are available to you.
An apartment locator will be able to easily determine which felony-friendly apartments in Houston give you the best chance of being approved.
The following sections offer you 3 apartment locators that can help you find a place to stay.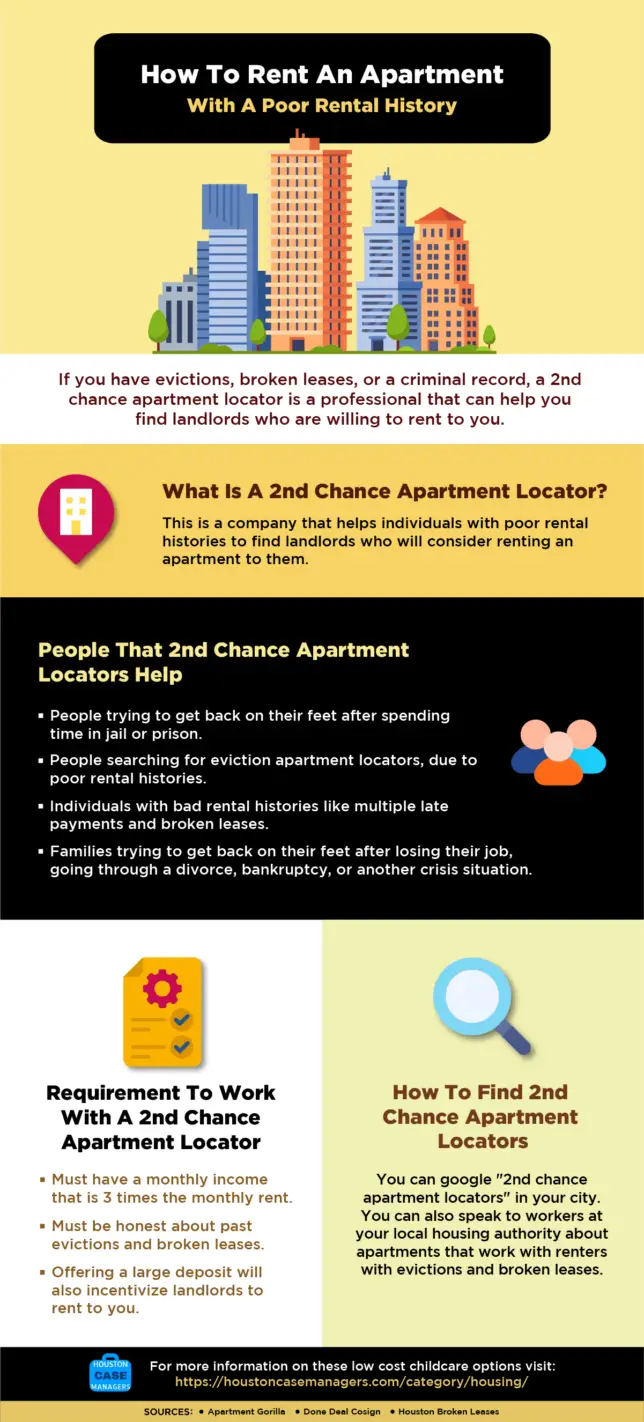 Deal Cosign
Done deal can help you locate second-hand apartments in Houston.
This company helps people with broken leases and evictions to find Houston apartment managers willing to work with them.
Done Deal is required to assist you in finding 2nd chance apartments in Houston.
You should not have more than two rental issues

You have enough income to pay rent each month

Background checks for criminal convictions in apartments

They can count on you, to be honest, and responsive to emails and phone calls
Done Deal offers a large network of Houston apartments for second chances. However, it is best that you contact them to ensure they are able to match you properly. They can connect you with apartments in Houston that are willing to evict.
You can visit the Done Deal Cosign website, or call them at 713.992.3000 if you have a poor rental history.
Houston Broken Leases Website
Houston Broken Leases is a last chance apartment locator.
The company can help you find a rental property regardless of your financial situation or rental history. They can only offer assistance on a case-by-case basis. However, in the past they have assisted Houston renters with these problems:
They have a large network of 2nd-chance apartment complexes they work with. They call Houston's broken lease apartments to find out their policies regarding working with people with poor rental histories.
You can find no-criminal background check apartments in Houston by visiting the Houston Broken Leases website.
Conclusion
Houston's second chance apartment locators can help those with bad rental history. This includes you if you have a criminal record and you need to find apartments in Houston that accept felons. 
You can contact the following 2nd Chance Apartment Locator companies if you need assistance finding apartments that will accept evictions or broken leases.
Done Deal Cosign

Houston Broken Leases
These companies help people with bad rental histories connect to 2nd-chance apartments that are willing to work with them. These companies will only help you find an apartment if your lease or eviction has been more than one year. However, depending on your circumstances, they might be able to help even if it is less than one year.
Similar Articles That May Interest You
Nick Bryant is a Counselor with 11 years of experience working in community health. He enjoys concerts, walks with the doggo and wife, mocking Dallas Cowboy fans, and sharing community resources. Jump on the Houston Case Managers email list to receive weekly community resource guides delivered directly to your inbox.