How To Find 2nd Chance Apartments In Houston If You Have A Poor Rental History
---
In this community resource, I will show you 3 ways to find 2nd chance apartments in Houston.
Finding an apartment that will accept you if you have an eviction, broken lease, or criminal record is not an easy task. To improve the odds of being approved for an apartment, you should consider working with apartment locators that specialize in this.
Continue reading and I will tell you about 3 different Houston apartment locators who can help you find a place to stay even if you have a poor rental history.
Who Should Contact A Houston Second Chance Apartment Locator
Individuals who have a tough time finding an apartment are encouraged to work with a 2nd chance apartment locator. This is a professional who will help you find an apartment in Houston that accepts people with poor rental history, eviction records, and even some criminal background issues.
There are several types of individuals who may need to work with 2nd chance apartments:
People trying to get back on their feet after spending time in jail or prison.

People searching for eviction apartment locators in Houston, due to poor rental histories.

Individuals with bad rental histories like multiple late payments and broken leases.

Families trying to get back on their feet after losing their job, going through a divorce, bankruptcy, or another crisis situation.
Second chance apartments in Houston accept new tenants on a case-by-case basis. Some rental issues will be easier to work with than others.
The bottom line is if you have a poor rental history, you are encouraged to contact a 2nd chance apartment locator to help you save time and money throughout the process.
Have An Income Of 3 Times The Monthly Rent
Most apartment locators require that you make at least 3 times the monthly rent. If you have a less than perfect rental history, having a verifiable income to pay rent each month is absolutely necessary.
Whatever your monthly income is right now, divide that by 3 and this is roughly the monthly amount that you should pay for a 2nd chance apartment.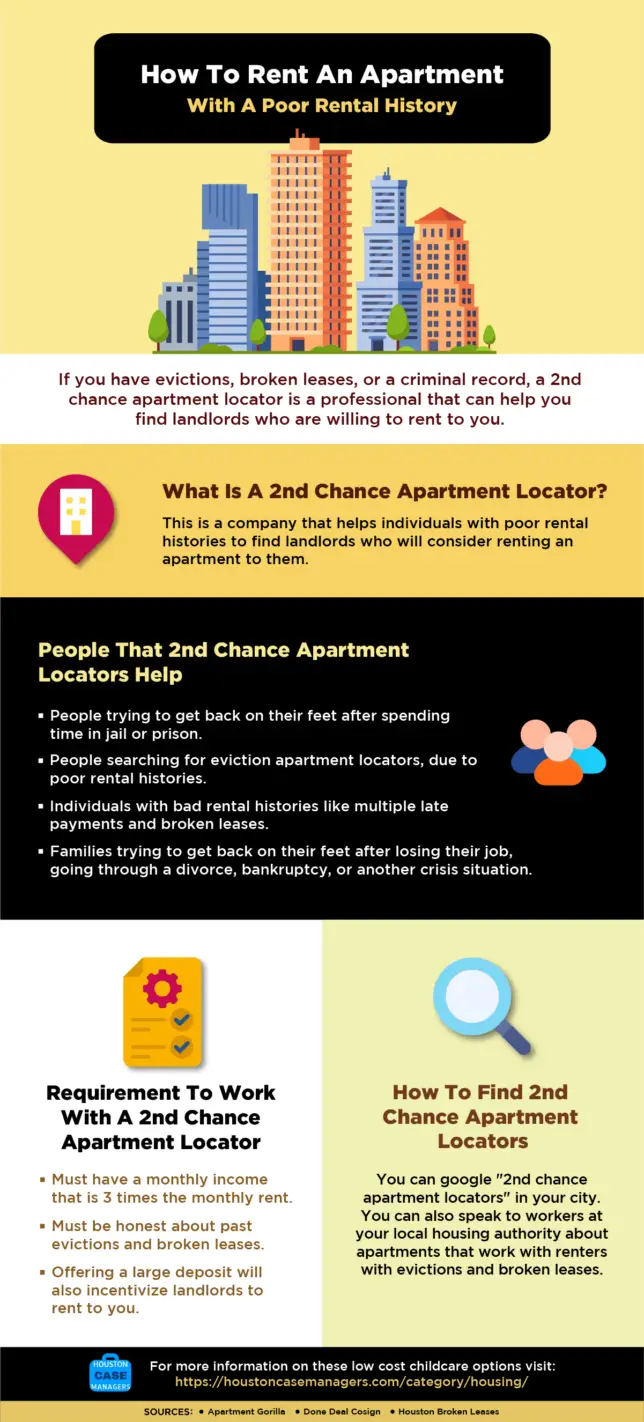 Done Deal Cosign: 2nd Chance Apartment Locator For Those With Broken Leases And Evictions
Done Deal Cosign is another apartment locator that can help you find second chance apartments in Houston.
This company focuses on helping individuals with broken leases or evictions find Houston apartment managers who are willing to work with them.
To receive assistance locating 2nd chance apartments in Houston, Done Deal requires:
That you have no more than 2 rental issues

You have the income to pay for rent each month

Pass apartment criminal background checks

You are honest and responsive to their calls and emails
Done Deal has a huge network of Houston second chance apartments on their website, however, it is best to contact them so that they can properly match you. They will be able to connect you to apartments that take evictions in Houston, TX.
If you have a poor rental history and want to work with this apartment locator, you can visit the Done Deal Cosign website or call them at 713.992.3000.
Houston Broken Leases: Apartment Locators To Help If You Have Bad Credit, Bankruptcies, Broken Leases, Etc
The last 2nd chance apartment locator is called Houston Broken Leases.
This company can potentially help you find a place regardless of a poor rental history or financial troubles. The help that they can offer is on a case-by-case basis, but in the past, they have helped Houston renters with the following problems:
Broken leases

Eviction

Misdemeanors

Felonies

Bad Credit

Evictions

Repossessions
This apartment locator has an extensive network of 2nd chance apartment complexes that they work with. They routinely call Houston broken lease apartments to learn about their policies for working with individuals with poor rental histories.
If you need help finding no criminal background check apartments in Houston, consider visiting the Houston Broken Leases website.
Conclusion
Second chance apartment locators in Houston can offer help to individuals who have bad rental histories.
If you need help finding 2nd chance apartments that accept evictions, broken leases, or criminal records you can contact one of the following 2nd chance apartment locator companies:
Done Deal Cosign

Houston Broken Leases
These companies connect people with poor rental histories to 2nd-chance complexes that are willing to work with them on a case-by-case basis. It is best if your eviction or lease break has been over 1 year old for these companies to help you find an apartment; however, they may be able to assist even if it's less than 1 year old depending on the circumstances of your situation.
Similar Articles That May Interest You: 
Nick Bryant is the author of Understanding Healthcare Is Half The Battle and a Senior Counselor with 13+ years of experience working in community health and mental health. He enjoys spending time with his family, watching WWE on Friday nights, and working toward a Google Data Analytics certification. If you have additional questions about community resources or government assistance programs, simply leave a comment below and he will follow up as soon as possible.