Find A Job Fast: How To Apply For Jobs On Craigslist
---
Craigslist is a great place to find jobs fast, but many people are unfamiliar with how it works.
Craigslist is a website that allows people to post ads for various jobs. It's also a great place to find work quickly and easily. Whether you're looking for part-time, full-time, or temporary employment, craigslist has listings in just about every field imaginable.
In this article, I will explain how craigslist works, how to apply for a job there, and why you can receive job offers fast by using the website.
What Is Craigslist?
Craigslist is a website that allows people to post ads for various things like jobs, apartments for rent, things people are selling. You can think of Craigslist as an online classified section like you might see in a newspaper like the Houston Chronicle or the Greensheet.
What Type Of Jobs Can You Find On Craiglist?
Craiglist has jobs in just about every field imaginable. You can find work as a freelancer, for temporary employment agencies, and even full-time positions with benefits from major companies.
To find the listing of jobs available on Craiglist you simply need to look in the "jobs section". There you will see categories of jobs like:
Admin and office work

Customer service jobs

Medical and health jobs

Retail positions

Security

And more…
2 Reasons You Can Find A Job Fast With Craigslist
The main reason you can find a job quickly with Craigslist is that many times the person who is posting the job to the website is the hiring manager. That or someone who reports back to the hiring manager.
Many of the job postings on Craigslist will allow you to directly reply to the posting. You can do this and include your cover letter, resume, and a personal message to the hiring manager stating why you would be a good fit for that particular position.
The second reason Craigslist allows you to find work fast is that many times the positions that are posted to the site need to be filled quickly. When replying to a post you can not only impress the hiring manager but also ensure that they know you are ready to go to work as soon as possible.
How To Find A Job On Craigslist
To find a job here start by visiting Craigslist.org. There are Craigslist pages for each city, so you will need to choose the one in your area.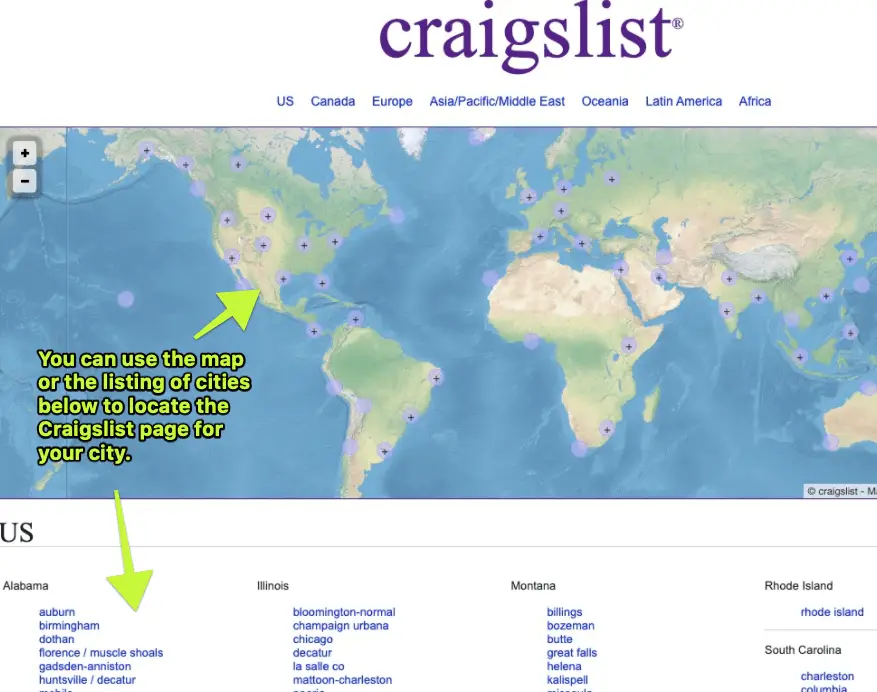 Next look for the "jobs section" on your cities homepage. There you will see a long listing of job categories starting with accounting+financee, admin/office, etc. Choose the industry that best suits your level of skills and click the link.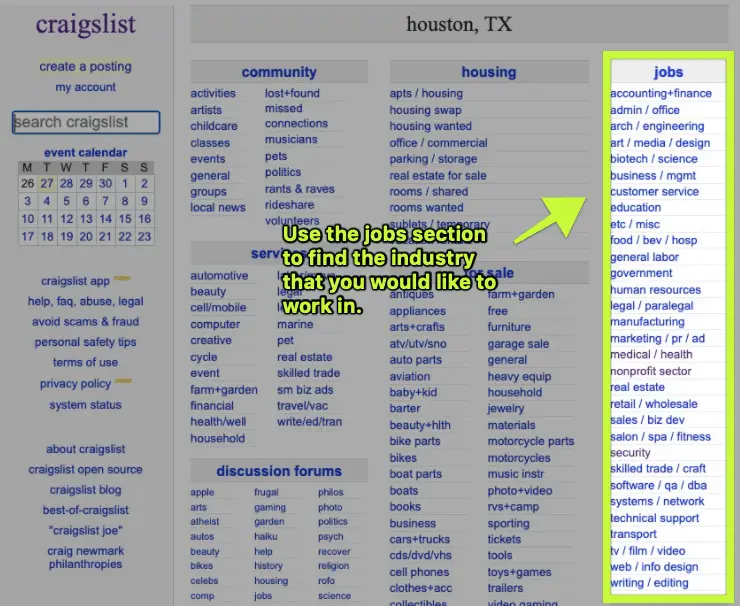 For this example, I chose medical/health. Below you will see a listing of job postings that employers have made. Employers post new jobs to the site every day, so you'll always have a job to apply for.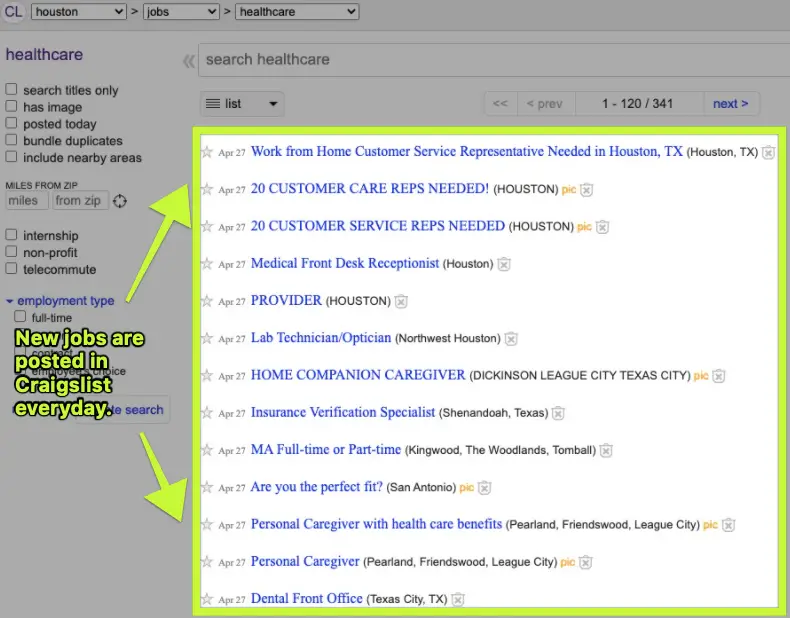 The actual job posting page will look similar to this below. It will have the type of job, the skills required, and a general location of where the office is that you will be working.
To apply for a job on Craigslist, many times you simply need to click the reply button and email them the information they are requesting. This could be things like your resume and cover letter.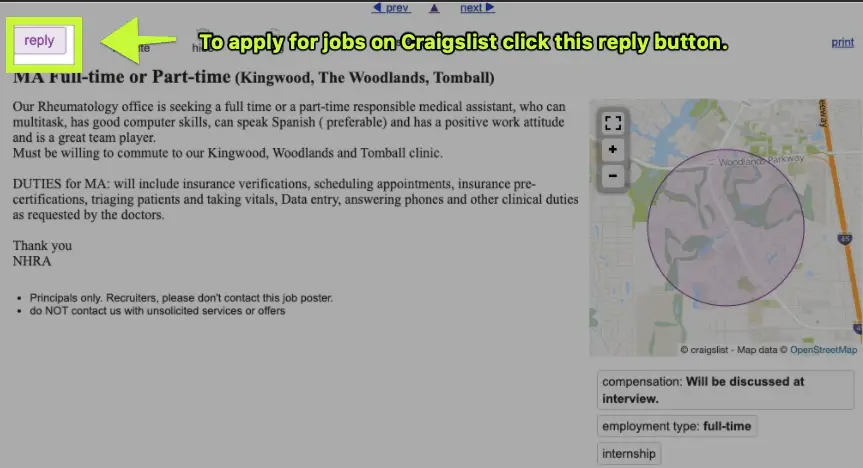 Information To Include On Your Resume 
Personal Information

Be sure to put your full name, address, phone number, and email as a header at the top of your resume.

Objective

List your goals, skills, and relevant experience at the beginning of your resume summary.

 

Work History 

Use a reverse-chronological employment history, with the most recent or current job at the top of the list, starting with your name and ending with your address. List each employer's name, geographic location (ie.: "Houston, TX"), date hired/completed position for that company, the title of

Education

List all your degrees in the "Education" section. If you're currently attending school, include that here as well.

Licenses and Certifications

List all licenses and certifications, if applicable, under a separate section titled "Professional Licenses." This section should be followed by the name of your professional license in bold followed by many months that you've obtained/been issued this license.

Skills

List your most relevant skills in bullet points under the heading "Skills".
Information To Include On Your Cover Letter
| | |
| --- | --- |
| Introduction | Begin your cover letter with a formal salutation. Add the name of the individual you're addressing, if possible. Make sure to use a friendly and professional tone throughout your letter. |
| Summary of Interest | Use the first paragraph to explain the job you're applying to. State where you found the job, the name of the job, and why you want to apply. |
| Summary of Skills | When writing your cover letter, highlight the aspects of your experience that make you a great fit for this job. Use effective, timely quantifications to support and explain your response. For example, if you have ten years of work experience in IT as well as technical expertise in the desired skill set (both are required), then say so! |
| Closing | You might also express thanks to the hiring manager for his or her time in the last paragraph and request to get back in touch. |
Follow Up After You've Applied
After applying for the job you can set yourself apart from the other applicants by sending a follow-up email to the hiring manager. If they included their real email on the Craigslist post use it to follow up.
It is customary to send your follow-up email within 48 hours of applying for the job. After that, you should wait 24 hours to give the hiring manager a chance to respond to you.
Craigslist Job Scams To Watch Out For
Finally, you want to look out for scams on the website. It's free to post a job on Craigslist and anytime a service is free you can be sure there will be some bad actors who will come and try to deceive others.
According to The Balanced Careers, Craigslist scams that you want to look out for include:
If you have researched the company and they don't have a website or any footprints on the internet, be wary.

Job postings with no specific job title or mention of what your responsibilities are postings you want to avoid.

Jobs with ridiculously high salaries. As a writer, I've fallen for a few job postings where the company offered to pay $200 for a 500-word article. After doing a little research, I noticed a trend of bad reviews for this company. While I can't say that this company is scamming people, that information was enough to simply avoid the headache of finding out. Long story short, do your research with any company you apply for on Craigslist.

Avoid any job posts where you are required to purchase anything. This includes software, memberships, etc. Legitimate companies already have revenue coming in so they simply need you to work. Be cautious of companies that want you to pay fees before you can start work.

ANY JOB POSTING ASKING FOR YOUR BANK ACCOUNT NUMBER.
To learn more about how you can avoid scams see the Avoiding Scams page on the Craigslist website. They offer dos and don'ts as well as who you should contact if you suspect any internet fraud.
Conclusion
Craigslist is a great place to look for employment if you want to get hired fast.
Many times the hiring manager is the one you are responding to. In addition, they likely need someone to fill the position soon.
Despite the ability to find a job fast, keep in mind some of the Craigslist job scams that we went over in this article.
Overall if you are careful, Craigslist is a great resource that you can use to find work fast. I know this first hand because I started off my career in social services by finding a job with the Harris Center Crisis Helpline way back in 2007!
Similar Articles That May Interest You: 
Nick Bryant is the author of Understanding Healthcare Is Half The Battle and a Senior Counselor with 13+ years of experience working in community health and mental health. He enjoys spending time with his family, watching WWE on Friday nights, and working toward a Google Data Analytics certification. If you have additional questions about community resources or government assistance programs, simply leave a comment below and he will follow up as soon as possible.