How to Get Free Government Money for Car Repairs? 
---
In this community resource guide, you will learn about one government program that can help you with the cost of transportation.
Did you know that the government offers an assistance program to help people with transportation costs?
This program can provide funds for gas, repairs, and other transportation-related expenses.
In this article, we will discuss one government program that can help you pay for your transportation costs. We will also provide information on how to apply for this program and what the requirements are. Keep reading!
TANF Is A Government Program That Can Help You With Car Repairs
The government offers a program called Temporary Assistance for Needy Families (TANF) which can help you pay for car repairs and other vehicle expenses.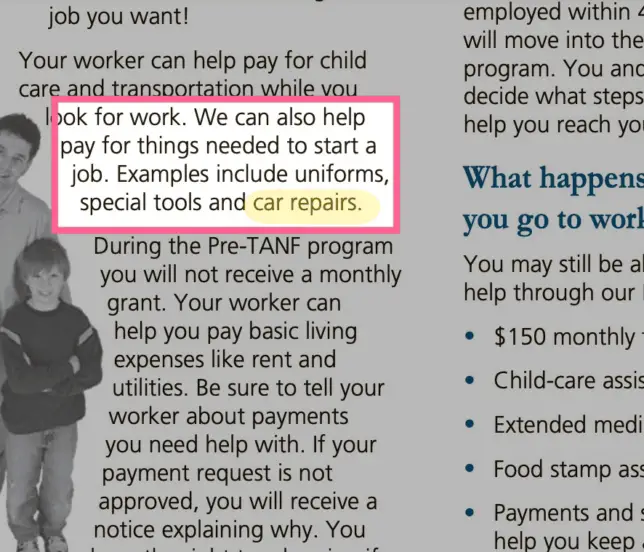 Editor's Note: TANF goes by a number of names including TANF cash, Temporary Assistance for Needy Families, EBT cash benefits, and welfare. If you see any of these names, know that it means TANF.
If you are low-income and need cash benefits assistance, the TANF program can help you by providing monthly funds to help you with basic needs and expenses. If you are wondering how to pay for car repairs with no money, the TANF program is one solution. Monthly funds can be used for car repairs and other transportation-related costs, especially if your car is needed to get to a job, a career training program, or take your children to doctor's appointments.
Does TANF Have A Government Free Car Program?
No, the government nor TANF has a free car voucher program. There are many articles that state, that the government offers free vehicles, but this is simply not true. The only way that the government participates any anything resembling a free car program is:
The government provides funds to local non-profits that offer free car programs. There are some non-profits that help single mothers, military families, and children with disabilities with a free car, but these programs are extremely rare.

Someone who qualifies for TANF uses those monthly funds to pay for transportation expenses.
The bottom line is there is no government office that you can enter to apply for a free car program.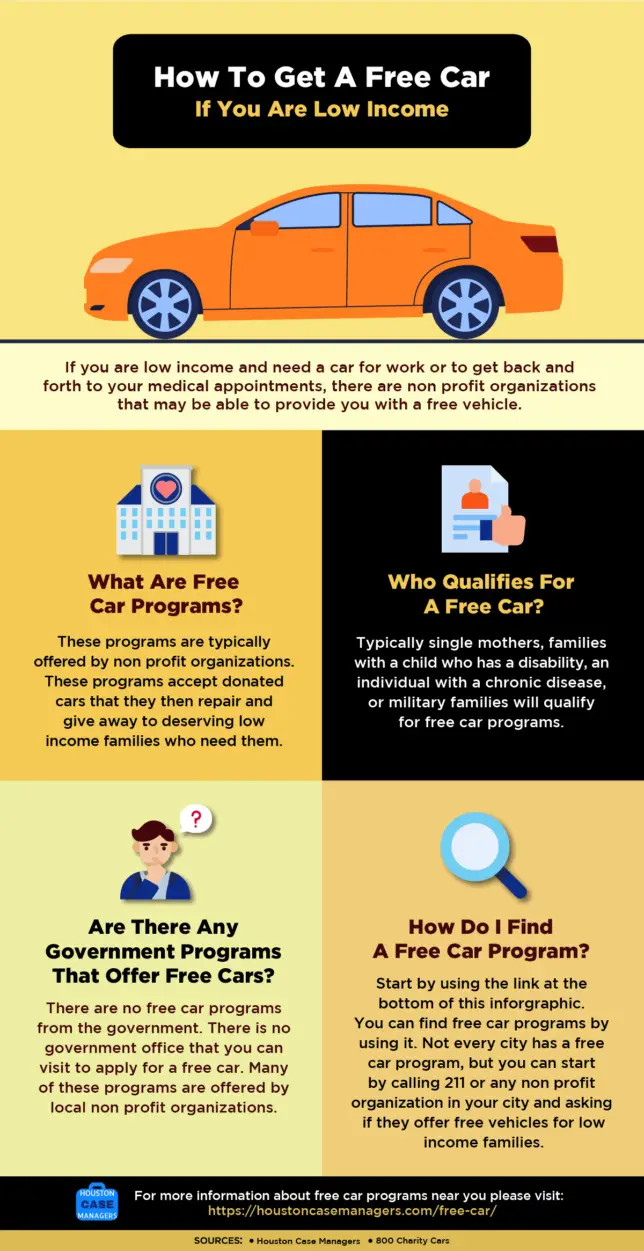 What Other Basic Needs Does TANF Pay For?
TANF can be used to pay for a variety of different things. These include food, clothing, housing, utilities, furniture, transportation, phone, laundry, and supplies for the home.
TANF can also be used to pay for medical supplies that are not covered by Medicaid. TANF can also be used to help pay for other basic needs.
The items listed above are usually allowed to be bought with TANF money, however, each state has its own restrictions.
Eligibility Requirements For TANF
TANF is a needs-based program, which means that eligible families must have little to no income or resources in order to qualify for assistance.
TANF benefits are available to families with children aged 18 and younger, as well as to relative caregivers who are raising related children.
In order to determine TANF eligibility, caseworkers will consider factors such as the family's overall income, the value of assets owned by the family, and monthly expenses such as child care and child support payments.
How To Apply For TANF
To apply for TANF benefits, you will need to contact your local Department of Social Services office. You can find the contact information for your local office by visiting the TANF website or finding your state's health department in the links below.
Conclusion
The only government program that resembles a free car program is the TANF program.
The TANF program can help you pay for transportation costs, but it does not give out free cars.
If you are (very) low-income and need help with transportation costs or basic needs, contact your local Department of Social Services office to see if you qualify for TANF benefits. You can find out more about this cash benefits program by visiting the TANF website.
Similar Articles That May Interest You:
Apply For Government Car Assistance FAQ 
Who is eligible for free government cars?
The government does not have a free car program. There is no office that you can visit to get a free car. You can apply for TANF (also known as welfare) and potentially get cash assistance to pay for car repairs. To apply for TANF you will need to contact your local health and human services department in your state.
How Can I Get A Car With No Money Or Credit?
It may be difficult to obtain a car with no money or credit. Some options to consider include:
* Saving up for a car: This may take some time, but it's the most straightforward way to get a car if you don't have any money or credit.
* Borrowing from a friend or family member: If you have someone you trust who is willing to lend you money, this could be an option.
* Rent-to-own: Some car dealerships or private sellers may offer rent-to-own options, which allow you to make payments on a car while you are saving up for a down payment.
Community programs: Some organizations or charities may offer assistance with transportation, such as cars for low-income families.
* Public transportation: If you cannot afford a car, you can use public transportation to get around, although it may not be as convenient as having your own vehicle.
* Carpooling: Carpooling with friends, family, or co-workers can be a cost-effective way to get around if you cannot afford a car of your own.

Keep in mind that each of these options has its own set of pros and cons, and you should evaluate them carefully before making a decision.
What Is The Minimum Down Payment For A Car?
In general, a down payment of around 20% of the car's total cost is typical, and this will help you secure a lower interest rate on your loan. Some lenders may require as little as 10% down while some dealerships offer 0% down payment financing. Down payments of less than 20% usually result in higher interest rates and a higher overall cost of the car.
How To Get Cars For Free?
800 Charity Cars is one of the largest free car programs in the country. It is difficult to get a free car due to the demand, but if you want to try working with a nonprofit to get a free car consider contacting 800 Charity Cars. You can also contact 211 to learn about nonprofits near you that help with transportation assistance.
Nick Bryant is the author of Understanding Healthcare Is Half The Battle and a Senior Counselor with 13+ years of experience working in community health and mental health. He enjoys spending time with his family, watching WWE on Friday nights, and working toward a Google Data Analytics certification. If you have additional questions about community resources or government assistance programs, simply leave a comment below and he will follow up as soon as possible.