Government Car Voucher Programs: Can You Get A Free Car From The Government?
---
 In this community resource guide, you will learn whether or not the government offers free car programs.
There is a lot of information on the internet about the government offering free cars to low-income families. This article will explain whether this information is true and also give you an understanding of where you can go to find free car programs near you.
 Continue reading to learn more about free car programs from the government.
Does The Government Offer Free Car Programs?
No, the federal government does not have any free car programs for low-income families. There is no state or federal benefits office that you can go into to apply for a free car or a free vehicle. There is no state or federal website where you can apply for a free car at also.
Some nonprofits (a very small amount) receive federal funds from the government, which they then use to help low income families get a vehicle. Again this is very rare. Non profits resources are limited when it comes to offering less expensive resources like food and clothing, therefore it's even less likely that they can offer car assistance programs which would be costly.
The website Benefits.gov is one website where you can find government benefit programs to help you. As you can see from the screenshot below there are no federal or government programs that offer a free car.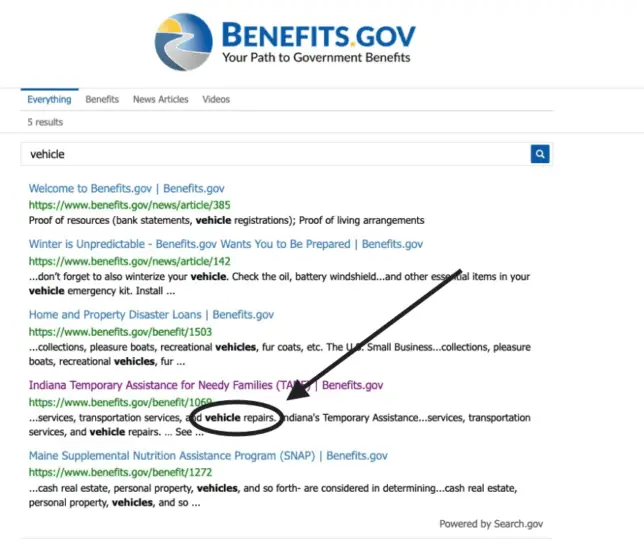 The only mention of financial assistance for a car is through TANF (also known as the Welfare program). The TANF program in your state may pay for car repairs if your vehicle breaks down. This again is the only mention of anything close to a government car voucher program.
Does TANF Pay For Car Repairs?
Some TANF or welfare programs will provide financial assistance to help you with a repair if your car breaks down. You will need to contact your state social services department to see if they offer money to help you with car repairs.
You can use the table below to contact the state department that offers TANF benefits.
Where To Find Free Car Programs?
Nonprofit organizations sometimes offer free car programs. If there are large nonprofits in your city it's a good idea to start with them to see if they offer help getting a free car. Free car programs are rare but again the best place to look is with local nonprofits.
You can also contact your local United Way by dialing 211 on your cell phone. The United Way is a resource phone number that can connect you to local programs that are available to you. You can call and speak to an operator with 211 to see if they have free car programs in your city.
We have a comprehensive resource guide called How to find a free car program near you that you can also use. This guide offers 26 different free car programs around the United States. You can start here to see if there's a free car program near you.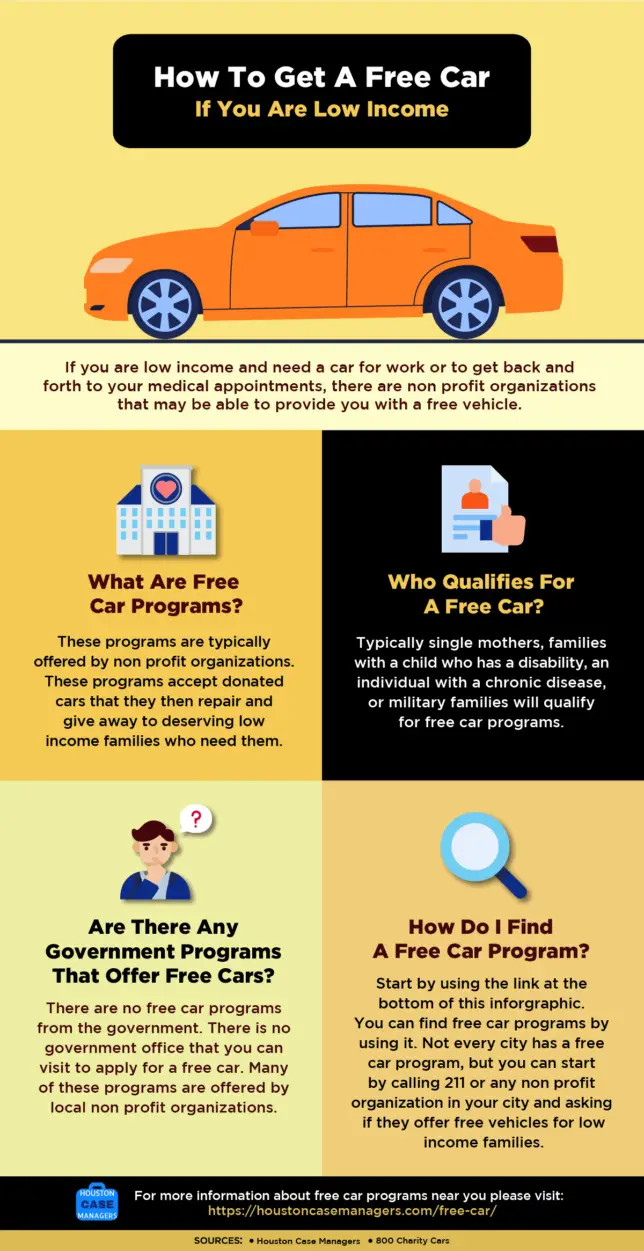 Who Qualifies For Grants For Cars?
Nonprofits Who offer car assistance programs typically offer these two individuals like:
Low income single mothers

Low income individuals who need a car to get to and from a job or career training program

Military families

Senior citizens with chronic disease

Seniors who need help getting to and from medical appointments

Families who have a child with a disability
While each program has different requirements for eligibility, common situations that will qualify you are:
Needing help getting to a job or training program or…

Help to get to your doctor's appointment
Whether you are applying for a car voucher program based on the need to get to work or for medical reasons you will need to provide the proper paperwork to validate your situation. 
Conclusion
The government does not directly offer any free car programs. This means you cannot apply for government car assistance at your local health and human services office. There are government offices that you can walk into to apply for Medicaid, WIC, food stamps, and other supportive services. However, there are no offices where you can find government car programs.
If you are interested in finding a free car program you will need to contact a local nonprofit.  These organizations sometimes have funding to help to buy a car. You can also read this article with 26 different free car programs to see if there is one in your area.
Similar Articles That May Interest You:
Nick Bryant is the author of Understanding Healthcare Is Half The Battle and a Senior Counselor with 13+ years of experience working in community health and mental health. He enjoys spending time with his family, watching WWE on Friday nights, and working toward a Google Data Analytics certification. If you have additional questions about community resources or government assistance programs, simply leave a comment below and he will follow up as soon as possible.