How To Check Your
---
In this community resource guide, I will explain how to check the balance on your Texas Lone Star card.
The Lone Star card is the card that you are given when you qualify for food stamps in Texas. This card allows you to make purchases at grocery stores. It works just like a debit card because funds are deducted from your account each time you make a purchase. Because of this, it is important to know your Lone Star card balance so you do not run out of money before the end of the month.
Editor's Note: The Lone Star card is the name of the card that you are provided when you qualify for SNAP benefits, also known as the food stamp program. This card is also known as an EBT card, food stamp card, and SNAP card, so do not be confused if you see any of these terms. They all refer to the Lone Star card.
If you have a Lone Star card, but do not know how to check the current balance of your Texas EBT card, continue reading to learn about this simple process.
How To Check Your Texas
You can check your Texas EBT card balance by:
Calling Texas Health and 800.777.7328 at
Checking the receipt for the Lone Star
Downloading the app
In the following sections, we will go over each method of checking your Lone Star balance.
What Is The Texas Number

?
You can call 800.777.7328 to get your Lone Star EBT balance. After dialing the Lone Star Card balance number, you'll need to follow these steps to see how much Texas food stamp benefits you have remaining.
Select your language.

Next, you will need to dial option 2 to learn your SNAP .
After that, they will ask for your 19 digit

number

.
This is the process of getting your Texas food stamp balance. Continue reading to learn how to check your Texas EBT card balance online.
How To Check My Online
You will need to download the Providers app to check your Lone Star card balance online. To download the Texas EBT food app you will need to visit the Providers website and enter your telephone number.
Editor's Note: This app was formerly called Fresh EBT.
Once you enter your phone number you will receive a text message that will help you download the Providers app. You can also visit the Google Play Store or Apple Store to download the Lone Star card balance app.
After you have downloaded the Providers app, you will be able to check your Lone Star card balance online. Once you log into your account the balance will look similar to this screen below.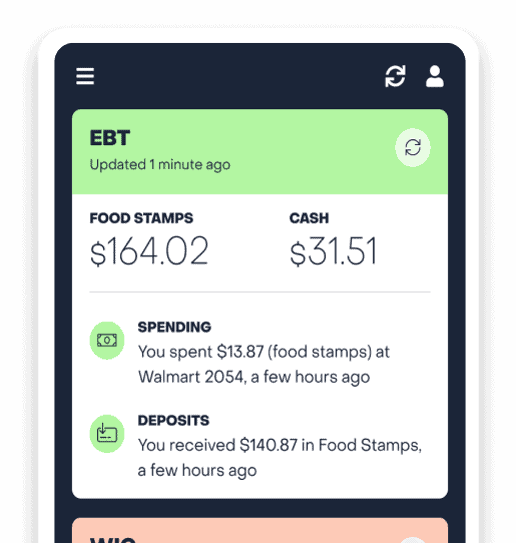 Check Your Texas SNAP By Using A Receipt
Lastly, you can determine how much food benefits you have left in the month by viewing your receipt after you make a purchase with your Texas SNAP benefits card. Below is an example of what you may see on your receipt.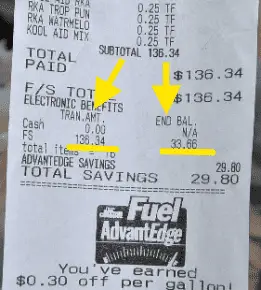 The FS indicates food stamp transactions. The TRAN AMT tells you how much you spent on food stamps. A total of $136.34 was spent on food stamp benefits on this purchase. 
The END BAL indicates your current SNAP balance. As you can see on this receipt the food stamp balance is currently $33.66. 
Conclusion
To check your Lone Star card balance you have 3 options:
Call Texas Health and 800.777.7328. at
Download the Providers app to check your online.
Check your receipt after you

Texas

. something with your
If you have more questions about checking your monthly food stamp balance, you can contact Texas Health and Human Services at 800.777.7328 or visit the Texas food stamp website.
Similar Articles That May Interest You:
Nick Bryant is a Counselor with 11 years of experience working in community health. He enjoys concerts, walks with the doggo and wife, mocking Dallas Cowboy fans, and sharing community resources. Jump on the Houston Case Managers email list to receive weekly community resource guides delivered directly to your inbox.