Texas Food Stamp Limit: What Is The Max Amount I Can Make And Get SNAP?
---
In this guide, I will explain what the food stamp income limit is in Texas.
To qualify for SNAP benefits, you must fall below certain income guidelines. Texas food stamps are only available to low-income families and the income qualification is based on specific income guidelines.
How much money your household can make will be determined by the number of people living with you…
Essentially the more people that you have to feed each month, the greater your earnings can be.
In this article, we will break down the Texas SNAP income limit according to household size.
Texas Food Stamps Income Limits 2023
The income limit for food stamps will vary according to household size. For a household of 1, you can make no more than $1,869 per month. The food stamp limit for a family of 3 would be no more than $3,167 of income per month. 
Your family's gross income must be less than a certain amount to qualify for SNAP benefits. Your household size and monthly income are used to determine if you qualify for this Texas food assistance program.
Below is a food stamp benefit chart for 2023 that lets you know what is the maximum income to qualify for Texas food stamps.
| | |
| --- | --- |
| Household Size | Monthly Income Limits For Texas Food Stamps 2023 |
| 1 | $1869 |
| 2 | $2518 |
| 3 | $3167 |
| 4 | $3816 |
| 5 | $4465 |
| Each additional person.  | $649 |
In addition to falling under the Texas SNAP income limits above, you will also need to meet other SNAP benefits Texas eligibility criteria to receive food assistance. This includes living in Texas and falling below gross income limits, net income limits, and asset tests. 
What Is The Max Amount Of Food Stamps In Texas?
If you do qualify for food stamps in Texas, you may be wondering how much you can receive each month. Your maximum amount of monthly food stamps is also determined by household size.
The maximum amount of Texas food stamps you can get will depend on your household income size. The maximum monthly SNAP benefit for a one-person household is $281. If your home has eight people, the highest total amount of SNAP benefits that you may receive is $1691.
The maximum amounts that you may receive for Texas food stamps are shown in the chart below.
| | |
| --- | --- |
| Household Size | Maximum Month Food Stamp Benefits In Texas |
| 1 | $281 |
| 2 | $516 |
| 3 | $740 |
| 4 | $939 |
| 5 | $1116 |
| 6 | $1339 |
| 7 | $1480 |
| 8 | $1691 |
| Each additional person.  | $211 |
How To Get Emergency SNAP Benefits
To get emergency food stamps in Texas, you will need to complete Section B of the Texas SNAP application. If you're applying for food stamps in Texas, be prepared to answer a few questions. In this section, you'll learn whether or not you qualify for emergency food assistance. Texas Health and Human Services may give you food stamps within 24 hours if you qualify.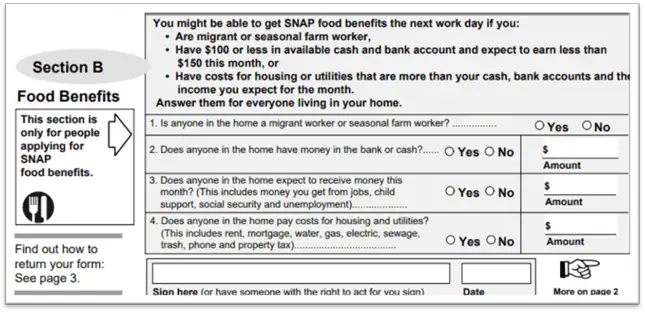 To receive emergency food stamps in Texas, you must still complete the standard food stamp application. Section B of the food stamp application will ask you a series of questions to see if you qualify for food stamps that can be awarded in 24 hours. The following are some of them:
Are you a migrant or seasonal farmworker?

Do you have $100 or less in cash or in the bank and you expect to earn less than $150 this month?

Your housing or utility bills are more than your cash, bank accounts, and the income you think you will earn this month?
If you answered yes to any of these questions, you may receive food stamps the next day.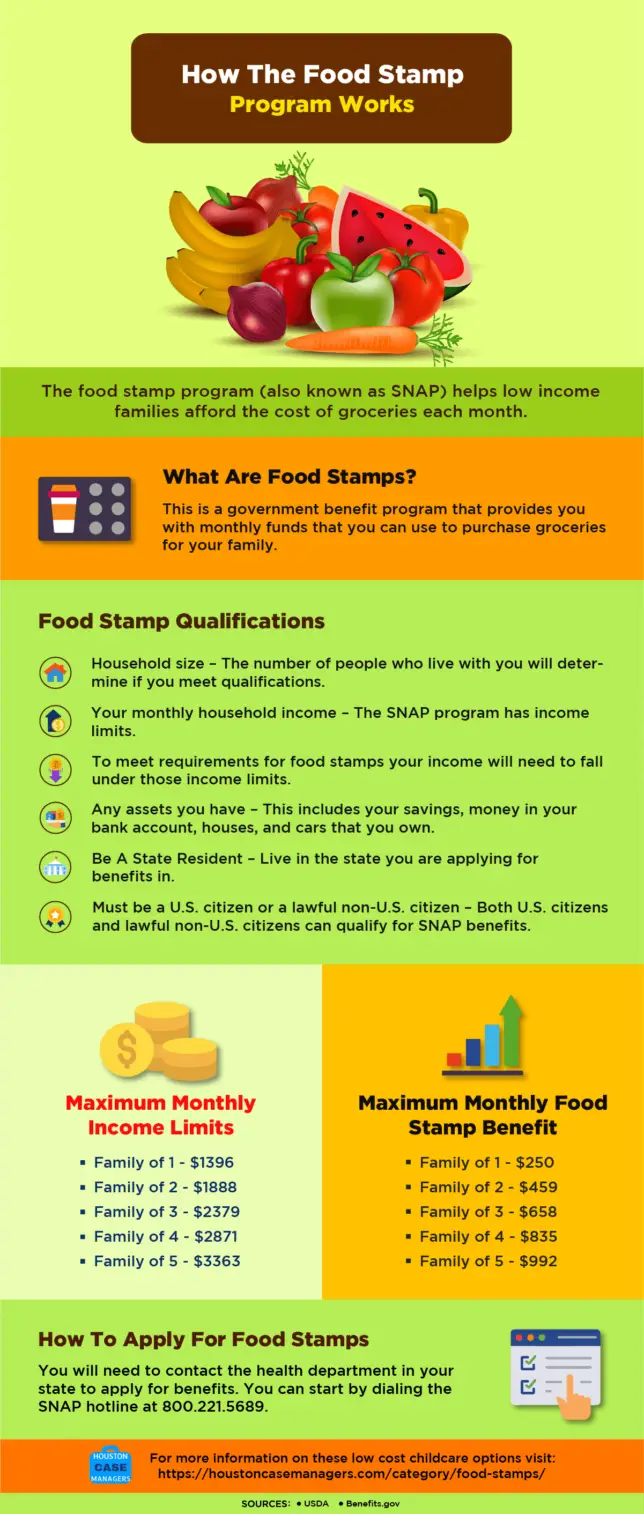 How To Apply For Texas Food Stamps
There are a few different ways to apply for SNAP benefits in Texas, as follows:
Apply online at Your Texas Benefits.
Call the Texas Health and Human Services phone number at

877.541.7905

.
Visit a Texas food stamp office.
Download a SNAP benefits application (Spanish Texas food stamp application) and mail it to Texas Health and Human Services.
How To Determine If You Fall Under Texas Income Limits
You can use a Texas food stamp calculator tool to estimate whether or not you qualify for SNAP benefits and learn how much you could receive each month. 
If you are unsure if you fall below the Texas income limit, you can use this tool to determine if it's worth applying for benefits. This is not an official Texas Health and Human Services tool, but it is still useful. You simply enter your monthly income, household size, and list your exemptions to get an estimate of how much monthly SNAP benefits you could receive. 
Conclusion
To qualify for this Texas food assistance program you will need to fall below the food stamp income limits. An income limit establishes the maximum amount of money that you can make and still be eligible for food stamps in Texas.
The chart above in this article shows you how much money you can make in relation to your household size. The more people in your household, the higher your monthly income can be.
Simply stated, your eligibility for Texas SNAP benefits will be based on a calculation of these two factors:
Your monthly income

The number of people in your household
For questions about SNAP income limits in Texas, it's best to contact them directly by calling 877.541.7905 or visiting the Your Texas Benefits website.
Similar Articles That May Interest You:
Nick Bryant is the author of Understanding Healthcare Is Half The Battle and a Senior Counselor with 13+ years of experience working in community health and mental health. He enjoys spending time with his family, watching WWE on Friday nights, and working toward a Google Data Analytics certification. If you have additional questions about community resources or government assistance programs, simply leave a comment below and he will follow up as soon as possible.