What's the Lone Star Card?
---
In this community resource guide, I will explain what a Lone Start card is.
Most likely you know what a Lone Star card is, but you just heard it called a different name.
Continue reading to learn more about the Lone Star card and how it helps low-income families in Texas.
What Is A Lone Star Card?
A Lone Star card is the name given to EBT or food stamp cards in Texas.
Editor's Note: TANF or welfare recipients in Texas also use the this card for purchases.
When you qualify for food stamps in Texas, the Texas Health and Human Services Department will issue you an LS Card. You will use this card to make purchases for food and other resources.
You would use your card the same way you use a debit or credit card. With each purchase you make they withdraw funds from your EBT account.
What Does The Lone Star Card Look Like?
Below is a picture of the old food stamps card.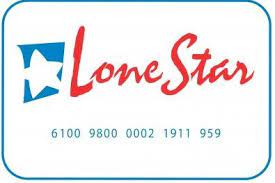 This is a picture of a new food stamps card.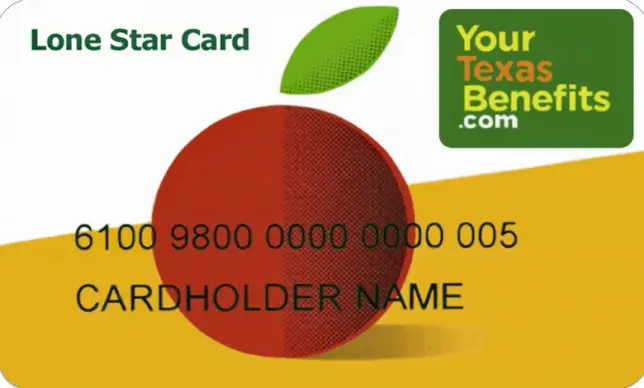 What Is The Difference Between A Lone Star Card And A EBT Card?
There is no difference between these two names. They are the same cards, just different names. If someone mentions an EBT card they are also referring to the Lone Star card or food stamp card.
Editor's Note: Many government programs come up with specific names for their state programs. Texas has named their food stamp card the "Lone Star card". California named its Medicaid program "Medi-Cal".
Here is a list of various names for this Texas food assistance card:
Lone Star card

EBT card

Food stamp card

SNAP benefit card
Remember, if you see any of these names, they are referring to the food stamp program here in Texas.
Who Uses This Card?
Individuals who qualify for either food stamps (SNAP benefits) or TANF (formerly the welfare program) will receive an LS card.
SNAP Benefits – Lone Stars Cards allow users to purchase items that they need from their local grocery store.
TANF Benefits – The TANF program provides cash to low-income families to help pay their bills, utilities, and other necessities. Only very low-income households are eligible for TANF. The primary aim of TANF is to provide assistance to impoverished families so that they may become self-sufficient.
Lone Star Card Eligibility Requirements
You must reside in Texas to be eligible for this state-funded program, and you must fulfill one of the following requirements:
You have less than $2,000 in your checking and savings accounts combined, or

If your bank balance is less than $3,001 and you share your home with one of the following: 1.) A person or persons age 60 and over 2.) A person with a disability (a child, your spouse, a parent, or yourself).
You must have an annual household income (before taxes) of less than the following amounts to be eligible:
| | |
| --- | --- |
| Household Size | Maximum Income |
| 1 | 16,744 |
| 2 | $22,646 |
| 3 | $28,548 |
| 4 | $34,450 |
| 5 | $40,352 |
| 6 | $46,254 |
| 7 | $52,156 |
| 8 | $58,058 |
Things That You Can And Cannot Buy With A Lone Star Card
Once you qualify for an LS card, you will be able to buy the following items.
Things You Can Buy With Food Stamps
Fruits and vegetables;

Seeds and plants, which produce food for the household to eat.

Other foods such as snack foods and non-alcoholic beverages; and

Meat, poultry, and fish;

Dairy products;

Bread and cereals;
Things You Cannot Buy With Food Stamps
Beer, wine, liquor, cigarettes, or tobacco

Vitamins, medicines, and supplements. If an item has a Supplement Facts label, it is considered a supplement and is not eligible for SNAP purchase.

Live animals (except shellfish, fish removed from the water, and animals slaughtered prior to pick-up from the store).

Foods that are hot at the point of sale

Any nonfood items such as: Pet foods, cleaning supplies, paper products, and other household supplies. Hygiene items, cosmetics
Lone Star Card Telephone Number
The Lone Star card phone number is 800.777.7328. You can call this telephone number to the Texas Health and Human Services Department if you have questions about your LS card benefits.
How To Apply For A Lone Star Card
To apply for foods stamps, you can either:
Call Texas Health and Human Services at 877.541.7905
Apply  online at Your Texas Benefits

Apply at a Texas Health and Human Services office
The easiest way to apply for Texas SNAP benefits will be online. If you call them the process will likely take over 1 hour.
Conclusion
Lone Star card is another name for the Texas food stamp card, so don't be confused. Some people also refer to this as an EBT card or SNAP benefits card.
Individuals who qualify for food stamps in Texas are given an LS card to make food purchases at the grocery store.
Eligibility requirements for the program will vary by household size and income.
If you have questions you can call the Lone Star card telephone number at 800.777.7328 to learn more about this Texas food assistance program.
Similar Articles That May Interest You:
Nick Bryant is the author of Understanding Healthcare Is Half The Battle and a Senior Counselor with 13+ years of experience working in community health and mental health. He enjoys spending time with his family, watching WWE on Friday nights, and working toward a Google Data Analytics certification. If you have additional questions about community resources or government assistance programs, simply leave a comment below and he will follow up as soon as possible.