3 Legit Websites To Find Reliable Remote Job Opportunities 
---
The pandemic has changed lots of aspects of our life, but one of the biggest changes is the ability to work from home. What was once a fantasy for hopeful employees is now becoming the new norm.
A recent study of company leaders found that 80% of companies plan to allow their employees at least part-time remote work, while 47% are open to allowing full-time remote work.
In the past, it was difficult to find legit remote jobs, however, these positions have recently become more plentiful. If you want to work from home to cut down on driving time, spend more time with your family, or just break free of the cubicle farm the time is now to find that job.
In this guide, I will provide you with 3 legit websites to find work from home opportunities. In addition to telling you where to look for remote jobs, you'll also learn:
What is a remote job?

Work from home opportunities that are available

Equipment needed to work from home

Traits of a good remote worker
Keep reading!
What Is A Remote Job?
A remote job is a work-at-home opportunity that is outside of the traditional office environment. Remote jobs are becoming more and more popular as people look for safe job opportunities in the wake of an ongoing pandemic.
Remote jobs will offer some flexibility in hours, location, and even dress code. If you live with children or elderly parents, this arrangement could be helpful to keep a steady income while also providing care to your vulnerable loved ones.
What Types Of Remote Jobs Are Available?
Remote jobs that are currently in demand are:
Online tutor

Customer service representative

Sales jobs

Data entry

Language translation

Medical billing and coding

Freelance writer

Content Creator

Call Center Agent

Insurance Agent

Virtual Assistant

Computer programing
If you already have experience in a certain industry, it may be easier to find remote jobs that match your skill set, so start with what you know.
What Type Of Equipment Is Needed For A Remote Job?
In many of the remote jobs opportunities I have seen you essentially need the following equipment:
A phone

Laptop or computer

Internet service
Other types of equipment needed to work a work-from-home job could include a fax machine, printer, scanner, or copier.
What Skills Are Needed To Work From Home?
The skills needed to work remotely are usually the same as those for any other profession.
Customer service skills are important for remote jobs, as you will need to be able to deal with clients and customers who call in.
You should also be a self-starter as you will not have a supervisor there to check on your progress.
Communication, both written and spoken is important because you will need to be able to convey your thoughts even more clearly since you are not communicating with people in person.
Creativity is a trait that is often needed for remote jobs, as you will have to think up new ideas and solutions to problems that arise.
Analytical skills are also desirable for remote work because you will need to be able to solve problems on your own.
Dependability is important in any job, but with remote work, it is even more important.
Trustworthy employees are also highly desirable to hiring managers.
Being well organized is also important. If you have a designated area that you will be working this will help to keep you productive.
Previous experience working from home or any position with no direct supervision is another important trait to have.
3 Legit Websites To Find Remote Job Opportunities
There are many sites out there for finding remote jobs, but you don't have to Google them. Instead, check out these 3 websites that provide legitimate work from home opportunities.
FlexJobs: A Place To Find Legitimate Work From Home Jobs
FlexJobs is the place for remote work opportunities. The site provides listings for all types of occupations from customer service, data entry, writing gigs, healthcare, and more.
FlexJobs.com does charge a nominal fee for its membership, but with good reason. The reasonable cost you pay is to screen employers to ensure they are legitimate companies. This guarantees that you will be safe from scams and wasted time.
The cost of FlexJobs depends on the length of your membership:
1 week – $7

1 month – $15

3 months – $30

1 year – $50
FlexJobs has been featured on many well-known websites such as USA Today, CNN Money, Wall Street Journal, Fox Business and numerous others – which is why it's our first recommendation when searching for remote employment options online.
To search for a remote opportunity through this website simply log on to Flexjobs.com
Indeed: Free Work From Home Job Search Website
If you want to search for remote jobs, without paying a membership consider a free job search website like Indeed.com.
This site aggregates job listings from all over the internet and then displays them neatly on their own website, saving you time in the process.
To find a remote job on Indeed you simply need to type a term like "remote job" or "work from home".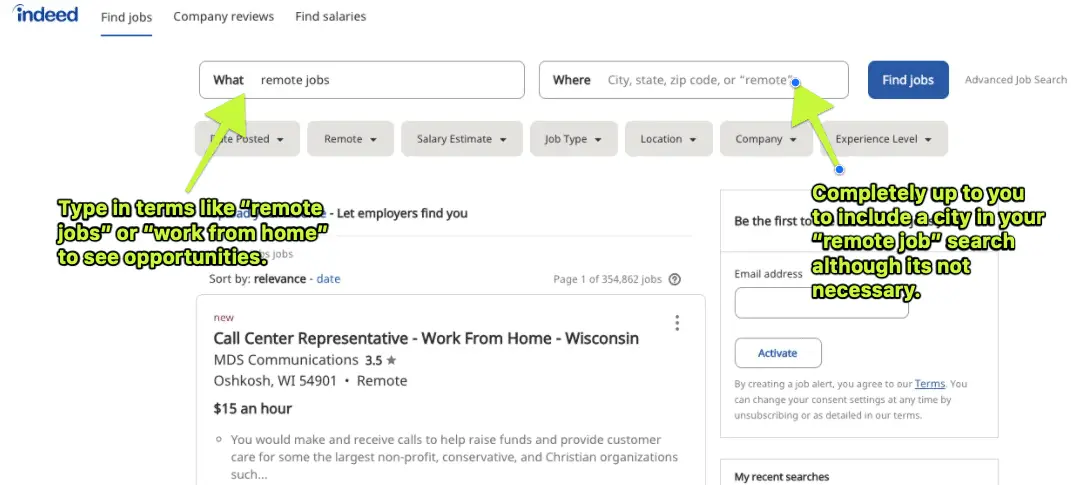 There is no need to type in the city that you live in because again you are working from home. The city doesn't matter. That being said you can search for remote jobs in your city if you choose to.
Indeed includes many more opportunities than just remote ones as well: full-time, part-time, or freelance positions with various industries are all included in their listings.
Indeed also provides salary estimates by city, which is helpful for finding out what a potential position might pay outside your immediate geographic area.
To find a remote job in Indeed's extensive database, log on to Indeed.com to start your search.
Workew: Interactive Remote Jobs Facebook Group To Network With People Who Work From Home
Workew is another place to help you start a remote career. They can help you connect to a work from home opportunity in 3 ways:
You can search the Workew job listings and apply for positions in fields like customer service, sales, marketing, developer jobs, writing, and even crypto jobs.

Post your resume and allow hiring managers to find your resume based on the keywords, skills, and job titles in your resume.

Finally, Workew has an active Facebook group of 120,000 members who post remote work opportunities, answer questions about work from home opportunities, and generally help you in your journey to finding a remote work job. The name of their Facebook group is called Remote Work & Jobs For Digital Nomads.
Conclusion
Finding work from home jobs use to be a lot more difficult. Back in my day clicking a link about a "Work From Home Opportunity" on the internet usually resulted in:
At best disappointment

At worse your computer being infected by a virus! 
That's not the case anymore, especially if you know where to search. 
Websites like Flexjobs, Indeed, and Workew make your search for work from home opportunities alot easier because these are legit websites to find remote jobs. 
If you have been wishing and praying for the chance to work from home that time is now. Whether you dislike your current job, you are tired of the morning drive, or you need to take care of family members visit some of the websites mentioned in this guide and apply today!
Similar Articles That May Be Of Interest To You: 
Nick Bryant is the author of Understanding Healthcare Is Half The Battle and a Senior Counselor with 13+ years of experience working in community health and mental health. He enjoys spending time with his family, watching WWE on Friday nights, and working toward a Google Data Analytics certification. If you have additional questions about community resources or government assistance programs, simply leave a comment below and he will follow up as soon as possible.