Texas Salvage Grocery Stores: Your Secret Weapon Against Overpriced Retail Stores
Hey there, my friend! If you're looking for a way to save some big bucks on your shopping trips, then you've come to the right place. In this article, we're going to take a deep dive into the world of Texas Salvage Stores.
These stores are the ultimate destination for savvy shoppers who are looking to score great deals on everything from food to household goods.
Now, I know what you're thinking: "Nick, how can I trust the quality of products in a salvage store?" Well, let me tell you something. These stores are not your average discount retailers. They're filled with top-quality products that are just as good as what you'd find in a big-box store. The only difference is that they're sold at a fraction of the cost!
So, whether you're a frugal shopper looking to stretch your budget or a savvy business owner looking to save some serious cash on your inventory, you're going to love what these Texas Salvage Stores have to offer. So, grab a pen and paper and get ready to take some notes, because we're about to embark on a journey of dollar-saving discovery!
Texas Salvage Grocery Stores: What Are They?
Let me ask you a question: have you ever heard of Salvage Grocery Stores?
Now, I know you may be thinking, "What in the world is a Salvage Store?" But let me tell you, these stores are a hidden gem that could change the way you shop forever!
Salvage Stores are essentially discount retailers that sell overstocked, discontinued, or damaged goods at a fraction of their original price. That's right, you can find everything from groceries to home goods to electronics, all at prices that'll make your wallet sing with joy!
But here's the thing: Salvage Stores aren't your average discount retailer. These stores are a treasure trove of deals and bargains, offering you the chance to save big on items you never thought you could afford. And the best part? You never know what you're going to find!
If you're looking to stretch your budget, or just love a good bargain, then it's time to check out Salvage Stores in Texas. 
What Do Salvage Stores Look Like? How Can I Recognize One? 
Salvage stores can vary in appearance, but many of them look like discount retailers or warehouse stores.
They often have large, open spaces filled with shelves and displays of products. The products are typically stacked or arranged in bulk, with price tags or labels indicating the price. Some salvage stores may have a more cluttered or disorganized appearance, while others may have a more organized and well-stocked appearance.
To recognize a salvage store, look for signs or advertisements that say "salvage" or "discount" in the name or in the store's marketing materials. You can also check online directories or local business listings to find salvage stores in your area. Ollies is a common salvage store that you can find in most Texas cities. 
Are prices in salvage stores lower than in regular retail stores?
If you are wondering if the prices are lower than what you'd find at a regular retail store? The answer is a resounding YES!
Salvage stores get their goods from overstocked, discontinued, or damaged products from major retailers. These retailers are more than happy to sell these goods at a discount to salvage stores, who then pass on the savings to you, the savvy shopper. So, if you're looking to stretch your dollars and save some serious cash, head on over to your local salvage store!
What Type Of Products Do Salvage Grocery Stores Sell? 
Salvage stores sell a wide variety of products that are typically overstocked, discontinued, or returned items from regular retail stores. You'll find everything from groceries, clothing, furniture, electronics, and more all at a discounted price!
But here's the thing, these products are not just any old products, they're products that are just as good as the ones you'd find at regular retail stores, sometimes even better. And the best part is, you get to save a ton of money by shopping at a salvage store.
I mean, who doesn't love a good deal, right? You can score everything from name-brand products to everyday essentials all at a fraction of the cost. You never know what you're going to find, which makes visiting these stores so exciting. It's like a treasure hunt, but instead of gold, you're finding deals on groceries, clothes, and other household items.
6 Tips For Shopping At Texas Salvage Stores?
If you're looking to score big on deals and discounts, then a salvage store should be your next stop, but before you hit the checkout line, here are some tips to make the most out of your shopping experience at a salvage store:
| Tip Number | Tip | Explanation |
| --- | --- | --- |
| 1 | Know what you're looking for | Salvage stores carry a wide range of products, from groceries to home goods, so it's best to have an idea of what you need before you start shopping. |
| 2 | Check expiration dates | Some of the items in salvage stores are close to their expiration dates or may have minor cosmetic damage, so be sure to check the expiration dates before making a purchase. |
| 3 | Check the packaging | Look for any signs of damage, like dents, tears, or missing pieces, and make sure the packaging is still intact and secure. |
| 4 | Compare prices | Salvage stores typically have lower prices, but it's always a good idea to compare prices with other stores to make sure you're getting the best deal. |
| 5 | Shop early | Salvage stores get new products in all the time, so the earlier you go, the better selection you'll have to choose from. |
| 6 | Be open-minded | Salvage stores often carry unique and unusual products that you may not find at a regular retail store, so be open to trying new things. |
Texas Salvage Grocery Stores 
Below is a list of Texas salvage Grocery stores. You can use this list to find the nearest discount store to you. 
Ollies Bargain Outlet
Ollie's Bargain Outlet is a discount grocery store with locations in various cities in Texas, offering low-priced food and essentials to help families in need. They offer a wide range of products including food items, household essentials, and more at discounted prices. The store sources their merchandise from overstocked and discontinued products from various brands, which allows them to offer their customers unbeatable prices.
One of the great things about Ollie's Bargain Outlet is that they have a wide range of products available, so you're sure to find what you're looking for. You can find everything from fresh produce and meat to household essentials and more. The store's prices are typically lower than regular retail stores, which makes it a great option for those looking to save money on groceries and other essentials.
Ollies Stores In Texas
Houston Ollie's: 10701 Jones Road, Houston, TX 77065 – (281) 640-0151

Friendswood Ollie's: 18182 Gulf Fwy., Friendswood, TX 77546 – (281) 954-3010

Katy Ollie's: 1747 N. Fry Road, Katy, TX 77449 – (346) 257-6747

Cleveland Ollie's: 1711 East Houston Street, Cleveland, TX 77327 – (281) 761-6447

Clute Ollie's: 101 Dixie Drive, Clute, TX 77531 – (979) 266-0196

College Station Ollie's: 1306 Harvey Road, College Station, TX 77840 – (979) 485-9551

Nacogdoches Ollie's: 1122 N University Drive, Nacogdoches, TX 75961 – (936) 305-5314

Waco Ollie's: 5200 W Waco Drive, Waco, TX 76710 – (254) 300-4629

Killeen Ollie's: 2500 E Central Texas Expressway, Killeen, TX 76543 – (254) 350-2817

Corsicana Ollie's: 3500 W. 7th Ave, Ste 21, Corsicana, TX 75110 – (430) 236-1303

Tyler Ollie's: 414 E S E Loop 323, Tyler, TX 75701 – (430) 247-5471

Corpus Christi Ollie's: 1220 Airline Road, Corpus Christi, TX 78412 – (361) 442-2215

Longview Ollie's: 402 W Loop 281, Longview, TX 75605 – (903) 212-2244

San Antonio Ollie's: 6161 NW Loop 410, San Antonio, TX 78238 – (210) 951-0994

Marshall Ollie's: 1300 E Pinecrest Drive, Marshall, TX 75670 – (903) 472-4634

Haltom City Ollie's: 3316 Denton Highway, Haltom City, TX 76117 – (682) 207-1430

Benbrook Ollie's: 7909 Camp Bowie West Boulevard, Benbrook, TX 76116 – (817) 244-4772

Hurst Ollie's: 664B Grapevine Highway, Hurst, TX 76054 – (682) 214-0463

Lewisville Ollie's: 2412 S Stemmons Freeway, Lewisville, TX 75067 – (214) 488-0549

Sherman Ollie's: 725 E Taylor Street, Sherman, TX 75090 – (903) 328-6022

Harlingen Ollie's: 2020 S Expressway 83, Harlingen, TX 78552 – (956) 230-6077

Brownsville Ollie's: 3000 Pablo Kisel Blvd, Brownsville, TX 78526 – (956) 465-0328

Del Rio Ollie's: 2401 Veterans Blvd., Del Rio, TX 78840 – (830) 212-4139

Wichita Falls Ollie's: 2500 E Elliott Street, Wichita Falls, TX 76308 – (940) 692-0841
For more information on Ollies, you can visit the Ollies website to learn about locations, stores hours, and more. 
Joe V's 
Joe V's is a chain of salvage stores located in Texas, offering low-priced food and essentials to help families in need. These stores can be found in cities such as Houston, Pasadena, and Baytown Texas. Joe V's specializes in offering budget-friendly groceries and household essentials, including food items, at discounted prices.
You can check their website for the Weekly Ads which tell you about new items in stock and special deals.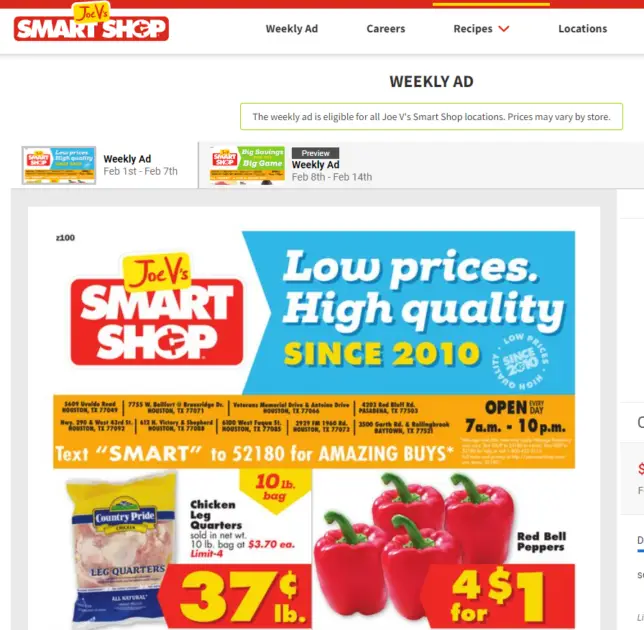 Joe V's Stores In Houston Texas 
Here is a listing of each Joe V grocery store in the Houston area. 
Antoine Smart Shop – 12035 Antoine Dr, Houston, TX 77066 – (281) 895-8668

Uvalde Smart Shop – 5609 Uvalde Rd, Houston, TX 77049 – (281) 454-6947

Hwy 290 Smart Shop – 12009 Northwest Fwy, Houston, TX 77092 – (713) 683-1720

Victory Smart Shop – 612 N Victory Dr, Houston, TX 77088 – (281) 847-0996

Baytown Smart Shop – 3500 Garth Rd, Baytown, TX 77521 – (281) 420-4047

Bellfort Smart Shop – 7755 W Bellfort Blvd, Houston, TX 77071 – (713) 721-0100

Fuqua Smart Shop – 6100 W Fuqua St, Houston, TX 77085 – (713) 413-9300

FM 1960 Smart Shop – 2929 FM 1960, Houston, TX 77073 – (281) 784-4200

Pasadena Smart Shop – 4203 Red Bluff Rd, Pasadena, TX 77503 – (281) 478-8400
If you need more information about Joe V's, visit their website to find out about store locations, hours of operation, and more.
Mom & Pop Salvage Stores In Texas
In this section, you will find a listing of mom & pop salvage stores in Texas. These are not major corporations, but they can still offer you discounts on items like furniture, home decor, and more. 
Town Talk Foods – 2320 S Collins St, Arlington, TX 76014 – (817) 435-2300

Beeville Discount Store – 415 N Ave D, Beeville, TX 78102 –

 

(361) 362-1220

C&S Surplus – 15703 Market St, Channelview, TX 77530 – (281) 860-0055

Angus Discount Grocery – 5762 S Hwy 45 W, Corsicana, TX 75109 – (903) 874-4242

Country Discount Groceries – 10736 Hwy 146 N, Hardin, TX 77561 – (936) 336-9282

Family Discount Food – 8805 Homestead Rd, Houston, TX 77016 –

(713) 631-7000

Katy TX Discount Grocery & Wholesale – 21811 Katy Hwy D1114, Katy, TX 77450 –

(346) 322-4178

A-Z Discount Grocery – 4753 TX-198, Malakoff, TX 75148 – (903) 489-4226

Angie's Discount Grocery – 206 W Bowman Rd, Round Rock, TX 78681 – (512) 502-5286

AAA Freight Salvage Groceries – 1111 S Presa St, San Antonio, TX 78210 – (210) 533-8611
Conclusion
Texas Salvage Stores are a great option for anyone looking to save money on groceries and essentials.
With multiple locations throughout Texas, these stores offer reduced-priced items for families in need. And let's not forget the thrill of searching for great deals!
So, if you're looking to stretch your budget, consider visiting a Texas Salvage Store near you. It's a fun and budget-friendly way to get the items you need.
Should you need information about applying for food assistance programs like food stamps or meals and wheels, let me know and I can point you in the right direction. I have worked in community resources for the past 13 years in Texas so I have a solid understanding of who qualifies and what you need to do to apply for benefits. If there is anything I can do to help you save a buck please let me know! 
Similar Articles That May Interest You: 
Nick Bryant is the author of Understanding Healthcare Is Half The Battle and a Senior Counselor with 13+ years of experience working in community health and mental health. He enjoys spending time with his family, watching WWE on Friday nights, and working toward a Google Data Analytics certification. If you have additional questions about community resources or government assistance programs, simply leave a comment below and he will follow up as soon as possible.