16 Ways To Save On Food (Once Extra Food Stamps Stop)
---
In this article, I will provide you with 16 ways to save money on food when the extra food stamps program ends.
The extra food stamps program or emergency allotment has assisted SNAP households throughout much of the pandemic. The program was helpful because, in addition to receiving the regular SNAP benefits, beneficiaries also received a second payment (commonly known as extra food stamps).
As great as this program is, it will likely come to an end soon. You may be wondering how you will replace the lost extra food stamp benefits once the program ends. This article aims to help you in coming up with solutions to ensure you and your family are still able to save on food.
Before getting into the 16 tips to help you save on food, let's first discuss when the extra food stamps program will (potentially) end.
When Will The Extra Food Stamps Program End?
The extra food stamps or emergency allotment benefits may end in January 2023. This is the rumored date that benefits may stop.
The federal public health emergency declaration was extended until January 7th. This declaration ties into the extra food stamps benefits. Without a federal PHE, there are no funds to pay for the extra food stamps.
Many believe that come January 7th the federal public health emergency will not be extended. For this to happen the U.S. Health and Human Services Department have to give a 60-day notice before they can end the federal PHE. If rumors are true the declaration and extra food stamps program will end in January, the that 60-day notice would need to come before November 7th.
This is only speculation but whether it's right or wrong at some point the extra food stamps program will end so it's best to be proactive and think about what your next move will be once the program does end.
How Much Money Will You Lose When Emergency Allotments End?
According to this Forbes article, you can expect to lose anywhere from $82 to $118 per month in food assistance once the extra food stamp program ends. It's important to know these numbers because this is what you will need to make up by either applying for one or multiple government assistance programs that help with food.
Losing this much in monthly food assistance is definitely a big blow, but with planning, you can make up this difference. By simply learning to coupon it's estimated that you can save over $1,465 over the course of the year. When breaking this down by month you are looking at $ 122.08 in savings every 30 days. Keep in mind this is only one tip that you will learn about below. When you combine all 16 alternatives to the extra food stamps program, you may end up saving a lot more money than the emergency allotments provided!
16 Alternatives To The Extra Food Stamps Program To Help You Save Money On Food
Consider these food assistance programs and tips if you need to replace the emergency allotment benefits once the program ends.
1.) WIC (Free Baby Formula) 
WIC is a program that provides low-income pregnant, postpartum, and breastfeeding women supplemental foods, health care referrals, and nutrition education. If you have a baby then you can use this program to not only get baby formula but also WIC-approved foods like:
Fruits and vegetables

Whole wheat bread

Cereal

Milk

Cheese

Eggs
In addition to helping you with food WIC offers clients services like vaccinations, breastfeeding education and support, health screenings, and referrals to other agencies.
WIC is a great alternative to the extra food stamps program. You can use it to supplement your food needs and also get other services like health screenings for you and your family. To learn more or apply for this food assistance program visit the USDA website and find your state to start the process.
2.) Meals On Wheels (Free Meal Delivery For Seniors)
Meals on Wheels is a good alternative to emergency allotment benefits if you are a senior citizen 60 years and older or if you have a disability.
If you're not familiar with Meals on Wheels, it is a program that helps deliver food to seniors and people with disabilities who have trouble leaving their homes. This program is unique because it also offers social interaction to those who may feel isolated or lonely.
If you are eligible for this food assistance program, you will receive a hot meal delivered right to your doorstep. Some programs also offer frozen meals that can be stored and eaten at a later time.
To learn more about Meals on Wheels or find out if you're eligible for this program please visit the Meals on Wheels America website. From there you can type your zip code to find the agencies that assist your area.
3.) Congregate Meals (Food Assistance Program For Seniors)
Congregate Meals is another alternative for seniors who are losing their extra food stamp benefits. This program provides meals in a group settings like senior centers, faith-based organizations, and community centers.
The benefit of Congregate Meals is that it offers social interaction for seniors who may feel isolated or lonely. This program also offers activities and educational opportunities in addition to the meal itself.
The easiest way to find the Congregate Meals provided to you is by visiting the Elder Care website and entering your zip code. They will then show you the Area Agency on Aging program that services your area. You can call them to get directed to the Congregate Meals program in your area.
4.) Find Food Banks In Your Area
If you haven't considered food banks, definitely add this to your list of alternatives to the extra food stamps program. Food banks are a great resource for low-income families and individuals because they provide food at no cost.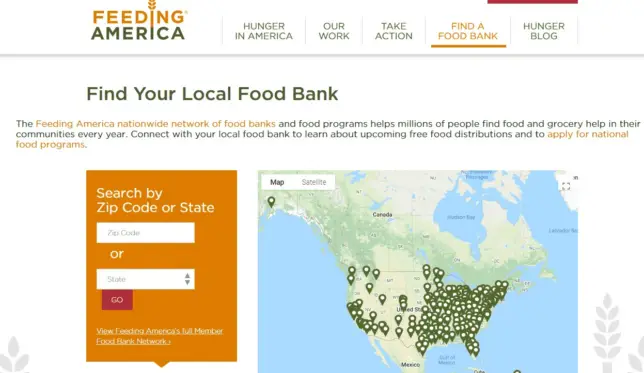 Food banks receive donations from grocery stores, restaurants, farmers, and everyday citizens to help those in need. They then sort and distribute the food to local pantries and soup kitchens. Food banks offer foods like:
Canned goods

Dry goods

Frozen foods

Toiletries
If you need help finding a food bank near you visit the Feeding America website and type your zip code into their "Find Your Local Food Bank" search bar. This will show you all of the food assistance programs in your area including food banks, soup kitchens, and pantries.
5.) Farmer's Markets
Famer's Markets provide you with another way to save money and eat healthily.
These are great food assistance options because you can get fresh produce at a fraction of the cost you would pay at the grocery store. Think of the grocery store as a middleman. When you buy from farmer's markets you are buying directly from the farmer. This allows you to save some of your hard-earned money.
Most farmer's markets accept food assistance programs like SNAP (Supplemental Nutrition Assistance Program) which is the new name for food stamps. You can use your EBT card to purchase eligible farmer's market items like:
Fruits and vegetables

Meat

Poultry

Dairy products

Bread
To find a farmer's market near you visit the USDA Local Food Directories webpage. and type in your zip code and be sure to check "Farmers Market".
6.) Ugly Food Movement
This is a fairly new way to save money on food. If you are willing to buy ugly fruit and vegetables then you could potentially save a lot of money.
The ugly food movement is about reducing food waste. A lot of fruits and vegetables get thrown away because they don't look "perfect". This is especially true for organic produce. There are now websites like Misfit Market and Imperfect Foods that take these overlooked veggies and offer them to you at deep discounts.
So, if you are willing to buy misshapen or blemished produce then you can often get it at a fraction of the price. If you are not tech-savvy, you can probably find deals at your grocery store also. Some stores have started to sell this produce in special sections or areas of their store.
You can also find ugly fruits and vegetables at some farmer's markets. The key is to ask the farmers if they have any ugly produce that they are selling at a discount.
7.) Free Lunch Program For Kids
If you have children add Free Lunch Programs to your list (in addition to WIC) to make up for the lost extra food stamp benefits.
Free lunch programs offer a free or reduced-price lunch to children who qualify. The National School Lunch Program (NSLP) is a federally assisted meal program operating in public and nonprofit private schools and residential childcare institutions. It provides nutritionally balanced, low-cost, or free lunches to children each school day.
In order to apply for the free or reduced-price program, you will need to go through your school or school district. They screen and approve you for these free lunch programs. You can learn more about the free or reduced-price lunch programs by visiting the USDA National School Lunch Program webpage.
8.) Search Tik Tok For Ways To Save On Food
While I am not on Tik Tok, my wife is and she shows me silly videos of people dancing EVERYDAY. On occasion, she will share interesting life hacks that I never knew about. Many frugal families and content creators are flocking to Tik Tok to show you how to save money when you are on a tight budget.
If you want outside-of-the-box ways to save on food or any similar lifehacks consider creating a Tik Tok account and searching for videos related to "saving money". I promise you, there will be lots of novel ideas that you probably have never considered!
9.) Buy Nothing Groups
Here is another way to save on the cost of food. I probably wouldn't resort to this, but it's an option.
My wife is very active in Buy Nothing groups. These are Facebook groups where people in your community give away items that they no longer need. It could be clothes, furniture, kids toys, or even leftovers.
From what I've observed is people who cook too much food will offer their leftovers to anyone who wants them. Again this tip may not be for everyone, but I'll leave that decision up to you.
If you are interested in this idea you can visit the Buy Nothing website and search for a group in your city.
10.) Nextdoor App
Nextdoor is similar to Buy Nothing in that it is focused on the community. If you are willing to make a post requesting food from neighbors you may get some donations.
You can even use the Nextdoor App to ask about food assistance in your area if you are new to town or have simply never been in a position to ask for help. People are pretty friendly when it comes to helping others in need so don't be afraid to put yourself out there.
11.) Call 211 United Way For Food Assistance Near You
The United Way has a program called 211 which is essentially a hotline for those in need. You can dial 211 on your phone and speak with a customer service representative who will help connect you with local resources in your area, including food assistance programs.
The customer service representatives are knowledgeable about food assistance programs and can provide you with information regarding the nonprofits that help out.
To reach a United Way operator just call 211 on your phone. This will connect you to the United Way that helps your city.
12.) Contact The USDA National Hunger Hotline
This telephone number is dedicated to connecting you to food assistance programs in your area. You can also access this number by calling 1-866-3HUNGRY (1-866-348-6479) or by visiting the USDA website. You can call this number anytime Monday through Friday from 7 am to 10 pm eastern time.
When you call the USDA National Hunger Hotline a customer service representative will help you connect with food assistance programs
13.) Reach Out To Local Nonprofits
If you are familiar with local nonprofits consider reaching out to them, because they may have a unique food assistance program only available in certain zip codes.
A local example of this is a kid's meal delivery program here in Houston called the Houston Kids Meals Delivery Program. This program only operates in specific zip codes of Houston.
To find programs like this that only serve your community, you'll want to call the United Way 211 helpline to see if a similar program exists. When you call you can asked them if they know about any "meal delivery" programs in your city.
14.) Grow Your Own Garden
Would you like to save money on your food costs? One excellent way to do so is to grow your own garden.
With a little bit of effort, you can grow healthy and delicious fruits and vegetables right in your own backyard. Even better, if you have SNAP benefits, you can use them to purchase seeds and plants for your garden.

15.) Shop At Discount Stores (Buy Food In Bulk)
Smart shoppers know that the key to saving money is to buy in bulk. By shopping at places like Sam's and Costco, you can take advantage of significant discounts on food and other items.
Buying in bulk can help you save money in two ways:
First of all, it allows you to buy items at a lower per-unit price.

In addition, it reduces the overall amount of time and money you spend shopping since you can stock up for a longer period of time. The more often you visit a store, the more money you are likely to spend.
As a result, buying in bulk is an effective way to stretch your budget and get more for your money.
16.) Use Coupons To Save Money On Food
There's no denying that coupons can be a great way to save money on food.
In fact, according to a recent study, the average family can save upwards of $1,465 per year simply by using coupons when they grocery shop. If the extra food stamps
But where can you find these elusive coupons? Here are a few tips:
Check the Sunday paper: This is one of the most common places to find coupons, so it's definitely worth checking out. Just be sure to grab several copies if you're planning on doing a lot of shopping.

Sign up for email newsletters: Many stores and brands offer coupons and discounts via email, so it pays to be on their mailing list.

Follow your favorite brands on social media: Social media is another great place to find coupons and deals. Brands will often post special offers and promo codes that you can use to save money.
You can also check out this article on The Penny Hoarder that offers the 17 best coupon sites to consider using.
Conclusion
Whether it is January 2023, February 2023, or some other date, the extra food stamps program will end at some point. Before it ends you want to prepare yourself because, with a thrifty food plan, you can potentially offset those losses in food assistance.
The average SNAP recipient will lose between $82 and $118 per month in food stamp benefits. This is the number you want to target to help your household avoid food insecurity. You want to find programs that can provide you with up to $118 in food assistance (or value) each and every month.
Using coupons at the grocery store is just one way to make up for the extra food stamps going away. According to Coupon Follow, you can potentially save $1,465 per year by couponing.
When you combine ideas like couponing, applying for WIC, Meals on Wheels, shopping at local farmer's markets, and buying "ugly" foods there is a chance that you can make up for those lost benefits.
Making up for the loss of the monthly extra SNAP benefits won't be easy, but with some creative thinking, it can be done.
Similar Articles That May Interest You:
Nick Bryant is a Counselor with 11 years of experience working in community health. He enjoys concerts, walks with the doggo and wife, mocking Dallas Cowboy fans, and sharing community resources. Jump on the Houston Case Managers email list to receive weekly community resource guides delivered directly to your inbox.