11 Ways To Find Housing For Felons In Houston |Apartments For Felons
---
I'm not going to sugar coat this. Having a criminal record will definitely make it harder to find housing. The options that are open to people with no criminal history may not be available to you. Because of this, you are going to have to think outside of the box when it comes to finding housing for felons in Houston. This guide was created to help you examine as many housing options as possible because unless you have family or friends who will accept you into their home you will need to hustle to find your own place. Before getting into the 11 ways to find housing for ex-offenders in Houston, let me tell you about an option that you should not waste time on.
Note: If you want to skip down to the 11 housing ideas for felons in Houston, tap the link below. ↓↓↓

Why Felons Should Not Waste Time With Large Apartment Complexes
These types of properties are very rigid and will most likely run a background check on you. These are not places that you can necessarily negotiate with the leasing agent. Regardless of your charm, demeanor, proper dress, there are strict guidelines that they must follow at large apartment complexes therefore the chances of then renting an apartment to you are slim. That's not to say you shouldn't try at all to rent from large apartment complexes. Just keep in mind that you are less likely to find housing in Houston by going with this option. Felony Charges That Most Apartments Deny
Sexual Assault

Violent Crimes

Felonies in the past 5 years

Misdemeanors in the last 2 years

Multiple offices. 2 or more nearly every apartment complex will deny
Felony Charges That Apartments Work With
Non Violent Felonies

DWI

Theft

Some Drug Charges
Just because you have a felony charge doesn't mean a Houston apartment complex will never rent to you. It's just a lot more difficult. I wanted to quickly inform you of this information to prevent you from wasting lots of time, money, and gas exploring this option. Although large apartment complexes may not rent to you, there are still lots of housing options for felons in Houston and we will discuss each next.
11 Ways To Find Housing For Felons In Houston 
In this section, I will provide you with a listing of housing ideas to consider if you have a felony on your record. Some of these housing ideas will be specific agencies for you to contact. Others will be concepts that are meant to inspire you to think outside of the box.
1. Use Houston Apartment Locators To Find Apartments That Accept Felons
---
Yes, it's true I was just bashing the idea of searching for housing at apartment complexes, BUT this option is different. Here's what I mean. Apartment locators do all the searching for you. When you use the services of an apartment locator they do all the work. Seriously. Instead of you Googling "Houston Apartments that accept felons", the locators do the research for you. In most cases, the apartment locators don't even have to research because they are already familiar with apartments that accept felons.  Lastly, if you are wondering how much apartment locators will charge you for this service you will be glad to know it's free. The apartment complex that they connect you to will pay the apartment locator's fee which is generally equal to one month's rent.  Below you will find a listing of Houston apartment locators who can potentially help you find felony friendly apartments:
Brent Johnson of Limitless Leasing – 832.722.9650
For more information on apartment, finders see our guide called Free Apartment Finders In Houston.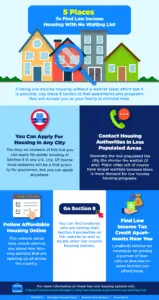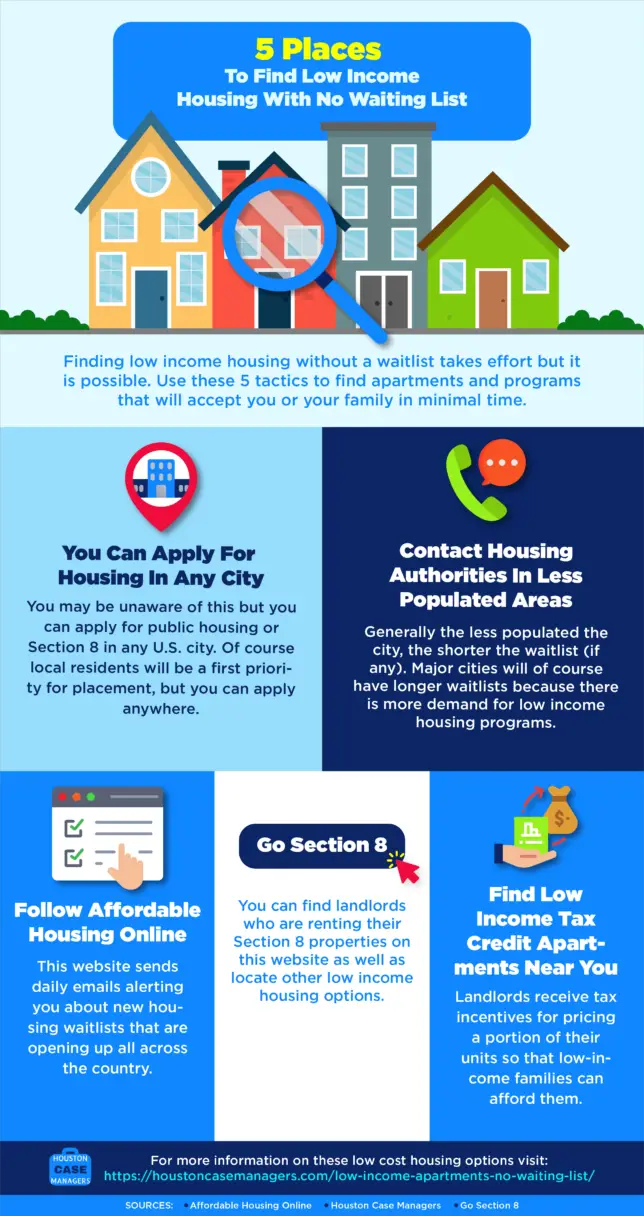 2. Search Houston Craigslist
---
Your best bet at finding someone to rent to you is working with a private owner. While there isn't much room for negotiation with a property management group although you can do that with a private owner and Craigslist is loaded with them. Landlords who list their properties on Craigslist are less likely to require a background check when compared to apartment complexes. On Craigslist money talks.
Note: Landlords are more likely to work with you if you can offer 2 to 3 months of rent upfront. Do this and renters will take you more seriously. 
Which Houston Neighborhoods Should You Search For Housing In If You Have A Felony?
When searching Craiglist for housing for felons in Houston look in neighborhoods like: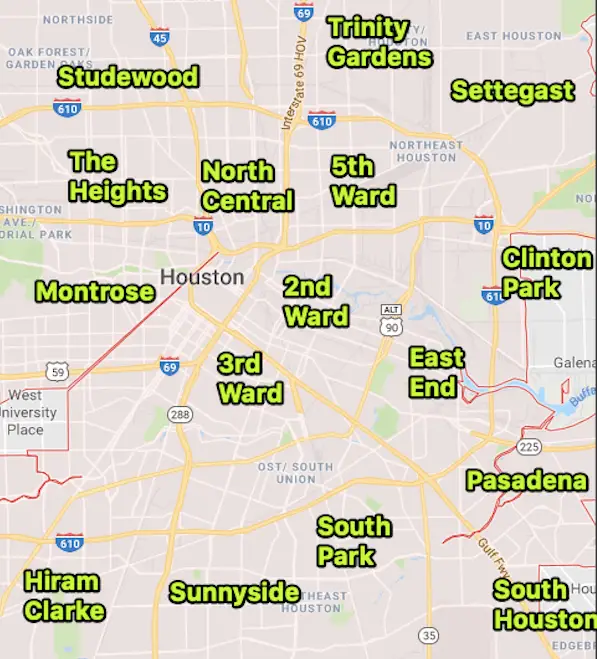 2nd Ward

3rd Ward

5th Ward

Clinton Park

East End

The Heights

Hiram Clarke

Montrose

North Central

Pasadena

Settegast

South Houston

South Park

Studewood

Sunnyside

Trinity Gardens
These are all areas where renters will be more likely to look past your record if you are honest and have a stable income. Search for properties in these neighborhoods like garage apartments, townhomes, duplexes, and single-family homes. As I mentioned before the advantage you have when searching for housing on craigslist is you get to speak directly with the landlord.  If you are polite, professional and can prove that you have a steady income Craigslist is a good option for you.
3. Buy A House 
---
Another option for those needing housing for felons in Houston is to simply buy a house. Purchasing a house requires more money down although if you have a steady job with money in savings this could be an option for you. While renting an apartment requires that you go through a criminal background check, purchasing a home does not.  Lenders only care about your ability to pay back a loan, therefore they DO NOT run a criminal background check on you when are purchasing a home. 
Note:  Anyone with criminal charges related to real estate, mortgage transactions, felony larceny, theft, fraud, forgery, money laundering or tax evasion
When purchasing a home there are 3 main factors:
Having even money for a down payment – 3.5% down payment for FHA Loan
Acceptable credit score – 580 or above for an FHA Loan, 620 and up for USDA Home Loan
Getting pre-approved for a mortgage
| Cost of Home | Downpayment Cost at 3.5% |
| --- | --- |
| $75,000 | $2,625 |
| $100,000 | $3,500 |
| $125,000 | $4,375 |
| $150, 000 | $5,250 |
| $175, 000 | $6,125 |
| $200, 000 | $7,000 |
Homeownership Resources
Below are resources to help you get started with homeownership:
Many times the cost of rent exceeds that of a home mortgage. For this reason, it is a wise decision to start taking steps toward that of homeownership. 
Also, remember that when purchasing a home you do not have to have a criminal background check. 
4. Think About Houston Transitional Housing Options
---
Transitional Housing is another option for those who need housing for felons in Houston.
This is a good option for felons in Houston who have substance abuse issues. 
How Transitional Housing Works
This type of housing option provides individuals with a temporary stay which can range from 2 weeks to 2 years. During this time staff at the Houston transitional homes work to help you get back on your feet. These homes offer programs that are tailored to helping you with job skills, effectively manage addiction, or overcoming any other condition that is preventing you from becoming self-sufficient. Many Houston transitional housing programs are located in regular residential homes. Because you are often roommates with others there are strict rules to ensure that no one jeopardizes anyone else's sobriety.  For this reason, only check into a Houston transitional home if you are serious about improving your life because there is zero tolerance in these places.
Does Houston Transitional Housing Cost? 
In most cases yes there is a cost to live in transitional housing. Some homes charge you 30% while others can charge up to $1000 / month for housing.
Transitional Housing In Houston (MAP)
Below you will find a map of transitional housing in Houston. Click the map plots to see more contact information as well as details about each location. For more transitional housing options visit the website Transitional Housing. If you do not have income but still need help finding substance abuse treatment contact The Council on Recovery at 713.942.4100.
5. Stay At  Houston Rooming Houses 
---
The next way you can find housing for felons in Houston is Rooming Houses.
Note: Rooming Houses are also commonly referrer to as boarding houses. No matter the name they are essentially the same type of housing. 
Double Note: Rooming Houses are good alternatives to shelters. If you have steady income that doesn't qualify for an apartment, you can avoid staying at a shelter by considering a rooming house.  
A Houston Rooming House is similar to transitional housing except they do not require you to attend any programs. The only thing rooming houses require is that you pay your rent. Speaking of rent, it is far less expensive than staying at transitional housing.  Typically Houston Rooming Houses cost about $150 per week.
Where To Find Houston Rooming Houses (MAP)
For more information about rooming / boarding houses see our guided titled Where To Find Rooming Houses In Houston.
6. Utilize
Reentry Programs In Houston
---
Another resource that you can tap into for help finding housing for felons in Houston is Reentry Programs. These programs may primarily provide many services like job training, substance abuse, and psychiatric help, but they can also direct you to housing resources for felons in Houston.
Houston Reentry Programs
City of Houston ReEntry Program – 4802 Lockwood Drive, Houston, TX 77026 –

832.393.5487 

–  The Reentry Program helps clients with resources like case management, health care, counseling, resume development, and interview skills. For more information about this program go here.
Harris Center (MHMRA) New Start Program – Call New Start Program at 713.970.7000 New Start provides recently released ex-offenders in Houston with mental health services like counseling and psychiatry. For more information about the New Start Program go here.
More Resources For Ex-Offenders In Houston
Here are even more agencies that can potentially direct you toward housing for felons in Houston. Even if these resources don't specifically mention assistance with housing call them anyway. They deal with individuals with criminal records on a daily basis, so naturally, they will get questions about housing for felons. Again call these agencies and ask about any connections they may have for housing.
Becoming One Community  – 832.422.6926,   info@becomingonecommunity.org – This Houston non-profit provides services like job fairs, financial empowerment, housing referrals, and more to those with criminal records. Go here for more information.
America in Recovery – 6901 Alabonson Houston, TX 77088 –  jdubose@americainrecovery.org – Provides job placement assistance to at-risk teens and those with a criminal record in Houston. For more information go here.
House of Hope Broadening the Horizon – 

832.388.7155

  – Transitional housing program, that helps women ex-offenders in Houston. They also offer education and life skills to become self-sufficient. Call for more information.
Oaks of Righteousness  – P.O. Box 1731 Humble, TX 77347   

832.444.0739

  – oaksoftexas.or   – Oaks of Righteousness is a non-profit, faith-based, residential facility that offers support for female ex-offenders who desire to make positive life changes and become productive members of society. For more information visit their website.
Shays House – PO Box 2116, Houston, Texas 77266 –

832-881-3193

 – Provides transitional housing and programming for women. Other services include life and parenting skills classes, GED preparation, counseling, and employment readiness. Individuals with sex offenses are not accepted, but those with violent offenses and individuals on electronic monitors are permitted. Rent is $500 per month (which includes meals), and no deposit is required. There is a maximum stay of one year, but longer stays are permitted on a case-by-case basic
Prison Entrepreneur Program –

832.767.0928

– P.O. Box 926274 Houston, TX 77292-6274 –  Founded by Bishop T.D. Jakes, this program helps Houston ex-offenders with business skills to create a source of income that they control. They have offices in Houston, Dallas, San Antonio, and Fort Worth. Go here for more information.
Texas Offenders ReEntry Initiative  (T.O.R.I.) – 214.623.4286 – thopkins@tdjakes.org – Reentry Program founded by Bishop T.D. Jakes. Provides healthcare, employment, and housing assistance. T.D. Jakes is based in Dallas so this program primarily partners with Dallas shelters and housing authorities. Despite this T.O.R.I. may still be able to connect you with Houston housing for felons so call them. If they cannot help consider a move to Dallas if they have resources. Think outside of the box. For more information about T.O.R.I. visit their website.
WorkFaith Connection – Assists ex-offenders in Houston, as well as recovering addicts and homeless people, with finding secure employment. For more information call, visit a location, or check out their website.

Dacoma Location – 4555 DACOMA, HOUSTON, TX 77092 –

713.984.9611

Museum District Location – 5100 TRAVIS STREET, HOUSTON, TX 77002 –

281.833.3435

Reed Rd Location – 2575 REED RD, HOUSTON, TX 77051 –

281.674.7383

Gallery Furniture Location – 6006 North Freeway, Houston, TX 77076 –

713.984.9611

Texas Intimate Families Association (TIFA) – CrossWalk Center 2103 N. Main Houston, TX 77099 (meets 2nd Monday at 7 pm) –

713.261.0638

– Offers parole workshops and resources for the families of felons in Houston. They have chapters all over Texas. For more information about their services visit TIFA website.
Remember
Even if the resources above specifically state they offer housing assistance call them any and ask if they have connections to agencies who can provide Houston housing assistance of ex-offenders.
7. Check Into A Houston Homeless Shelter
---
Homeless shelters in Houston can offer temporary housing for those who do not have an income. Typically shelters cater to a certain population. Sometimes men only, women only, families, etc. Below you will find links and a map of shelters in the Houston area. Use the color-coded key below to find a shelter that best describes your situation.
For more information on shelters see our guide titled Ultimate Guide To Finding Homeless Shelters In Houston.
8. Apply at Houston Housing Authorities 
---
Houston Housing Authorities can also help you find a place to stay if you have a criminal record.
Note: This is not an immediate solution. Housing Authorities typically have month-long waitlists. Consider this a longterm option, so put your application in and be patient. 
3 Houston Housing Authority Options To Consider
Section 8, the Houston Housing Authority and New Hope Housing are 3 options to consider.
Apply For Section 8 
Section 8, also known as Housing Choice Voucher Program pays a portion of rent each month for families who are considered to have low income. To apply you will have to submit a Section 8 application to the Housing Authority you wish to apply with. Most counties (Harris, Fort Bend, Montgomery) has a housing authority. Obtain an application and submit it to your local housing authority.
Note: You can apply for Section 8 assistance at any housing authority in the U.S. You do not have to live in the county you apply in. 
Double Note: The smaller the county, the smaller the waitlist. This means if you applied at a smaller county like Aransas, you would likely receive a voucher much faster than applying in Houston. 
Can I receive Section 8 if I have a Criminal Record?
The short answer is yes, however, it is more difficult to receive a voucher if you have a criminal record. Section 8 provides vouchers to individuals with criminal records on a case by case basis. In this section, we will discuss the nuances of this.
How a Criminal Record can affect your Section 8 Application
Below are different scenarios that will affect your Section 8 application.
If you were arrested, but there was never a conviction, you have a better shot of receiving a voucher than someone who was convicted.

Individuals with a violent or drug-related conviction will face having a difficult time qualifying for a voucher. Individuals who are lifetime sex offenders will be ineligible for Section 8 vouchers.

As a general rule the further in the past your arrest or conviction was the better chance you have of qualifying. Convictions within the past year will likely result in you being denied for a voucher.
The best practice is to be truthful. If you have a question about the application you are completing ask someone with the housing authority. Sure no one may ever know you lied on your application, but if you are caught you'll face a far more harsh punishment than your application being denied.  Lying on a HUD application could land you in legal trouble.
Where To Apply For Section 8 In Houston
For more information on Section 8 in Houston call the Houston Housing Authority at 713.260.0600 or see our article title How To Apply For Section 8 Housing.
Apply For Houston Public Housing
Public Housing is yet another program that local housing authorities manage. Like Section 8, Public Housing is also federally funded although you have fewer options with the latter. Public Housing consists of properties owned by a local housing authority.  Individuals who qualify for the public housing program must choose to live in a specific property which is owned by the housing authority.
Note:  Cuney Homes near Texas Souther University and Clayton Homes near Minute Maid Park are public housing complexes that may be familiar to you. 
To qualify for Public Housing you must first complete an application and then submit it to your local housing authority.  Below are applications for Houston Housing Authority's Public Housing Program:
Can I receive Public Housing if I have a Criminal Record?
Yes, you can, however, there are complications. See the previous section titled Can I receive Section 8 if I have a Criminal Record for the answer to this question.
Where To Apply For Public Housing In Houston
You must visit the Houston Housing Authority to apply for Public Housing. You can call them at 713.260.0600. For more information on public housing see our article titled How To Apply For Houston Public Housing.
Apply For New Hope Housing
Our last suggestion of this section is to apply for housing with New Hope Housing. New Hope is a Houston housing program that offers Single Room Occupancies (SROs for the hipsters) to low-income single men and women. This program also has a waitlist that is far shorter than the Houston Housing Authority. Typically tenants wait 4-8 months for a room to become open and rent is roughly $500 – $600.
Note: This program does not allow children to stay on their property; only single men and women. 
New Hope Housing Complexes In Houston (MAP) 
Here is a listing of every New Hope apartment complex in the city.
Where To Apply For New Hope Housing In Houston
To apply you must call the New Hope location you are interested in to learn about their waitlist.  Each New Hope location has their own individual waitlists so there is no general number to call to apply. For even more information see our article titled How To Apply For New Hope Housing.
9. Consider Housing Programs For People with HIV/AIDS 
---
If you you are an ex-offender in Houston and have HIV/AIDS you could qualify for housing through a HOPWA Program.
Note: HOPWA stands for Housing Opportunities for Persons with AIDS.
HOPWA is a federally funded program that helps with the cost of housing for individuals with HIV/AIDS.
Eligibility For HOPWA
Each program has different standards, but below is a general list of qualifications to receive HOPWA assistance. You must have each of the following:
Meet the standard of low income. Resources must be at 50% or below.

Have HIV positive diagnosis

Live in the "Houston area". This includes Houston, the Woodlands, Sugarland, Baytown, Conroe. The counties of Austin, Brazoria, Chambers, Fort Bend, Galveston, Harris, Liberty, Montgomery, Waller.
City of Houston HOPWA Program Partners via MAP
Here is a map and list of agencies that received federally funds to help individuals with HIV/AIDS with housing. HOPWA funds allow its partners to help clients in a number of different ways. Some with just supportive services others with mortgage assistance.
HOPWA Assistance Types
The abbreviations below explain how each agencies uses HOPWA funds to help clients:
STRUM – Short term rent, mortgage, utility assistance
TBRA – Tenant based rental assistance
SS– Supportive services
CR – Community residences
City of Houston HOPWA Program Partners via List
A Caring Safe Place – 1804 Carr St, Houston, TX 77026 –

713.225.5441

– Assistance Type: CR and SS 
AIDS Coalition of Coastal Texas – 707 23rd St, Galveston, TX 77550 –

409.763.2437

– Assistance Type: STRMU, TBRA,  SS 
Association for the Advancement of Mexican Americans – 6001 Gulf Fwy, Houston, TX 77023 –

713.967.6700

– Assistance Type: SS 
Avenue 360 – 2150 West 18th St, Suite 300, Houston, TX 77008 –

713.426.0027

– Assistance Type: STRUM, TBRA, SS –
Brentwood Community Foundation – 13101 Landmark St, Houston, TX 77045 –

713.852.1451

– Assistance Type: STRUM, CR, SS –
Catholic Charities – 2900 Louisiana Houston, TX 77006 –

713.874.6589

– Assistance Type: STRUM, TBRA, SS
Goodwill Industries – 1140 W Loop N Fwy, Houston, TX 77055 –

713.692.6221

– Assistance Type: SS
Houston Help – Corder Place Apartments – 7210 Peerless St, Houston, TX 77021 –

713.741.4070

– Assistance Type: CR, SS
Houston SRO Housing Corporation San Jacinto Apartments – 2211 Norfolk, Suite 740, Houston, TX 77098 – 713.526.9470 – Assistance Type: CR and SS
Houston Volunteer Lawyers Program – 1111 Bagby, Suite FLB 300, Houston, TX 77002 – 713.228.0735 ext 121    Assistance Type: SS
 Montrose Center – 401 Branard St, Houston, TX 77006 – 713.529.0037 – Assistance Type: STRUMU, TBRA, SS
Search – 2505 Fannin, Houston, TX, 77002 – 713.739.7752 –  Assistance Type: SS
If you need a better understanding of this program see our guide titled 14 HOPWA Houston Programs to Help Those with HIV/AIDS.
10. Contact Local Churches 
---
The next suggestion for anyone needing housing for felons in Houston is local churches. The church is a place of forgiveness because we all need it. Romans 3:23 tells us:
For all have sinned and fall short of the glory of God
If you currently attend a church speak with someone in leadership about the struggles you are having with housing. This person may be able to connect you to a special ministry that can help you or someone else in the congregation with a room or garage house to rent to you. You will never know until you ask. If you do not have a church home consider contacting one of the many assistance ministries in Houston. The nonprofits typically serve a particular area of town so they can possibly offer you leads on housing for ex-offenders in Houston.
Houston Area Assistance Ministries (MAP)
Click on any of the plots to see more information about these area assistance ministries. See our article titled How To Find Utility Assistance In Houston for more local resources. Despite the name, you will find more assistance ministries and nonprofits to assist you with clothing, food, and other basic necessities.
11. What About Family and Friends?
---
Lastly consider those closest to you should you need housing.
Why You Should Consider Your Family and Friends 
Community resources are limited and because of this, there is no guarantee that you will find a housing program to help you. Many nonprofits lack the budget to pay its own workers, let alone offer unlimited community resources to its clients. The bottom line is that it's dangerous (and incorrect) to assume that nonprofits have unlimited funds. Heck, even if the funds are there we make you sign piles of paperwork to get the resources. In my opinion, a better option is seeking help from those you know like family and friends.
In A Perfect World Family ALWAYS Helps You, But…
You and I both know this is not always true. Sometimes family members don't have the money, space, or sadly compassion to help us. Other times, it's our mistakes that have caused family members to distance themselves from us. You know better than I if the bridge has been burned with family members. If it has you may just need to give them space. On the other hand, if there is even a chance that family is willing to give you a place to stay while you figure things out, these are things you can do to show your appreciation.
Earning Your Keep Around The House
Do these things to keep the peace in your family members home and show thanks for them helping you.
Set a timeframe for when you will leave. Before getting comfortable provide your family member with a timeframe of how long you will be staying with them. Is it a week, 2 months? Whatever the case let them know upfront.
Update them on your progress. When you get good news about a job or housing let your cousin know. This lets them know that you are using your time wisely.
Help out around the house. If you aren't working a job you surely need to be working around the house. Cut the yard, sweep, mop, walk your niece to and from the bus stop. Look for ways to improve your family members life and be assertive about doing those tasks.
Wake up early. If you are living with a family member there is a good chance you will be sleeping on a living room couch. If this is the case, consider waking up early. Trust me, if the last thing your family member sees before heading to work is you snoring on the sofa this will make a bad impression. Wake up and help around the house.
Pay a bill if you can. Lastly, if you do receive some income consider paying a bill. If you put half on the rent, consider paying a smaller bill like the water or Netflix account.
Conclusion
As I stated earlier finding housing with a criminal record will be difficult so it will take some out-of-the-box thinking. You may not receive the help you need on the first call and that's ok. Don't give up, keep calling. Even if an agency tells you they cannot help, before hanging up you need to ask this follow up question:
If you cannot help me, can you give me one number to someone who you think can help a person like me?
Look if you were patient enough to read this entire article, which signals to me that you will be resilient enough to eventually find housing and get back on your feet. Stay strong.
Nick Bryant is the author of Understanding Healthcare Is Half The Battle and a Senior Counselor with 13+ years of experience working in community health and mental health. He enjoys spending time with his family, watching WWE on Friday nights, and working toward a Google Data Analytics certification. If you have additional questions about community resources or government assistance programs, simply leave a comment below and he will follow up as soon as possible.