Houston Food Deserts: How To Eat Healthy Despite Limited Food Options
---
Food deserts are low-income neighborhoods with no access to a supermarket or grocery store. This means that residents of these areas may depend on convenience stores and fast food places for their food instead of healthy options like fresh fruits and vegetables. The health impact can be significant; not only does it contribute to higher rates of diabetes, obesity and heart disease, but also many low-income families in Houston lack the resources to purchase healthy foods even if they wanted them.
In this guide, we will explain the meaning of "food desert", reference the food deserts in Houston and provide, things that you can do to eat healthy even if you are in a food desert.
Let's start by defining what a food desert is.
What Is A Food Desert?
A food desert is defined as a low-income neighborhood that lacks access to fresh, healthy foods. 
The people in these neighborhoods typically have a harder time finding fresh fruits and vegetables because there are less grocery stores in the area, the dollar stores there do not sell fresh produce, and many in these communities lack the transportation to regularly visit a grocery store. 
Where Are The Houston Food Deserts In Town? 
Houston food deserts are typically found in low-income neighborhoods.
Examples of Houston food desert areas include the following:
You can use this interactive USDA map to see if you are living in a food desert in Houston.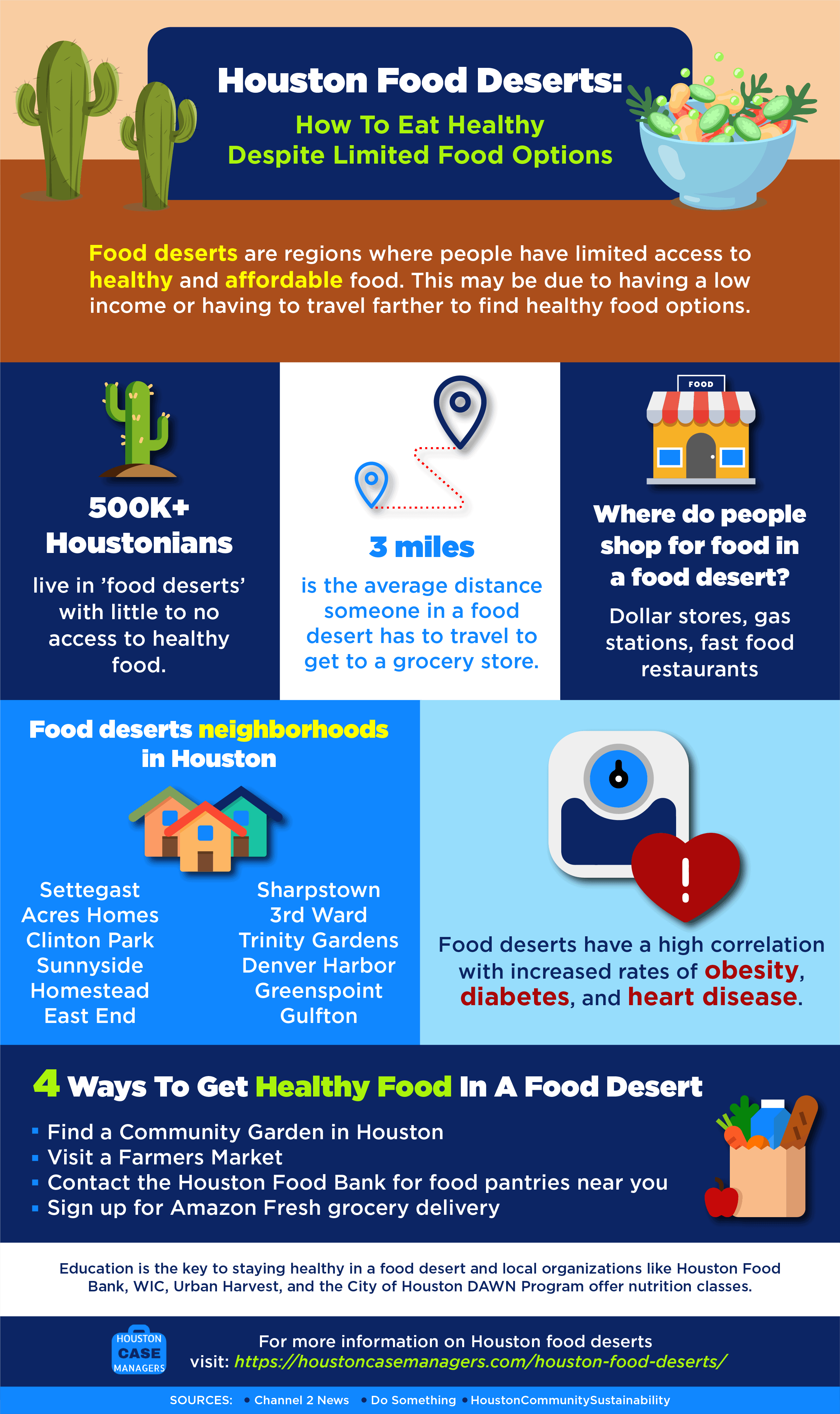 Who Typically Lives In A Food Desert?
It depends on the type of food desert. 
Urban food deserts food deserts which are located in major cities are typically low-income neighborhoods where minorities live, there are lower levels of education, but higher levels of unemployment.
On the other hand, rural areas in the U.S. are on average about 80% white according to the Economic Research Service. 
People who live in rural food deserts are more likely to have poor health for the same reasons as people living in urban food deserts. Individuals in rural areas may live as far as 10 – 20 miles away from the nearest grocery store.  This leads to even higher rates of chronic disease and mortality when compared to those in urban areas. 
What Is The Health Impact Of Houston Food Deserts On Residents?
Residents of food deserts often have higher rates of obesity, diabetes, and heart disease than those who live in other parts of town. That's why it is important for everyone to be aware that many Houston neighborhoods are considered food deserts due to a lack of grocery stores or supermarkets.
4 Ways To Get Fruits And Vegetables If You Live In A Houston Food Desert?
For those living in a Houston food desert, use these 4 options to find fresh fruits and vegetables near you. 
1. Find A Community Garden In Houston 
A community garden is a great way to get fresh fruits and vegetables that your body needs. One of the best resources for finding Houston community gardens is a local nonprofit called Urban Harvest.
They offer education on eating healthy and hands on experience via their onsite community gardens. Currently they have 6 community gardens in Houston.
If you are interested in starting your own community garden, Urban Harvest can also help with that. Whether you have a backyard or just a small apartment balcony, you can begin planting fresh fruits and vegetables.
To find a Houston community garden visit the Urban Harvest affiliate gardens page for more information.
2. Visit A Houston Farmers Markets 
Farmers Markets can also provide you with fruits and vegetables if you are in a food desert. Farmers markets are  public spaces where farmers set up stalls to sell their food.
They are often found in low income neighborhoods and by school districts with high rates of poverty because they offer fresh produce for lower prices than larger grocery stores.
You can find farmers markets by visiting websites like:
3. Contact The Houston Food Bank
The Houston Food Bank offers an interactive map of food pantries, where you can get fruits, vegetables, bread, meat, and more. You can contact their helpline at 832.369.9390 or visit the Houston Food Bank website to learn more about their food assistance plans.
4. Sign Up For Amazon Fresh (Food Delivery Program) 
Amazon offers a food delivery service in Houston called Amazon Fresh. If you have ever ordered anything from Amazon the process of buying fruits and vegetables is the exact same. 
Many residents who live in food deserts also qualify for government benefits programs like food stamps. If you do have a SNAP benefits, you can use your EBT card to order fruits and vegetables from the Amazon Fresh program. 
While most Houston food deserts are eligible for Amazon Fresh deliveries you will have to check Amazon to see if they deliver to your area. 
I searched a few Houston food desert zip codes and stated whether or not Amazon delivered to those areas. You can find that information in the table below. 
Neighborhood

Delivery By Zip Code

Kashmere

Delivers in 77026

3rd Ward

Delivers in 77004

 

Near Northside 

Delivers in 77009, 77076, 

East End 

Delivers in 77011, 77023, 77003. Does not deliver in 77012. 

Acres Homes

Delivers in 77088, 77091, 77018

5th Ward

Delivers in 77020

East Houston 

Does not deliver in 77015, 77029

SE Houston 

Does not deliver in 77051, 77033, 77087, 77060,

Aldine

Delivers in 77037. Does not deliver in 77032, 77039. 
What If The Lack Of Grocery Stores Isn't The Reason For Poor Health In Some Communities?
That's the question that the Quarterly Journal of Economics asks.
In their report they suggest that nutritional inequality is more the result of choice as opposed to a lack of access.
The study followed 10,000 households and tracked their spending habits as grocery stores opened in the "food desert" neighborhoods that they lived.
According to the study, of those households who began shopping at the newer/closer grocery store, only 10% began buying more healthy food options. Essentially they noticed that most people purchased the same poor quality foods as before, in the new, closer grocery store.
Nutrition Education Classes In Houston
Below you will find a listing of free nutrition education classes in Houston. If there is any truth to the study mentioned in the previous section then education may be an even greater tool in improving the overall health of residents in Houston food deserts.
Conclusion
Living in a Houston food desert can greatly impact your health if you are not cognizant of these dangers. 
The lack of grocery stores could increase the likelihood of you eating fast food on a regular basis. This in turn can lead to chronic conditions that can severely impact your long-term health and well-being.
If you are living in a food desert local agencies like Houston Food Bank, Urban Harvest, and the farmers markets in town are great places to go if you want fresh fruits and vegetables.
In addition Houston nutrition classes and health websites like Examine can provide you with a solid understanding of nutrition to motivate you to make good eating habits a daily activity.
Similar Articles That May Be Of Interest To You: 
Nick Bryant is the author of Understanding Healthcare Is Half The Battle and a Senior Counselor with 13+ years of experience working in community health and mental health. He enjoys spending time with his family, watching WWE on Friday nights, and working toward a Google Data Analytics certification. If you have additional questions about community resources or government assistance programs, simply leave a comment below and he will follow up as soon as possible.