Cheap Medical Transportation In Houston For Senior Citizens
---
In this community resource, I will provide you with multiple ways that you can save money on medical transportation in Houston. 
Whether you're a senior going to a doctor's appointment or someone needing to refill prescriptions, this article will provide you with plenty of options to help you with medical transportation. 
Why Senior Transportation In Houston Is Important? 
According to Texas Health and Human Services, one of the biggest problems that healthcare providers face is "no shows" for medical appointments. This impacts healthcare clinics in two ways: 
Longer waits for patients who do make their appointments

Patients who no show do not receive the medical treatment they need and conditions can potentially worsen
One of the primary reasons for no-shows is the lack of a ride to the doctor's office. This is why transportation for seniors to medical appointments is so important. 
That being said, let's dive into some of the options for free and low-cost Houston transportation services. 
Houston Metro
Metro is the largest transportation authority in Houston. This agency offers 4 different transportation services: 
Bus – City bus services running along most major city streets 
Light rail – A light rail or train service that takes riders through the medical center, downtown, North Central, East End, and Third Ward
Rapid Transit – Park and ride services that shuttle passengers from the suburbs to downtown and back 
Para-transit – Metrolift van that transport individuals in wheelchairs and have mobility problems
For anyone who does not have mobility issues the bus, light rail, and rapid transit services are viable Houston transportation options.
One-way trips on both the bus and light rail cost $1.25. If you're a student, senior, have Medicaid, or have a disability your fare is $0.60. This fare is good for 3 hours. A bus pass purchased at 7 am would grant you unlimited rides until 10 am that morning.
Editor's note: There is a $500 fine if you are caught without a valid bus pass.
The cost for rapid transit services aka "the Park and Ride" depends on the distance. Typically this fare ranges between $2-$4.50.
Metro Lift
For anyone with mobility problems, the para-transit service offers a solid option for senior transportation in Houston. 
To qualify, you must complete a Metro Lift application and then have your doctor complete a Physician Certification Form.
You must mail your application to P.O. Box 61429, Houston, TX 77208-1429 and an eligibility determination will be made within 21 days.
For more information on this process, you can visit the Metro Houston website, see our guide titled 5 Step To Applying for Metro Lift, or contact 713-635-4000.
Harris Rides 
Harris Rides is the next option for medical transportation in Houston. Here's a summary of their services. 
This service provides taxi rides to eligible riders and covers 50% of the total cost.  The agency caters to only older adults and individuals with disabilities.  These customers typically cant access Metro services or they have no alternative for transportation.
Harris Rides provides two different services. Continue reading to learn more.
Shared Ride
Riders share rides and pay based on mileage from the pickup location to their ending destination. The Shared-Ride services is suggested for any trip over 12 miles. The customer pays 50% of the fare and prices for this service range between $6.00 and $42.00. You must book your Shared Ride trips 24 hours in advance.
Taxi Service
The Taxi Service differs from the Shared Ride in a couple of ways.  First Taxi Service trips can be booked on the same day. Second, customers must only give 90 minutes of advanced notice. Also, this is a metered service with the maximum cost being $48.00. Like the Shared Ride service, the customer pays 50%.
To apply for either service you must complete and mail your Harris Rides application to 8410 Lantern Point Drive, Houston, TX 77054.
If you have additional questions contact  713.368.7433.
Harris County Transit 
Harris County Transit offers public transportation to individuals living on the outskirts of Houston. Their service area includes Crosby, Highlands, Baytown, LaPorte, and Pasadena. 
Harris County Transit Fees
One-way trips range from FREE to $2.00. Below is a breakdown of Harris County Transit fares:
Adults/Children 12 years and older  – $1.00/each way

Children (2-11 years ) – $0.50/each way

Seniors (62 and older with ID) – $0.50/each way

Medicare/Medicaid patients – $0/50/each way

Disabled with ID – $0.50/each way

Children under 2 – FREE

Elementary thru High School Students with ID – $0.50

Certified Para-transit Eligible Passenger – $2.00
For residents who ride Harris County Transit more often the agency offers a Monthly Bus Pass Program. Prices for this program range from $8.00 to $30.00.
Harris County Transit Bus Routes
Below is a map of the bus routes and the areas of Harris County that they visit.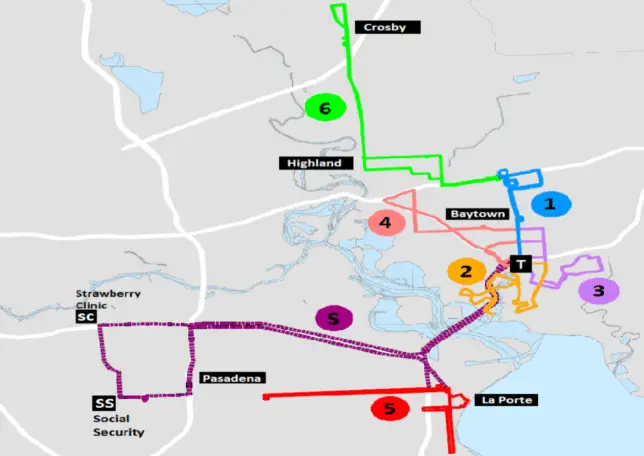 Harris County Transit Para-transit Services
This transportation service offers a curb-to-curb para-transit service similar to Metro Lift.
This service is available to individuals with mobility issues that cannot access the regular bus routes. To apply for these services you will have to submit an application.
For more information visit the Harris County Transit website or contact them at 713.578.2216. 
Medicaid Transportation 
If you have Medicaid health insurance another option for free medical transportation service available to you is Medicaid Transportation in Houston.
Medicaid provides free rides to members to the following appointments:
Medical checkups

Dental checkups

Trips to the pharmacy
Medicaid Transportation offers ride assistance whether you have a vehicle or not.
Patients without a Vehicle
If you do not own a vehicle you may receive Metro Bus passes or a taxi voucher. In most cases, you will receive a Metro Bus pass. If you have mobility issues that make it difficult to walk to a Metro Bus stop you can request a shuttle to pick you up from your home.
To do this you must contact Medicaid Transportation and inform them of your immobility issues. Many times they will approve the first shuttle request without your doctor's consent, but for ongoing shuttle service, you will need to involve your doctor.
For ongoing shuttle service simply call Medicaid Transportation and provide your doctor's name, address, and fax number. Medicaid Transportation will contact your doctor to verify your mobility problems. Once your doctor approves you will begin receiving curbside pick-ups from your home. 
Patients with a vehicle
If you or a family member own a vehicle Medicaid can reimburse you for medical trips.
To receive reimbursement for medical transportation you or your driver will need to provide the following documents:
Current Driver's License

Updated registration and inspection sticker

Current car insurance

Social Security Number
In addition to these documents, you will also need to complete a Medicaid Transportation Program Provider Application.
Making your appointment
You will need to contact Medicaid Transportation at least 48 hours prior to your appointment.
When you call Medicaid Transportation you must provide the following details:
Your name

Medicaid ID or Social Security number

Pick up and return address

The name of your doctor, address, and phone number of their clinic

The date and time of the appointment

Any special accommodations like someone riding with your or mobility issues
To arrange your Medicaid Transportation in Houston call  1.855.687.4786. If you live in Dallas/Fort Worth call 1.855.687.3255. 
Care Connection (Free Medical Transportation In Houston For The Disabled)
Care Connection is a nonprofit in Houston that provides supportive services like free transportation to individuals with disabilities.  They have a "Rodie Transportation Program" that offers free transportation to disabled individuals who need help getting to and from doctor's appointments and more. 
This program can help you to get to and from doctor's visits or provide a free ride in Houston to pick up your prescription medications. 
To qualify for this free medical transportation program in Houston you must: 
Live in Harris County

You are 59 years old or younger and have a disability

Be traveling to a location inside Harris County
You can learn more about the Care Connection Rodie Transportation Program by calling 855.937.2372 or by visiting their website.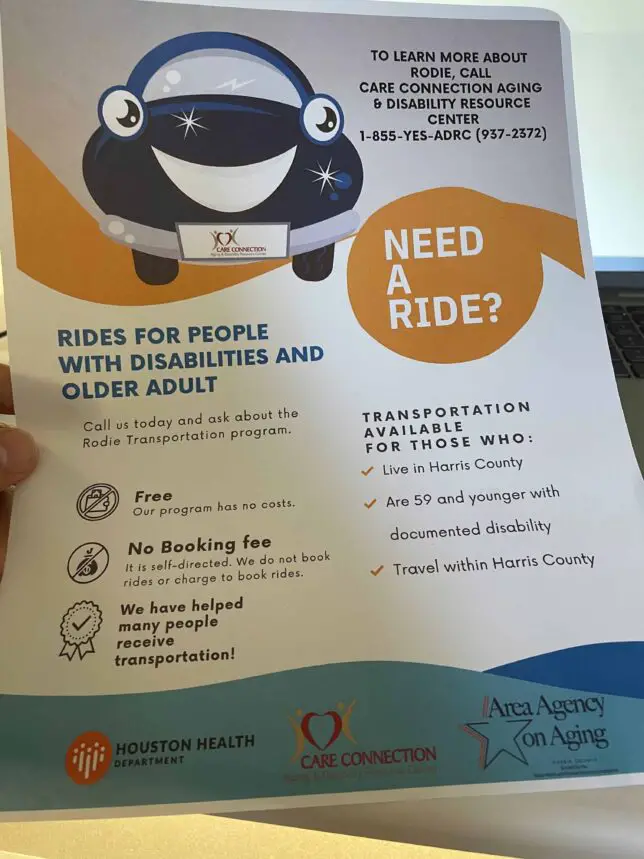 American Red Cross Greater Houston
Red Cross offers non-emergency medical transportation to seniors and individuals with disabilities throughout Harris and Fort Bend counties.
This is a free service although capacity is limited. You can utilize the Red Cross as an option for medical transportation in Houston, but space is limited. Due to limited availability, you are encouraged to schedule your ride at least 2 weeks in advance. Riders can request rides up to 30 days in advance.
Contact Red Cross at 713.526.8300 to learn more about transportation services or schedule a ride today.
Gulf Coast Community Services Association 
Gulf Coast offers transportation assistance in the form of FREE Metro Q Cards. The Metro Cards are available to clients seeking employment or attending educational programs. To qualify an individual must meet the following guidelines:
Be a resident of Harris County or surrounding counties

Meet the federal poverty income guidelines

Provide proof of job pursuit or attendance in an educational program
For more information contact Gulf Coast Community Services Association at 713.393.4700.
Fort Bend County Transit Can Help with Cheap Medical Transportation
Fort Bend County Transportation Department provides shared bus rides to those living in Fort Bend.
This county bus system transports riders to both local destinations as well as trips to Houston.
Local trips cost $1.00 each way while the Fort Bend Express ranges between $2.25 – $3.50 per trip. The Fort Bend Express transports residents to the Medical Center, Galleria, and Greenway Plaza.
Riders needing to schedule a trip must call 866.751.TRIP any day Monday thru Friday 8 am to 5 pm and ask for "Fort Bend County Reservation".
Rides can be scheduled between 1 and 30 days in advance.
If you need more information regarding the Fort Bend County Transportation Program call them at 866.751.TRIP.
Katy Area Ride Service (KARS)
Katy Area Ride Service (KARS) offers low-cost transportation options to Katy residents 65 years or older, individuals with non-wheelchair disabilities, and veterans.
KARS rides must be scheduled by noon 24-48 hours prior to your trip.
To apply for the KARS Program call them at 832.773.8645 any day Monday through Friday from 9 am to 3 pm. 
Senior Rides and More 
Senior Rides and More offers help to seniors with rides to medical appointments and more. 
To qualify for services you must meet the following guidelines:
Be 60+ years of age

Be ambulatory. Canes and walkers are acceptable, but not wheelchairs. Volunteers use their own personal vehicles which may not always be equipped for a wheelchair.

No diagnosis of mental illness

No diagnosis of Alzheimer's
To apply for transportation services you will need to visit the Senior Rides and More website or contact them at 713.772.8181.
Ride United Houston
Ride United Houston is a transportation service that was created in 2019 and is currently managed by the United Way. 
This service provides clients with access to food, household deliveries, and even medical transportation. 
To learn more about this low-cost transportation option contact the United Way Houston at 211 or 713.685.2300.
Interfaith of the Woodlands
Interfaith of The Woodlands provides a number of services to its residents including senior transportation services. 
This organization offers rides to essential medical appointments and even has a Senior Grocery Delivery Program.
Interfaith of The Woodlands serves the following zip codes: 77054, 77375, 77380, 77381, 77382, 77384, 77385,  77386, 77389.
To learn more about their transportation options for seniors call Interfaith of The Woodlands at 281.367.1230 or visit their location at 4242 Interfaith Way, The Woodlands, Texas 77381.
Hero Houston (Helping Elderly Residents Out) 
The HERO Houston program offers free rides to medical appointments for seniors in the Memorial and Spring Branch areas.
This program serves the 77024, 77043, 77055, 77079, 77080 zip codes. You must call Hero Houston at least 4 days prior to your medical appointment.
In addition to free medical transportation in Houston, you can also receive assistance with light handyman work, help to complete paperwork, and receive referrals to other helpful agencies.
For more information contact Hero Houston at 713.932.3996. Their mailing address is 12335 Kingsride, Box 230, Houston, TX 77024.
St. Vincent's Houston Galveston (Galveston Transportation Assistance)
This organization provides transportation services to citizens in Galveston to ensure they have access to their medical appointments.
St. Vincent's serves the entire Galveston island. You can contact them at 409.763.8521 or visit their office at 2817 Alfreda Houston Place, Galveston, TX 77550.
Go Go Grandparent Offers Seniors Cheap Medical Transportation In Houston
Go Go Grandparent is a service that helps seniors connect to ride-sharing programs like Lyft and Uber.
Seniors seeking cheap medical transportation in Houston will be glad to know that no tech skills, app, or even a smartphone are needed. As long as you have a dial tone you can call Go Go Grandparent to schedule pick up and drop-offs.
How To Schedule A Ride With Go Go Grandparent
To request a ride from either Lyft or Uber you need to first call Go Go Grandparent at 855.464.6872.
From there you have the option of doing the following:
Press 1 to request that Lyft or Uber pick you up at your home.
Dial 2 to have the ride-sharing program pick you up at the place you were dropped off (doctor's office, grocery store, etc).
Hit  0 if you need to speak to an operator.
Editor's note: You can schedule a ride in just 15 minutes, no need for pre-scheduled appointments. 
How Much Does Go Go Grandparent Cost?
Prices vary depending on your location, but I entered the Third Ward zip code of 77004, and Go Go Grandparent charges .27 cents per minute.
If it takes Go Go Grandparent 5 minutes to arrange your ride to the doctor's office then you would be looking at a $1.35 fee. Keep in mind that this does not include the fees of the ride-sharing program.
Below is a visual to give you a better idea of what you might pay for Go Go Grandparent services.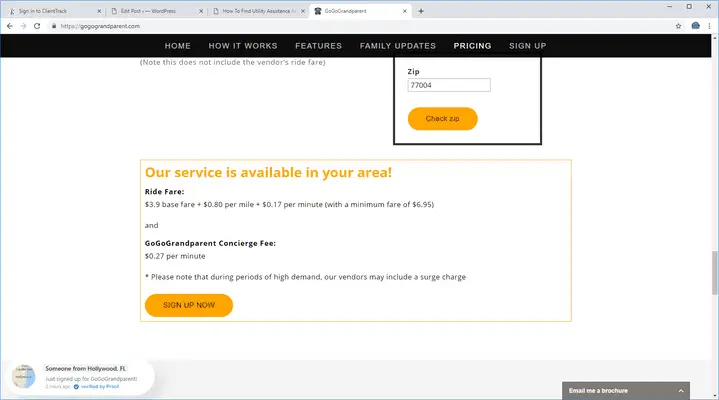 Contact Go Go Grandparent
For more information, visit their website or call them 24 hours a day at 855.464.6872.
Project Access – Homeless Transportation
Project Access provides free transportation services to homeless individuals. The service is provided by Healthcare for the Homeless.
The service offers travel to designated locations in the downtown Houston area where riders can access health care, meals, shelter, or social services.
The bus operates Monday through Friday from 7 am to 5 pm.
Project Access Ticket Distribution Sites
To ride the Project Access bus you must obtain a ticket from one of the following ticket distribution sites:
Project Access Bus Schedule
Here is a bus schedule for Project Access. Riders must have a ticket each time they get on the bus. Typically the Project Access Bus will pick up and drop off riders at established Metro Bus stops.
For more information on Project Access contact 713.286.6168.
Conclusion
Life in Houston without a car can be difficult which is why these options for medical transportation in Houston are so necessary and appreciated. 
In addition to these options, you can also contact your Medicare Advantage company, because many of those insurance plans come with the added benefit of transportation to and from your medical appointments. 
Similar Articles That May Interest You:
Nick Bryant is the author of Understanding Healthcare Is Half The Battle and a Senior Counselor with 13+ years of experience working in community health and mental health. He enjoys spending time with his family, watching WWE on Friday nights, and working toward a Google Data Analytics certification. If you have additional questions about community resources or government assistance programs, simply leave a comment below and he will follow up as soon as possible.