Operation ID: Houston ID Assistance For The Low Income and Homeless
---
In this guide, I will tell you about a Houston organization call Operation ID that can provide you with identification assistance.
If you or a client needs help getting a free photo ID in Houston, this organization will pay for the cost of an identification card. This service can be huge for someone who is missing an ID because this opens up a new world of possibilities like the chance to apply for a job, rent an apartment or achieve some other goal. 
I'm Nick Bryant, founder of HoustonCaseManagers.com where we help medical professionals and clients connect to basic needs like a new or replacement photo ID. 
Today I will tell you about a popular Houston program called Operation ID that can help you obtain an identification card. 
What Is Houston's Operation ID? 
Operation ID is a Houston program that helps low-income individuals obtain a replacement photo ID. In addition, they can also assist you with getting a free birth certificate.
This program is managed by Main Street Ministries which is located in the Houston Museum District at 5100 Travis St, Houston, TX 77002. 
Help Obtaining A Birth Certificate Or ID Card In Houston
The main purpose of the Operation ID program is to help you obtain your identification card or birth certificate. This program helps you what that go by providing helpful services like: 
Assistance gathering necessary documents

Completing forms

Paying the cost of a new or replacement photo ID

Helps to get out of state birth certificates 
Eligibility For The Houston Operation ID Program
The Operation ID program in Houston typically works with individuals who are considered low-income, homeless, or a client he was referred from a partner organization.
What Documents Are Needed? 
Operation ID can help you obtain supporting documents if you do not have them, however, the process is smoother when you can produce necessary paperwork like:
Birth certificate

Social security information

Medical records

Voter's registration card
Again Operation ID can help you to track down nice secondary identification documents, but if you have them definitely bring them because this will allow them to get your ID faster.
How To Make An Appointment With The Operation ID Program
You can call Operation ID at 281.833.3508. Leave a message and someone with Memorial Area Ministries will call you during the next workday to offer assistance. 
Other Main Street Ministries Programs 
In addition to the Operation ID, Main Street Ministries offers the following programs to help low-income or homeless individuals in Houston. 
Getting Ahead Program
This is a 5 month program that helps you to make a positive change in your life. If you have a goal of becoming self-sufficient, this program can provide you with the tools needed to overcome any setbacks that you have had in life.  
Family Hope
Once you graduate from the Getting Ahead Program, you can transition to the Family Hope program. In the Family Hope program, you will continue working on the tasks, goals, and skills, needed to achieve self-sufficiency. 
Main Street Ministries Community Garden
Here you can volunteer to care for vegetables, fruits, and flowers. 
Compass (Homeless ID Assistance Houston) 
Homeless individuals in Houston can also find help obtaining an ID by visiting Compass. 
Compass is a Houston homeless service center that offers assistance like:
Help paying for an ID or birth certificate

Free Metro bus passes

Employment assistance for the homeless in Houston

Case management

Harris Health Gold Cards for the homeless

Much more
To learn more about this Houston homeless service center you can call them at 713.229.8319, visit their downtown location at 1212 Prairie St, Houston, TX 77002, or visit the Compass website. 
Conclusion
If you need help obtaining or paying for an identification card in Houston, then contact Operation ID at 281.833.3500 to schedule an intake appointment. 
Similar Articles That May Interest You: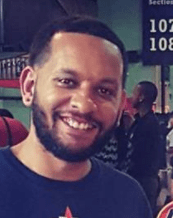 Nick Bryant is a Counselor with 11 years of experience working in community health. He enjoys concerts, walks with the doggo and wife, mocking Dallas Cowboy fans, and sharing community resources. Jump on the Houston Case Managers email list to receive weekly community resource guides delivered directly to your inbox.