Houston: How To Find Landlords To Accept Your
---
In this community resource guide, you will learn how to find landlords that accept Section 8 in Houston.
If you are looking for a place to live in Houston and have a Section 8 voucher, you may be wondering where you can find landlords that accept Section 8. While housing authorities give you the Section 8 voucher, they do not always connect you to landlords who offer Section 8 housing.
Luckily, there are many resources available to help you find an apartment, condo, or house that accepts your housing voucher. In this article, we will discuss some of the best ways to find landlords that accept Section 8 in Houston.
How The Process Works
When you apply for Section 8 (also known as Housing Choice Voucher) you do so through a housing authority. If you have Section 8, it's likely that you applied through either Houston Housing Authority or Harris County Housing Authority.
The housing authority will qualify you for Section 8 housing benefits, but from this point on it's up to you to find housing. The public housing authorities do have lists and contacts of landlords in Houston that accept Section 8, but they are not tasked with connecting you to these landlords.
For the most part, it's up to you to contact these landlords and see if they have any available units. If you currently have Section 8 housing but do not know where to find a landlord in Houston that accepts housing, continue reading and we will provide you with options.
Who Manages The

Program In Houston?
Section 8 is managed by housing authorities. The two housing authorities in our area include:
These are the agencies where you apply for Section 8 in Houston. Their job is to screen you and qualify you for subsidized housing benefits if you meet the requirements. They can also play a role in helping you to find apartments or houses for rent in Houston Texas that accept Section 8.
Here is more about each agency.
( Help Finding )
The Houston Housing Authority is a public housing agency that manages the Section 8 program in Houston.
You should contact them if you need to locate Houston Texas Section 8 landlords to take your voucher. They routinely speak to Section 8 property owners, therefore they will likely be able to provide you with a handful of leads of affordable apartment complexes that you can call.
In addition, you can visit the Houston Housing Authority website to find low income housing programs like:
Mixed-

Tax Credit Apartments In Houston
For more information, you can call the Houston Housing Authority phone number at 713.260.0500. You can visit them at their SW Houston office at 2640 Fountain View Dr, Houston, TX 77057.
Harris County
You can either search the Harris County Housing Authority website for Section 8 properties or call one of their housing navigators to help you find a place that accepts Section 8. You can reach them at 877.428.8844.
The Harris County Housing Authority office is located at 1933 Hussion St, Houston, TX 77003. The phone number is 713.578.2100.
How To Find Apartments

In Houston
The sites that make it easy to find HUD apartments in Houston include:
In the following sections, you will find step-by-step instructions on finding Section 8 apartments in Houston Texas with these websites.
(Formerly Go

)
This is a website that which many Houston landlords who accept Section 8 post their property. What this means is if you have Section 8 benefits you can use Affordable Housing to connect with apartment complexes and landlords of single families homes who take the Housing Choice Voucher.
Editor's Note: If you are looking for Go Section 8 Houston properties, you should know that Go Section 8 has a new name. It's AffordableHousing.com. The site has a slightly different look but still operates the same.
To find landlords who accept Section 8 in Houston first visit Affordable Housing. Then click on "More Filters". This will allow you to screen for Section 8 apartments in Houston.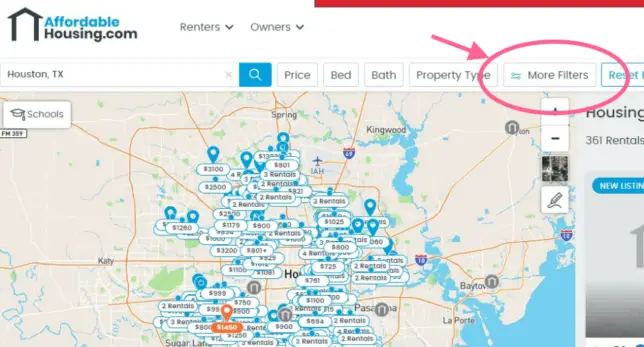 Next, be sure to click on the box that reads "Owner has Experience with the Section 8 /HCV Program". This will filter all the properties that accept Section 8.
In this same search box, you can also click "age restricted" or even click the Accessibility box. This will filter all the senior citizen apartments in Houston if you prefer these properties.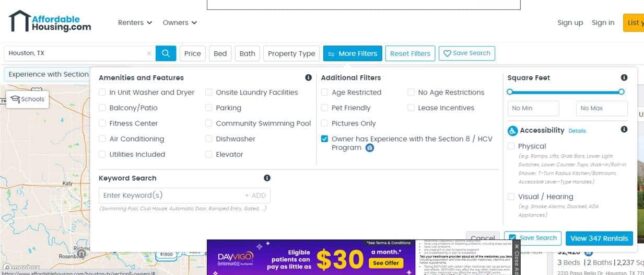 This website offers listings of open waiting lists for public housing and Section 8 programs. You can also find Houston Section 8 properties on this website as well.
First, start by searching for the city you are interested in moving to. In this example, I am searching in Houston.
Next search for apartment listings that are "subsided". These are your apartments that accept Section 8 benefits.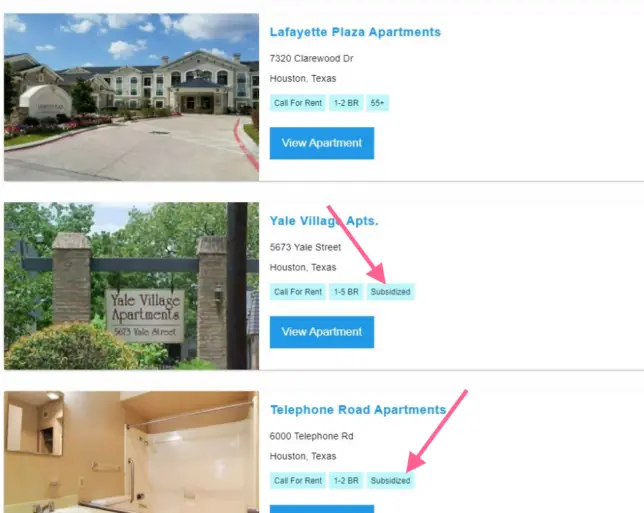 Once you click on an apartment that offers "subsidized" housing, search their information page to confirm they accept Section 8. Those apartment complexes that do accept Housing Choice Voucher, will say something like "Project Based Section 8". This is confirmation that this landlord does in fact accept Section 8 housing benefits.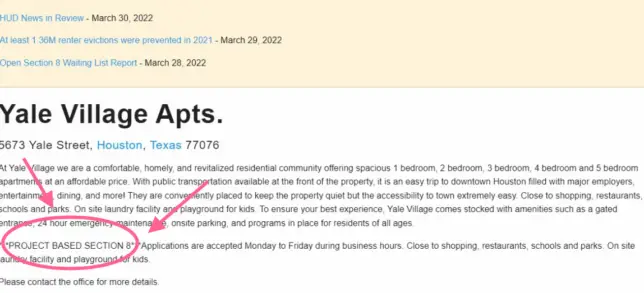 Social Serve
Social Serve is another way to locate Section 8 landlords in Houston. On this housing website, you will find apartments in Houston that take housing, condos, and single-family homes.
To locate Section 8 properties in Houston be sure to click Yes on the "Do you have a Section 8 Voucher" box. This will display all the properties that accept housing.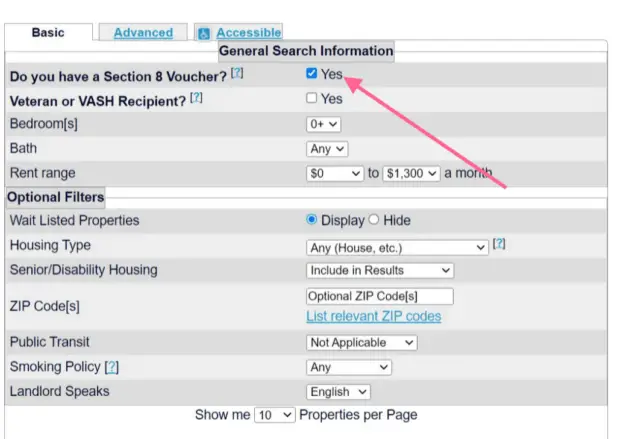 Social Serve offers an advanced search box. You can also look for properties that work with veterans, senior citizen properties, apartments that are accessible for individuals with mobility issues, and more.
If you need Section 8 housing in Houston, then start with this link. You can also call Social Serve at 877.428.8844 to get help finding a Housing Choice Voucher apartment.
Conclusion
If you need to find a Section 8 property in Houston, your best options are:
Harris

County

Social Serve
The first two options are the agencies that you apply for Section 8 in Houston. They also have housing navigators to connect you to Section 8 landlords.
The last 3 options are all housing search websites. Section 8 landlords list their properties for the public to find. The Social Serve website even offers phone assistance (877.428.8844) to help you find Houston TX Section 8 properties.
If you need more assistance finding a landlord to take your Housing Choice Voucher contact any of the options listed in this resource guide.
Similar Articles That May Interest You: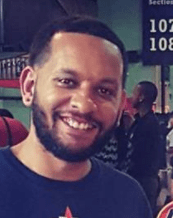 Nick Bryant is a Counselor with 11 years of experience working in community health. He enjoys concerts, walks with the doggo and wife, mocking Dallas Cowboy fans, and sharing community resources. Jump on the Houston Case Managers email list to receive weekly community resource guides delivered directly to your inbox.