How To Apply For Section 8 Housing
---
There is so much confusion out there regarding the Section 8 Program. So much. The depth of most people's understanding is "the waitlist is closed" or "it takes forever to get on a waitlist".  While this may be true in many cities, it's also true that the better you understand Section 8 the higher the likelihood you can connect yourself or a client to the program. In this post, I'm spilling all the tea on Section 8.  After this 10 minute read you'll have a solid understanding of the program as well as the following:
Let's get started!
What is Section 8? 
It is a government voucher program that pays a portion of the rent each month for eligible families who are considered to have low-income. The way it works is low-income families are responsible for paying 30% of their monthly income. The Housing Choice Voucher Program then pays the remaining 70% to the family's landlord via a housing voucher. 
Who manages the Section 8 Program? 
The program was managed by the U.S. Department of Housing and Urban Development (HUD). Currently, the program provides rental assistance for roughly  4.8 million families in the U.S.
What's the difference between Section 8 and the Housing Choice Voucher Program? 
There is no difference between the two. Section 8 is also commonly referred to as the Housing Choice Voucher Program. On most housing authority websites you'll find the name Housing Choice Voucher Program, so do not be mislead by this term.
How is Section 8 different that Public Housing? 
The short answer is Section 8 offers more flexibility than public housing. Section 8 gives eligible families a voucher that they can use with any private landlord who accepts the housing choice voucher. There are both apartment complexes and single-family homes that accept these vouchers. With public housing, you have less freedom to choose where you stay. Public housing is typically run by a local public housing agency. When you qualify for public housing, you don't have the liberty to stay anywhere you like. You must instead choose a housing unit that is apart of the housing authorities network.
Are You Eligible For Section 8? 
Before investing any time or gas money driving around this sprawling city, you should first learn if you are eligible for the program. In this section, we will talk about 4 factors that affect eligibility. Those factors are:
Basic Eligibility Requirements

Your Household Income Level

Preferences for Section 8

Disqualifying Factors
Basic Section 8 Eligibility Requirements
The qualifications in this first section are fairly easy to meet; be an adult and essentially a US citizen. Here are the exact requirements for eligibility:
Be at least 18 years old

Either a US citizen or a noncitizen with eligible immigration status

Single adults and families are also eligible
For anyone wondering about the term "eligible immigration status" here are those requirements:
Lawful Permanent Resident

Registry Immigrant

Refugee 

Conditional Entrant

Parolee

A person granted 1986 amnesty status

A resident of the Marshall Islands, Micronesia, Palau or Guam

A victim or relative of a victim of trafficking
Income Requirements for Section 8
To qualify for the program your household must make less than a specific amount of money. The income requirement for Section 8 is less than 50% of the Area Median Income (AMI). If you are unsure what Area Median Income means, have no worries because we'll explain that next. The Area Median Income simply means the median or middle income of all households in the region. To find the Area Median Income in your area use HudUser. This website will provide you with up to date Area Median Incomes for every state in the US. Now that you know what Area Median Income means and where to find it, let's look at a real example of AMI. Take Houston for example. According to HudUser, in 2018, the Houston, Sugar Land, Galveston area has an AMI of $74,900 a year. As a single adult, you must make less than $26,250 to have an income-eligible for Section 8 in Houston.
Note:  that $26,250 would be the max you can make as a single adult. Once you add household members the maximum amount that you can make will increase.
Here's are examples of the income (or AMI) rising as your household size also increases.
| | | | | |
| --- | --- | --- | --- | --- |
| Household Size | 2 | 3 | 4 | 5 |
| 50% AMI | $30,000 | $33,750 | $37,450 | $40,450 |
Preferences for Section 8
Preferences simply mean that the vouchers are given out first to those individuals who are considered part of their preference population. Once the people who are in those preference populations receive their vouchers, then everyone else will begin receiving theirs. Below are examples of what preference populations could be:
Seniors

Young Adults

People with disabilities

Local Residents

Families who were displaced (Harvey survivors)
If you see that there are preferences for a waitlist don't be discouraged. These are not requirements. It only means that individuals who meet these preferences will be given vouchers sooner than others.
Disqualifications for Section 8
In this section, we will list situations that will disqualify you from receiving a voucher. Below are non-negotiable reasons you would be disqualified from the program:
If anyone in your household was evicted from Section 8 housing in the past 5 years.

Someone in the household had rental assistance terminated by a housing authority.

If a member of your household owes money to a housing authority.
Each of the reasons above is non-negotiable and will prevent you or your household from qualifying for the program.
Can I receive Section 8 if I have a Criminal Record?
The short answer is yes, however, it is more difficult to receive a voucher if you have a criminal record. The HCV Program awards vouchers to individuals with criminal records on a case by case basis. In this section, we will discuss the nuances of this.
How a Criminal Record can affect your Section 8 Housing Application
Below are different scenarios that will affect your Section 8 application.
If you were arrested, but there was never a conviction, you have a better shot of receiving a Section 8 housing voucher than someone who was convicted.

Individuals with a violent or drug-related conviction will have a difficult time qualifying for a voucher. Individuals who are lifetime sex offenders will be ineligible for Section 8 vouchers.

As a general rule the further in the past your arrest or conviction was the better chance you have of qualifying. Convictions within the past year will likely result in you being denied for a voucher.
The best practice is to be truthful. If you have a question about the application you're completing ask someone with the housing authority. Sure no one may ever know you lied on your application, but if you are caught you'll face a far more harsh punishment than your application being denied.  Lying on a HUD application could land you in legal trouble.
How To Find a Section 8 Housing Waiting List?
To find a Section 8 waitlist you'll need to contact your city or state housing authority.
Local housing authorities are the agencies that manage and distribute Section 8 Vouchers to eligible families.
One thing you may not know is you can apply for Section 8 in any city or state you choose. There is no rule against applying for Section 8 in California, even if you currently live in Texas or vice versa.
Note: If you apply for Seciton 8 in a different state the residents in that area will likely be given higher preference over you since you are not a local.
While the Houston Section 8 waitlist is closed there are some waitlists that remain open indefinitely. We will share those waitlists with you in the next section. For large cities like Houston that open and close their waitlist, you will have to pay attention to public notices. These announcements will provide an alert that a waitlist is about to open.
Listings of Section 8 Waitlist in Texas
Below are links to take you to various Section 8 waitlists in the state. Some of these waitlists may be closed although you are encouraged to sign up for any of the housing authority's email lists. These email lists will provide you with a heads up on when waitlists will open.
Texas Section 8 Waitlists 
The links below will take you to the local housing authority that manages and distributes Section 8 Vouchers. You must apply for the housing program through these housing authorities.
US Section 8 Waitlists 
The links below will take you to US Section 8 waitlists. Remember you can apply to any Section 8 lists in the US, regardless of the state you live in. Use the link below to find a US housing agency to apply for a housing assistance payment program.
In the next section, we'll discuss the steps you need to take to apply for Section 8.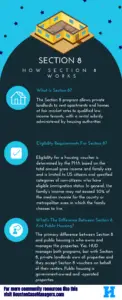 How To Apply for Section 8?
Applying for a Section 8 or Housing Choice Voucher requires 3 steps.
Obtaining an application

Completing the application

Submitting your application
Continue reading to learn how you obtain an application.
Obtaining your section 8 application
Typically applications are available via the internet, mail, or pick up at the housing authority office. You must complete the application in the form that your housing authorities choose. If they require that the application be submitted online, you must submit your application online. Mailing your application in this scenario will result in your application being denied. Read the rules for submission and follow those exact instructions.
Section 8 Applications are Free
There is no fee for completing an application. If someone asks for payment, do not pay them. Instead, ask for a supervisor or find the number to the housing authority and contact them.
Completing your section 8 application
Now that you've obtained your application, you need to complete it. Applications typically ask for the following things:
Your name

Mailing Address

Email Address

Phone number

Date of Birth

Social Security Number

Gross income of all household members

The number of people in your household

Criminal history
If your application is completed online the housing authority will likely contact you via email. It's important that you choose an email address that you will remember. Keep your login information in a safe place, because if you are selected and they don't hear from you in a reasonable amount of time you will be removed from the waitlist. If you need to create an email account, check out the video that walks you through the process of creating a Gmail email account.
Submitting you Section 8 Application
Whether online or paper applications, it's important that you submit it on time. There will be MANY others submitting their own applications and the workers at these housing authorities will be eager to reject as many applicants as they can. If you submit your application after the deadline yours will be one of those denied. If the deadline is 4:00 pm any online or paper applications submitted at 4:01 pm will be denied. To avoid missing the deadline plan to submit your application as early as possible.
What happens after submitting your Section 8 Application?
In this section, we'll talk about what happens once you submit your application.
Your Section 8 Application is Processed
It can take between 2 weeks or even 2 months for a housing authority to process your application. If you applied for Section 8 in a large city like Houston, you'll be looking at long wait times. The reason is larger cities have demands that exceed the availability of housing.
Note: Smaller cities or rural areas tend to have less people applying. This means your wait for a response is shorter. Double Note: Online applications are processed faster than paper applications.
You are notified of your Section 8 Waitlist status
If you are placed on a waitlist the housing authority will inform you with either a letter or email. Once you are placed on the waitlist keep track of the office you applied at, as well as your login credentials and confirmation number. You will need this information to check the status of your position on the waitlist.
What if you were NOT contacted by the Housing Authority?
If you were not contacted by the housing authority you probably were not placed on the waitlist. To be certain of this you can call the housing authority where you applied. Mistakes do happen. If you called the housing authority and were informed that you were not placed on a waitlist it could be due to a number of reasons.
Your number may not have been selected in a lottery.

You may have applied too late.

Your income or criminal history could have disqualified you.
These are all potential reasons that you were not placed on the waitlist. For those who miss the waitlist the housing authority is required to provide you with a reason why you did not make the list. You also have the right to request a review if you feel like the ruling was incorrect.
How long will you be on Section 8 Waitlist?
As we stated earlier, your time on the waitlist depends on where you applied. If you applied in a large city your wait will likely be a long wait. If you applied in a rural area, you may get processed faster. Keep reading to learn two ways to gauge how long you will be on a waitlist.
How to determine the length of time you will be on the Section 8 Waitlist
There are two ways to determine how long you could be on a section 8 waitlist:
Call the housing authority where you applied.

Search for something call the Annual Plan.
We'll explain more in the next section.
Call the Housing Authority
The easiest way to estimate how long you will be on a Section 8 waitlist is to call the housing authority where you applied. Ask the housing authority representative about your estimated wait time.
Search for the Annual Plan
If the representative could not answer your question you'll have to do research to uncover the answer. Start by visiting the housing authority's website that you applied at and searching for the Annual Plan. The Annual Plan is a document that provides information about the current number of households on the Section 8 waiting list and the office's turnover rate.
Editor's note: The turnover rate is the number of families that leave the Section 8 Program per year.
If you cannot find the Annual Plan on the housing authority's website another way to find this document is to try a Google search. I was able to locate the Houston Housing Authority's Annual Plan by typing the following: 2016 Annual Plan – Houston housing authority In your search, you simply need to replace the year and word Houston with the name of the county or city where you want to apply at. Once you find the Annual Plan If you found your housing authority's Annual Plan, dust off those math skills because now its time for some division! Below is a screenshot of the totals of Houston Housing Authority's waitlist and annual turnover.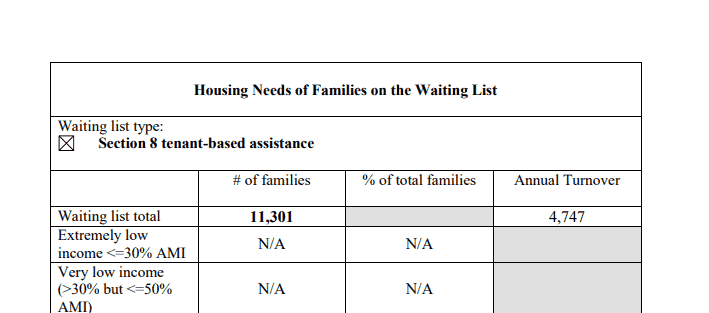 To estimate your stay on the waitlist you need to take the number of families on the waitlist which is 11,301 and divide this by the Annual Turnover which is 4,747.
Here is what you should type in your calculator:
11,301  ÷  4,747 = 2.38
This means you would be on the waitlist for approximately 2 years and 4 months.
Take your own housing authority's waitlist total and divide it by the Annual Turnover to learn how long your wait will be.
Waitlist Total ÷  Annual Turnover = Your stay on the waitlist
Keep in contact with your Housing Authority
Now that you've secured your spot on the waitlist its important that you keep in contact with your housing authority. Your housing authority could require that you stay in contact via online communication, phone, or office visits. Whichever method they choose to follow up when requested. Contact your housing authority if things change like contact information, income, or household members. Many housing authorities have clients make changes through online portals. Contact your office to learn how you are to make changes. There are times where a housing authority will send a notice to clients asking if they'd like to remain on the waitlist? If you receive a notice like this respond immediately. Housing authorities do this in an effort to shorten or "purge" the waitlist.
Attend your final In-Person Interview
Once you reach the top of the waitlist you'll have to visit the office you applied at for an in-person interview.  This interview is to ensure that you are who you say you are and eligible for the Section 8 Program. The housing authority will definitely require that you attend the interview. Some offices even ask that all household members be in attendance as well. If you are applying for Section 8 in another city or even state, be prepared to travel to that location, because again this is an in-person interview.
How to use your Section 8 Voucher
You made it! Two years and four months later you are FINALLY awarded Section 8! Now that you have your voucher you need to find a place to stay. Unlike public housing programs, the Section 8 Program will require YOU to find a place to stay. This means you will have to find a rental unit that accepts your Section 8 voucher.
Where can I find Section 8 Properties?
You can find Section 8 properties in two places:
The housing authority

The internet
We'll explain both next.
Find Section 8 Properties via the housing authority
If you need a listing of Section 8 properties you can contact your housing authority and they can provide you with a list to review. The housing authority will not recommend individual properties but they can provide guidance as to where you can go to find Section 8 apartments /homes.
Find Section 8 Houses And Apartments via the internet
If you are the independent type and prefer to search on your own below you will find links to properties that will accept your voucher. In the following links, you will find listings of both apartments and Section 8 houses. 
Houston Section 8 Properties 
US Section 8 Properties
Contacting Section 8 Properties 
Once you find a Section 8 property that you are interested in the next step is to call the property owner and ask if they "accept Section 8 or Housing Choice Vouchers".
Conclusion
Yes, the Section 8 program does take time to qualify for, but it is worth the effort if you are seeking affordable housing. The best advice I can give you if you need to get Section 8 fast is to apply outside of your own city. This is especially true if you live in a larger U.S. city (NYC, LA, Houston, Chicago, Dallas, etc) because that housing assistance waitlist is likely very long. Instead, apply for Section 8 programs in less populated cities and counties, because you are competing against fewer people.  To apply for a Section 8 program simply contact the housing authority in your city and they will be able to provide further instructions on how the process works.  Similar Articles That May Be Of Interest To You: 
Nick Bryant is the author of Understanding Healthcare Is Half The Battle and a Senior Counselor with 13+ years of experience working in community health and mental health. He enjoys spending time with his family, watching WWE on Friday nights, and working toward a Google Data Analytics certification. If you have additional questions about community resources or government assistance programs, simply leave a comment below and he will follow up as soon as possible.