Emergency Gold Card: How To Expedite Your Harris Health Application
---
If you have a medical need that simply cannot wait and you must see a doctor soon an emergency Gold Card may help your situation. 
The Gold Card is a form of health coverage offered by Harris Health System. This plan helps low-income families in Houston who are uninsured, between jobs or even homeless. 
In this article, I will explain how you can expedite your Harris Health application so that you are able to have your medical treatment covered by Gold Card. 
Editor's note: The Gold Card will only cover medical services provided at Harris Health clinics and hospitals. It will not cover medical bills from Houston hospitals like Methodist, Memorial Hermann, St. Luke's, etc. 
Qualifications To Receive An Emergency Gold Card
In order to fast-track your Gold Card application you will need to meet one of the following eligibility requirements:
You were discharged from either Ben Taub or LBJ Hospital within the past 30 days and need a follow-up appointment with a Harris Health System doctor

Someone who has a surgery scheduled at a Harris Health hospital 

A patient that needs to schedule/reschedule a doctor's appointment or surgery. 

If you need prescriptions filled that a Harris Health medical staff member wrote
If any of the above fit your current situation then you could qualify for an emergency Gold Card. To confirm that you qualify you will need to call the Harris Health Eligibility line at 713.566.6509. 
Below is a listing of situations that will qualify you for an expedited Harris Health Gold Card.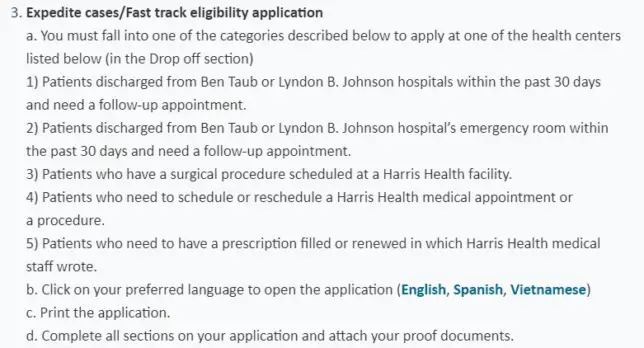 Applying For the Expedited Gold Card
To apply for an emergency Gold Card, you will need to visit one of the Gold Card eligibility centers. You can either print an application and take it with you or get an application from the eligibility center. 
You can obtain a Gold Card application by downloading it (English application, Spanish application) or by visiting one of 4 Harris Health eligibility centers listed below:
Acres Homes Clinic – 818 Ringold St, Houston, TX 77088
MLK Eligibility Center – 3550-A Swingle Road, Houston, TX 77047
El Franco Lee Clinic – 8901 Boone Road, Houston, TX 77099
Strawberry Clinic – 927 Shaw Ave, Pasadena, TX 77506
You will need to deliver your expedited Gold Card application to one of the Harris Health eligibility centers above. These centers are typically open Monday through Friday with varying hours for each location. 
When delivering your documents be sure to let them know at the eligibility center that you are submitting your Gold Card application and requesting that they "fast track" that application because you have an emergency medical need. 
Additional Documents Needed to Apply for Gold Card 
In addition to completing the application, you need need to supply supporting Harris Health documents like your ID, proof of address, proof of income, children's birth certificates, citizenship paperwork, and proof of any health coverage you already have.  
If You Have a Medical Emergency…
You should contact 911 or visit your local emergency room right away. 
If you visit a private hospital like Methodist, Memorial Hermann, St. Luke's, etc, they will probably not help you apply for Gold Card. Harris Health hospitals on the other hand may help you apply.  Ben Taub and LBJ are both in the Harris Health System network therefore you will likely receive help applying for the Gold Card if you are admitted to one of the hospitals and need a procedure performed. 
Find More Gold Card-Related Resources
Use the search box below to find more resources related to the Harris Health Gold Card.
Type the following terms to find more resources related to Gold Card coverage: 
Gold Card

Renew Gold Card

Harris Health Eligibility Centers

Harris Health System

Ben Taub
Conclusion
 Essentially the emergency Gold Card is available to individuals who need to apply for Harris Health System coverage and:
Were recently discharged from a Harris Health hospital and need a follow-up appointment with a Harris Health doctor

Individuals who have a surgery scheduled at Ben Taub or LBJ hospital
Patients who need a prescription filled that was written by a Harris Health medical staff member
These are not the only situations that will qualify you for an expedited Gold Card. You can find a complete list of qualifying events on the Harris Health patient eligibility webpage. 
To ensure that you qualify, review the listing above and also contact the Harris Health eligibility line at 713.566.6509 to learn more about the emergency Gold Card. 
Similar Articles That May Interest You: 
Nick Bryant is the author of Understanding Healthcare Is Half The Battle and a Senior Counselor with 13+ years of experience working in community health and mental health. He enjoys spending time with his family, watching WWE on Friday nights, and working toward a Google Data Analytics certification. If you have additional questions about community resources or government assistance programs, simply leave a comment below and he will follow up as soon as possible.