Harris Health Eligibility Calculator:  How To Determine If You Qualify For A Gold Card Discount Plan
---
Are you wondering how much medical care will cost at Gold Card clinics in Harris County?
In this guide, I will show you how to use a free tool called the Harris Health Calculator to help you estimate how much services could cost if you were to visit a Harris Health System hospital or clinic.
What Is The Harris Health Eligibility Calculator?
This is a tool that is found on the Harris Health System website that provides an estimate of how much services could cost you. The plan helps you to better understand which Harris Health System Discount Plan you may qualify for.
After you answer 4 simple questions the Gold Card eligibility calculator will provide you with a summary of costs like the picture below.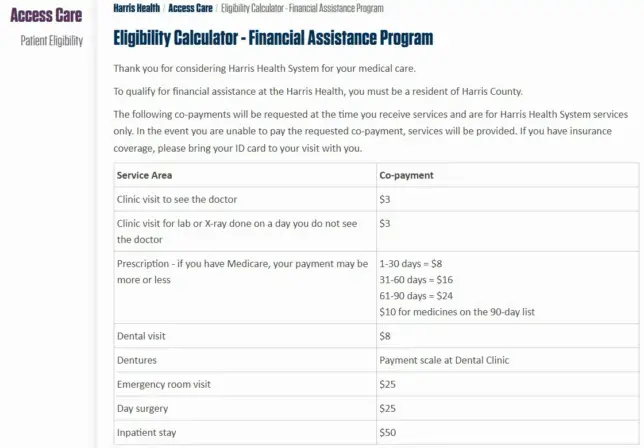 General Qualifications To Receive Discounted Medical Care Through Harris Health
These include:
Living in Harris County

Having a low income that is not above 150% of the Federal Poverty Level

You have no other medical insurance
You can learn more about qualifications for the Gold Card in this guide about Harris Health qualifications or by calling their eligibility center at 713.566.6509.
What Information Is Needed To Use The Eligibility Calculator?
The Harris Health Eligibility Calculator asks you the following questions:
What county do you live in?

Do you have Medicare?

The number of people in your household?

What is your gross monthly household income?
Once the calculator has gathered all this data it can then estimate what Gold Card eligibility is for you or someone in your family.
Editor's Note: You must live in Harris County to receive a discount at a Gold Card clinic. If you live in another county, comment at the bottom of this article and I will let you know about the "Gold Card" type clinics in your county.
Conclusion
Knowing your eligibility for services before you visit a clinic allows you to make an informed decision about whether it's worth it to go there or not.
If you would like to visit a Houston Gold Card clinic, but want to better understand how much treatment costs through Harris Health System, then visit their website and use the eligibility calculator to get an idea of what you might pay. You can also call the Harris Health eligibility call center's phone number at 713.566.6509.
Similar Articles That May Interest You:
Nick Bryant is the author of Understanding Healthcare Is Half The Battle and a Senior Counselor with 13+ years of experience working in community health and mental health. He enjoys spending time with his family, watching WWE on Friday nights, and working toward a Google Data Analytics certification. If you have additional questions about community resources or government assistance programs, simply leave a comment below and he will follow up as soon as possible.