Harris Health Eligibility Centers: Clinics To Help You Complete Your Gold Card Application
---
In this guide, I will show you where to find Harris Health eligibility Centers in Houston to help you apply for the gold card.
Harris health Eligibility Centers are the gateway to receiving low-cost health care through the Harris Health System. These locations can help you to better understand the documents that are needed to apply for Gold Card and also help you complete the application.
I'm Nick Bryant, founder of Houstoncasemanagers.com, where we help professionals and citizens navigate healthcare services in Houston by connecting you to places like these eligibility centers.
 Today I will explain how the eligibility centers work and even show you where you can find Harris health eligibility centers near you. 
What Is The Harris Health System?
Harris Health System is a safety net program in Harris County, Texas that provides Affordable Health Care to low-income families and people who are uninsured.
Harris Health provides a local health coverage called the gold card or Harris Health financial assistance plan that is accepted at all Harris Health System clinics. 
Who Qualifies For The Harris Health System? 
Harris Health System primarily serves low-income families in Houston. To receive a discount on services at Harris Health clinics your household income must not exceed 150% of the Federal Poverty Level. 
You can still be seen at Harris Health System if you have private insurance because they accept coverages like Medicaid, Medicare, or employer health insurance plans. 
How Do I Apply For Harris Health System Insurance Coverage? 
To receive treatment at a Harris Health System Clinic you will need to apply for the Gold Card. You can do this by printing an application and mailing it to the Harris Health System. Another way to apply is by visiting one of the Harris Health eligibility centers.  For step-by-step instructions on applying for the Gold Card see our guide titled How To Apply For Harris Health Gold Card. 
Editor's Note: Use the following links to download a Harris Health application in: English, Spanish, Vietnamese. 
Harris Health Eligibility Center Locations 
There are four Harris Health Eligibility Centers located in the Houston area. No matter where you live in Harris County you will find an eligibility center that is located within 5 miles of your home.
Below you will find the list of four Harris health eligibility centers that can help you apply for a Gold Card. You can reach any of these clinics by dialing the Harris Health eligibility line at 713.566.6509. 
Acres Home Harris Health eligibility center
This Northwest Houston eligibility center is located in the Acres Homes neighborhood. The address for this center is 818 Ringold St., Houston, TX 77088. 
The Acres Homes clinic business hours are: 
Monday-Friday, 7 a.m.-4 p.m.

Fourth Thursday of every month, open 7 a.m.-11 a.m.
Martin Luther King Health Center
This Sunnyside clinic is located in SE Houston, just off Cullen Blvd. The address is 3550-A Swingle Road, Houston, TX 77047. 
This clinic on MLK has business hours of: 
Monday-Friday, 7 a.m.-4 p.m.

Fourth Thursday of the month, open 7 a.m.-noon
El Franco Lee Health Center
El Franco Lee is an SW Houston eligibility center that is located at 8901 Boone Road, Houston, TX 77099. 
The business hours for El Franco Lee clinic are: 
Monday-Friday, 8 a.m.-5 p.m.

Second Wednesday of the month, open 8 a.m.-noon
Strawberry Health Center
Strawberry Clinic in Pasadena TX is located at 927 Shaw Ave, Pasadena, TX 77506. 
The business hours at the affordable medical clinic are Pasadena, Texas is: 
Monday-Friday, 7:30 a.m.-5 p.m.

Third Wednesday of every month, open 7:30 a.m.-11 a.m.
These sites also serve as drop-off locations for your Gold Card application and the supporting documents. You can find a list of all the documents needed in the following section. 
Documents Needed At The Eligibility Center
To apply for a Gold Card at a Harris Health Eligibility Center you will need to provide the following documents: 
Harris Health Application (also referred to as Gold Card application)

English

,

Spanish

,

Vietnamese

.

Proof of ID

Proof of Address (must live in Harris County) 

Income statements

Documents proving your relation to your children. A birth certificate is the most common document for this requirement. 

Your immigration status. 

Documents related to any additional health coverage you have like Medicaid, Medicare, CHIP, etc. 
To see the specific documents that are accepted visit the Harris Health Patient Eligibility page. 
Harris Health Eligibility Calculator 
The Harris Health Gold Card provides affordable medical care to low-income families in Houston. The cost of healthcare is determined by factors like your household monthly income and your household size.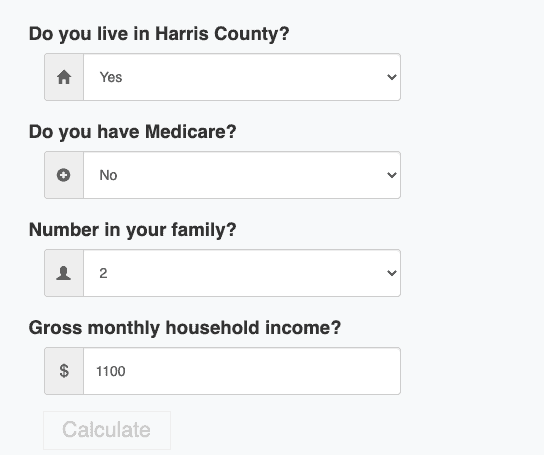 Harris Health has a useful tool called the Eligibility Calculator that you can use to see how much you might pay for your copays, clinic visits, prescriptions, and more. 
Emergency Gold Card 
In some cases, Harris Health System will expedite your Gold Card application. Typically this happens if you need healthcare services like surgery or you were discharged from a Harris Health hospital and need a follow-up visit. 
Harris Health Eligibility Centers can help you understand if you qualify for an emergency Gold Card and even take steps to apply. To learn more about this emergency insurance coverage in Houston, see our guide titled Emergency Gold Card: How To Get Your Harris Health Application Expedited. 
Conclusion 
The Harris Health Eligibility Centers play an essential role in the Gold Card application process. To apply for this low-income insurance plan in Houston you will need to go through an eligibility center whether you are dropping your Harris Health application off or you are making a face-to-face visit to receive help applying for coverage. 
If you have more questions about the process you can visit the Harris Health Patient Eligibility page or call their eligibility line at 713.566.6509. 
Similar Articles That May Be Of Interest To You: 
Nick Bryant is the author of Understanding Healthcare Is Half The Battle and a Senior Counselor with 13+ years of experience working in community health and mental health. He enjoys spending time with his family, watching WWE on Friday nights, and working toward a Google Data Analytics certification. If you have additional questions about community resources or government assistance programs, simply leave a comment below and he will follow up as soon as possible.