7 Ways To Get A Flexible Job As A Single Mom
---
In this community resource guide, you will learn 6 ways to get a job as a single mother. As a single mom, it often means that you have to take on the majority of the parenting responsibilities. May even 100% of those duties… With your full-time job as a mom, it can be difficult to find work schedules to fit your needs. The good news is that there are plenty of opportunities for employment for single mothers out there. You just have to know where to look and be willing to get a little creative with your work schedule. Keep reading to learn about ways to produce income while also being a full-time mom.
1.) See If You Qualify For Unemployment
If you were recently laid off from your job, you may be able to get unemployment benefits. While these benefits will not last forever, they can keep you afloat while you look for a new job. In general, qualifications to receive unemployment benefits are:
You must have worked for your employer for a certain period of time

Lost your job through no fault of your own

Mst be able and willing to work

You are actively looking for a job
To apply for unemployment, you will need to contact the Workforce Commission in your state. You can find a listing of those agencies here.
Editor's Note: Your local Workforce Commission not only manages the unemployment program in your state but also can connect you to full-time employment. When searching through your Workforce Commission website also look for employment opportunities, job training programs, and other work released resources because they are all there.
2.) Contact Staffing Agencies
Staffing agencies are great sources for single mothers. They can assist you to find work however, they also do the majority of the work. Your time is precious, so why not let a staffing agency find a job that fits your schedule. A staffing agency will help you save time by reviewing your resume, searching for jobs, and linking you with companies that are hiring. Let them know about your availability and temp agencies can help connect you to a job that will accommodate your needs. The easiest way to find staffing agencies in your city is to do a quick Google search for "staffing agencies in (your city)".
3.) UpShift
This site connects you to employers looking for part-time or full-time employees. One of the most appealing aspects of UpWork is that it allows users to pick their own hours. It's possible that you don't have a set schedule as a single mom, which is why UpWork gives you the option to work evenings, nights, or even just on weekends. Some of the jobs UpShift will connect you with include:
Admin jobs

Customer Service

Data entry

Housekeepers

Bartenders

Warehouse workers
If you are looking for a job that can be scheduled around your family's schedule, go to upshift.com to create an account.
4.) Remote Jobs
At-home jobs enable you to stay at home with your children while earning money for food items and other necessities. With a laptop or computer, smartphone, internet connection, and a good personality, you can get started working in a remote job. Flexjobs is one of the best websites to find work-from-home jobs. For more ways to find remote work as a single mom see these 3 excellent websites to look for work-from-home positions.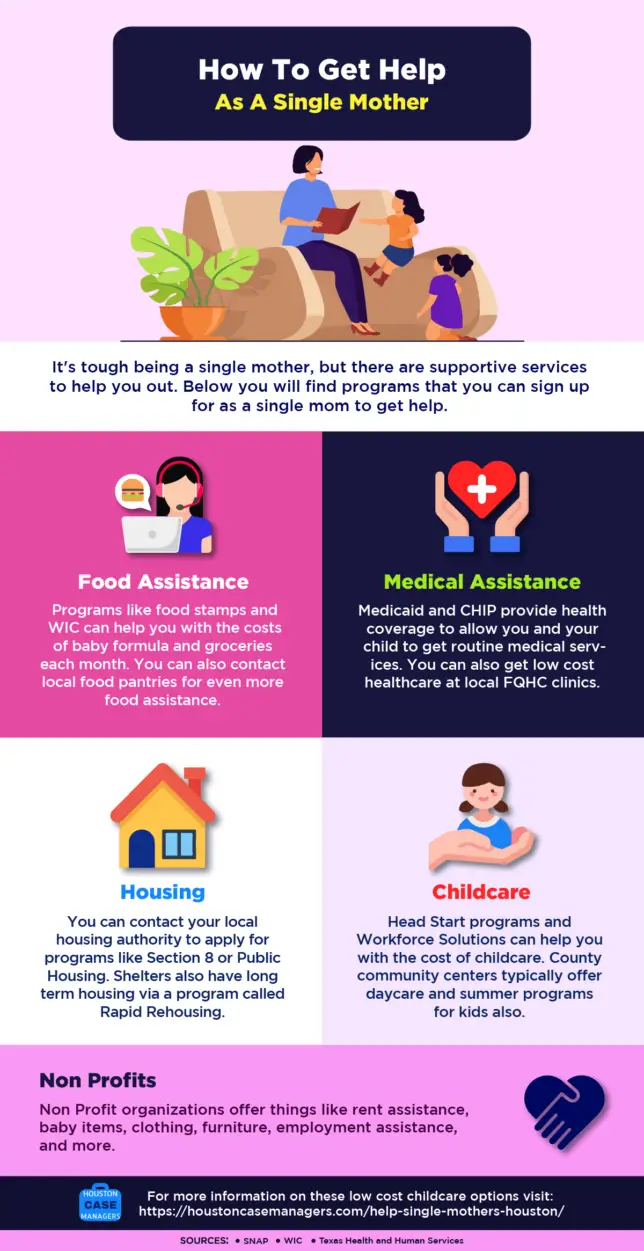 5.) Indeed
Indeed is the biggest job board online and is an excellent resource for single moms to locate work. You can search for part-time, full-time, and remote jobs in your area or across the globe. To get started, go to indeed.com, enter your profession in the search bar, and select "part-time" or "remote" under job type. You can also get more specific by selecting a location or salary range. To get started, all you need to do is create an account and upload your resume. You can also sign up for job alerts so that you're notified when a new job that meets your criteria is posted.
6.) Network
One of the best ways to get a job is through networking. When you network you are connecting with people who may have connections to make finding work easier for you. You never know when someone you know knows someone who is hiring. It's important to cast a wide net when it comes to networking so that you increase your chances of hearing about job openings. Some ideas for networking include:
Attending job fairs

Meeting people through professional organizations

Asking friends and family if they know of any openings

Reaching out to former co-workers

Connecting with people on LinkedIn

Make public posts on Facebook and the Nextdoor App
7.) Start Your Own Business
If all else fails and you cannot find a job to fit your schedule as a mother, you could always start your own business. This option will give you the most control over your schedule. Businesses that a single mom could start include:
Pet sitting

Create A Youtube Channel

Etsy shop
The sky is the limit when it comes to starting your own business. You get to be in charge of your hours, how much you get paid, and what type of work you do. If you are feeling creative and entrepreneurial, this could be the best option for you.
Government Programs That Help Single Mothers
Some programs that can help get you if you are between jobs include:
SNAP – The Supplemental Nutrition Assistance Program helps with food costs.
WIC – The Women, Infants, and Children program provide healthy food for pregnant women and young children.
TANF – The Temporary Assistance for Needy Families program provides cash assistance to families in need.
Medicaid – This program provides health insurance for low-income individuals and families.
Food Pantries – Local food pantries can help with groceries if you are struggling to make ends meet.
To apply for any of the programs above it's best to contact your local health department. They will let you know what paperwork and personal information are needed to apply for these programs. You can find your state's social service program by visiting USA.gov and finding your state in the drop-down menu.
Conclusion
If you want to get a job as a single mom, don't get discouraged. With a little bit of effort, you can find plenty of opportunities to work from home or get a job with flexible hours. Utilize the tips above and you'll be sure to find a position that works for you and your family. Similar Articles That May Interest You:
Nick Bryant is the author of Understanding Healthcare Is Half The Battle and a Senior Counselor with 13+ years of experience working in community health and mental health. He enjoys spending time with his family, watching WWE on Friday nights, and working toward a Google Data Analytics certification. If you have additional questions about community resources or government assistance programs, simply leave a comment below and he will follow up as soon as possible.