Texas Food Stamps App: How To Download And Use The SNAP App
---
In this community resource guide, you will learn about the Texas food stamp app.
Whether you are considering applying for Texas SNAP benefits or you already have food stamps, this app is a tool that can make it a lot easier to apply or manage your current benefits. Consider the fact that hold times to speak with someone about Texas food stamps could be more than 45 minutes during the week!
Fortunately, there is a SNAP benefit app in Texas that you can use to speed up the food stamp application process, as well as check your account balance and report any changes in your circumstances that may affect your benefits.
Continue reading to learn more about how to download this app and the many uses it has for Texas SNAP beneficiaries.
What Is The Texas Food Stamps App?
This is a phone app created by the Texas Department of Health and Human Services Commission for use by food stamp recipients. The app is called Your Texas Benefits. This is also the same name as the website that you would visit to apply for Texas food stamps online.
In addition to helping you manage your Supplemental Nutrition Assistance Program benefits, the Your Texas Benefits app may also be used to manage your Medicaid, CHIP, or TANF benefits as well.
What Services Will The Your Texas Benefits App Help Me With?
You can use the food stamp app to do things like:
Applying for Texas SNAP food benefits online.

Manage and view your cases whenever you want, right from your phone. This helps you to avoid long hold times when calling Texas Health and Human Services.

Use the app to snap a photo and send documents needed like a copy of your pay stub.

Create and check alerts for your cases, such as when it's time to renew your benefits.

Report any changes to your case. This includes new phone numbers, addresses, or monthly income.

Find Texas food stamp offices near you.

Check your monthly balance of food stamps.
How Do I Download The Texas SNAP Benefits App?
The app is available for both iPhone and Android phones. If you have an iPhone, you can find the app by searching for "Your Texas Benefits" in the App Store.
If you have an Android phone, open the Google Play Store and search for "Your Texas Benefits."
Once you find the app, click "Install" and then "Open" once it has finished downloading.
Providers (Alternative SNAP Benefits App)
Providers is another food stamp app that you can use to check your monthly food stamp balance, track your spending, find stores that accept EBT, and more. That app was formerly known as Fresh EBT, but changed its name and look to Providers.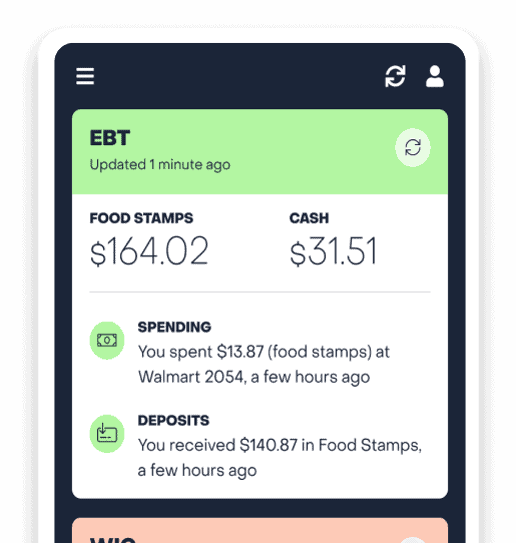 The difference between the Providers App and Your Texas Benefits is that Providers is mainly used for tracking your balance. You cannot apply for food stamps online with the Providers app. This app is not managed by Texas Health and Human Services, unlike that of Your Texas Benefits. If you want to apply for Texas food stamps online, you will need to do so with the Your Texas Benefits app.
If you are interested in the Providers app, you can download this food stamp app to your phone no matter if you have an Android or iPhone.
| | |
| --- | --- |
| Things The Providers App Can Do | Things The Providers App Cannot Do |
| Check your food stamp balance | Help you apply for benefits |
| Track your monthly spending | Renew your food stamps |
| Find stores near you that accept Texas EBT | Upload documents needed to apply or reapply for SNAP benefits |
| Track balances for other benefits programs like WIC, SSI, Child Tax Credit | Report changes to your case |
| Learn about other government assistance programs you may qualify for | Receive alerts related to renewing your food stamps |
Conclusion
The Your Texas Benefits app is a helpful tool for food stamp recipients in Texas. With the Texas food stamp app, you can avoid long phone hold times, apply for SNAP benefits, check your account balance, and even report changes that may affect your benefits.
To get started using this app, simply visit the Your Texas Benefits website to download it to your iPhone or Android phone.
Similar Articles That May Interest You: 
Nick Bryant is a Counselor with 11 years of experience working in community health. He enjoys concerts, walks with the doggo and wife, mocking Dallas Cowboy fans, and sharing community resources. Jump on the Houston Case Managers email list to receive weekly community resource guides delivered directly to your inbox.