How To Apply For New Hope Housing
---
In this guide, I will tell you about an affordable housing option in Houston that is best suited for single adults.  That option is New Hope Housing. 
New Hope Housing offers SROs (single room occupancies) to single adults who are seeking a place to live. In this article, I will provide you with all the information you need to apply for New Hope Housing. 
Here are a few key points that you will learn after reading this article:
Maps of all 8 New Hope Housing locations in Houston

How New Hope Housing got started

Eligibility information to ensure that you qualify for New Hope Housing

A simple step by step guide to placing your name on any New Hope Housing waitlist you desire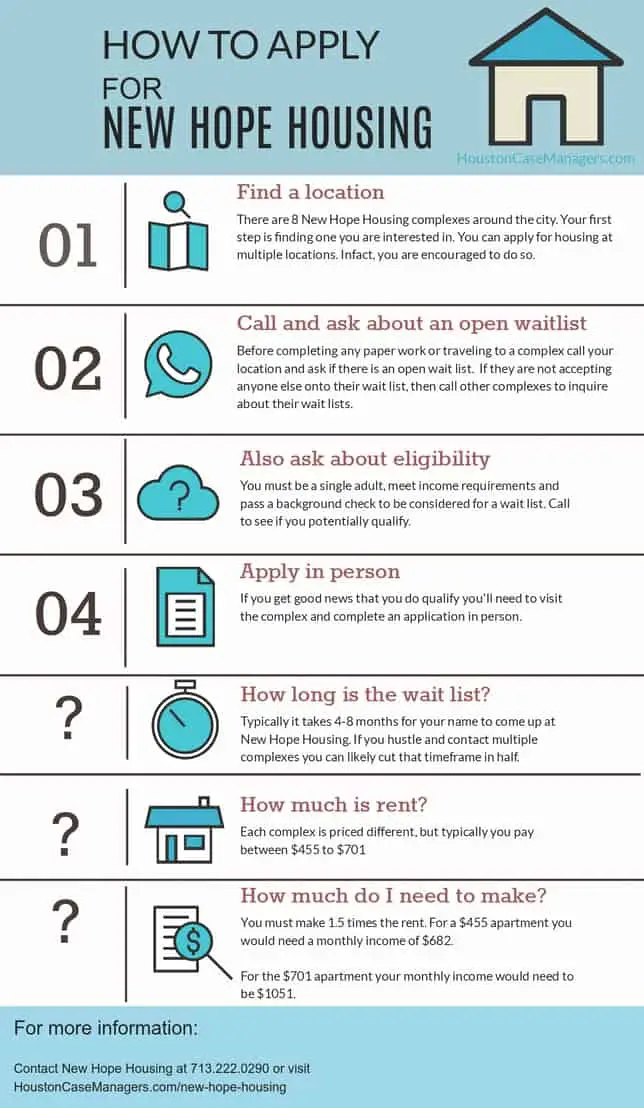 What Is New Hope Housing? 
New Hope Housing is the largest provider of SRO housing in the state of Texas. They provide affordable, permanent housing to individuals with low incomes.  Many of the New Hope Housing apartment complexes are for single adults only, however, there is one location in SE Houston that accepts families. 
Who Is Eligible For New Hope Housing? 
The eligibility requirements to stay in a New Hope SRO are the following: 
Must be a single adult only

Meet income requirements

Pass a background check
Here is more about each of those requirements. 
Single Adults Only 
Only single adults are eligible for this housing program. Service animals are allowed, but not regular pets at New Hope Housing.
Editor's note: The New Hope Housing complex at Reed Road accepts families into their facility. 
Income Requirements For New Hope Houston
The income requirements at New Hope vary at each location. At the time of this writing, rent ranges between $455 to $701.
As a general rule is to qualify for housing you must make about 1.5 times your rent. If this statement is true then you would need to have a monthly income of between $682 and $1051 to be eligible for New Hope Housing.
Here is how I came to those figures:
$455 x 1.5 = $682

$701 x 1.5 = $1051
These are just estimated to give you an idea of whether applying for New Hope is something feasible. To get up-to-date rates you will need to call the complex you are interested in applying to. I will provide you with New Hope locations to call later in this article.
Pass A Background Check
New Hope accepts individuals with criminal records, however, you will need to contact them for more details. 
How To Apply for New Hope Housing  
Now that you have a general idea of who is eligible for housing, this is how you apply. 
Select A New Hope Location

Call The Location To Learn About Availability

Apply In Person At That Location
1. Select A Location
First, you must find a complex that you are interested in. Each complex has a different waitlist. To reduce your wartime and increase the chances of you being accepted I suggest that you apply for housing at multiple sites.
2. Call The Location To Learn About Availability
Contact the location you are interested in and ask the following questions:
Is there a waitlist? One location may have a waitlist, while another may be ready to accept new residents.

What are the eligibility requirements? 
3. Apply For New Hope Housing In Person
There is no online application therefore you apply in person at the location of your choice. 
Once you've completed your paperwork the intake specialist can answer any questions about the cost of rent and how long you will be on their waitlist. I've spoken to intake workers in the past and the waits seem to be 4-8 months.
New Hope Housing Locations 
Currently, there are 9 different New Hope Housing complexes throughout Harris County. Each offers different amenities and individual waitlists so contact any apartment you are interested in to learn more about availability. 
Brays Crossing 
This complex was built in 2010, has 149 units, and is located just off the Gulf Freeway.
One thing that is good about this location is a 12-minute walk to Wal-Mart off 45 and S.Wayside. Just across from Wal-Mart is a clinic called St. Mary's that offers affordable medical care to individuals who are uninsured. 
Brays Crossing is located at 6311 Gulf Freeway Houston, TX 77023. Call them at 713.777.6311 for more information.
Canal Street Apartments
Canal Street apartments were built in 2005. This complex consists of 134 units and is located on Canal Street in Second Ward.  
You will find easy access to the Metro Bus here. The complex is minutes from downtown if you work there. This location is also close to low-cost clinics like Cas De Amigos and Legacy Clinic in 5th Ward.
Canal Street Apartments are located at 2821 Canal Street Houston, TX 77003. For more information call 713.224.2821.
Congress Street Apartments
Congress Street Apartments is located in downtown Houston near the corner of Congress and Austin. This complex was remodeled in 2010 and has 57 units.
This apartment buts you blocks away from Metro's Light Rail. If you have doctors in the medical center, transportation will be no issue. St. Luke's onsite Wellness Center also offers support services and a case manager to help you connect with community resources.
The complex is located at 1414 Congress Street, Houston, TX 77002. The phone number is 713.224.1414.
Perry Street Apartments
This complex is located in the Third Ward neighborhood off Cullen Blvd. The complex was constructed in 2012 and has 160 units.
Residents have access to the Metro Bus line, the Houston Texans YMCA, and the Harris Health's Dental Center is near by.
You can find Perry Street Apartments at 4415 Perry Street, Houston, TX 77021. Call them at 713.522.4415.
Rittenhouse Apartments
This complex is located off the North Freeway between Parker and Little York. It was built in 2013 and has 160 units.
This would be an ideal location if your doctor was at Acres Homes Health Center.  The Metro 44 bus travels to and from this complex.
The address to Rittenhouse Apartments is 577 W. Rittenhouse Rd, Houston, TX 77091. Call them at 713.692.0577.
Sakowitz Street Apartments
Sakowitz Apartments are located in the Fifth Ward/Denver Harbor neighborhood.  The complex was completed in 2010 and there are 166 units.
The complex is a 10-minute walk from retailers like Fiesta, Burt's Meat Market, and Legacy Clinic.
You will find Sakowitz Apartments at 2424 Sakowitz Street, Houston, TX 77020. For more information call them at 713.671.2424.
Harrisburg Street Apartments
This complex is located in the Second Ward neighborhood on Harrisburg and Sampson. This complex was built in 2018 and there are 175 units.
These apartments are literally 15 feet from a Metro Light Rail station. This gives you easy access to downtown, the Texas Medical Center, or low-cost clinics in Houston's East End like El Centro de Corazon. 
Harrisburg Apartments can be found at 3315 Harrisburg Blvd, Houston, TX  77003. Dial them at 832.971.6220.
Reed Road Apartments 
This low-cost apartment in Houston is located on the southeast side of town off of Highway 288. This complex has 187 apartment units. 
New Hope Reed Road accepts families with children. 
This apartment is located at 2605 Reed Road, Houston, TX 77051. The phone number to learn more about any waitlists is 713.733.2606. 
Dale Carnegie Apartments 
This is the newest New Hope Housing complex. It is located in SW Houston and has 170 apartment units. 
This low-cost Houston SRO accepts single adults. 
To learn more you can visit Dale Carnegie Apartments at 7025 Regency Square Blvd, Houston, TX 77036 or call them at 713.258.1959. 
Conclusion
Finding that perfect place to relax and gather your thoughts can take time.
The key to this is being both persistent and patient. If you can commit to routine follow-ups with New Hope Housing it's possible that you will find an affordable apartment in Houston within a year.
For more information, you can visit the New Hope Housing website or call them at 713.222.0290. 
Similar Articles That May Be Of Interest To You: 
Nick Bryant is the author of Understanding Healthcare Is Half The Battle and a Senior Counselor with 13+ years of experience working in community health and mental health. He enjoys spending time with his family, watching WWE on Friday nights, and working toward a Google Data Analytics certification. If you have additional questions about community resources or government assistance programs, simply leave a comment below and he will follow up as soon as possible.