How To Apply For New Hope Housing
---
If you've ever attended an Astros game and noticed the apartment complex outside of the Right Field gate you're familiar with today's topic.
If you've ever driven down the Gulf Freeway and noticed an artsy blue and green building (between Griggs and S. Wayside)  then you sir or maam are also familiar with today's topic.
What in the world am I nattering on about?
New Hope Housing, that's what. 
In this article I will provide you with all the information you need to apply for New Hope Housing. 
Here are a few key points that you will learn after reading this article:
Maps of all 8 New Hope Housing locations in Houston

How New Hope Housing got started

Eligibility information to ensure that you qualify for New Hope Housing

A simple step by step guide to placing your name on any New Hope Housing waitlist you desire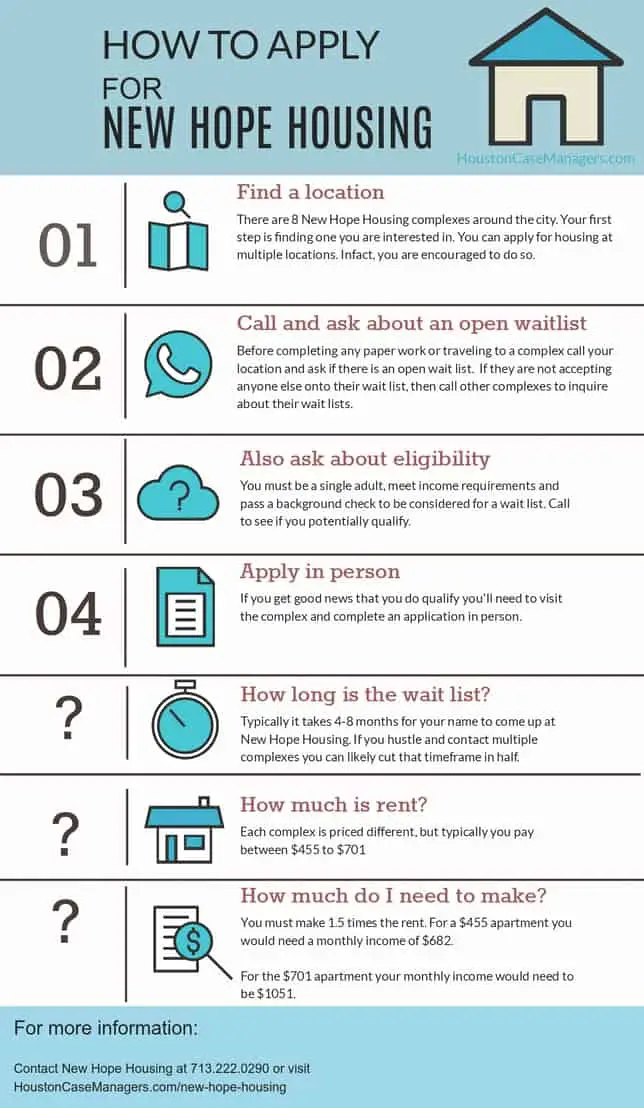 Before getting into the "how tos" of getting onto a waitlist I want to discuss why you should even apply for New Hope Housing.
Why you should apply for New Hope Housing ESPECIALLY if you are a single adult
New Hope Housing has shorter waitlists
When you think of housing in Houston, the first name that comes to mind is likely the Houston Housing Authority.
The Housing Authority has been around for 80 years, they have 26 complexs and people are generally more familiar with the name.
One thing that's probably also synanomous with the Housing Authority is long waitlists.
This is no fault of their own, because Houston is a large city with lots of families who need help.  
If you were to jump on a Houston Housing Authority waitlist this is an estimate of how long you could wait:  
18 to 24 months for families

12 to 18 months for seniors
One of the reasons Houston Housing Authority has a longer waitlist is because they house single adults, families and seniors.
New Hope Housing is different than Houston Housing Authority because they only accept single adults. Focusing on one population reduces the number of people eligible for their program, hence making their waitlist shorter. 
At Houton Housing Authority your wait will be 12-24 months. At New Hope Housing more like 4-8 months.
If you're ambitious and apply to every New Hope Housing complex, you can likely cut that 4-8 month wait in half.  I'll talk with you more about applying for housing later in this article. 
The point we want to make is if you are a single adult, you will likely find housing faster by going with New Hope.
New Hope Housing complexes are clean
In addition to potentially shorter waitlists, New Hope Housing complexes are all fairly new. The first complex broke ground in 2005.
As we stated earlier, if you've driven down I-45 you're familiar with New Hope Housing. Have you've ever seen the artsy blue/green building above? If so, thats a New Hope Housing complex called Brays Crossing.
Now that you know why you should consider New Hope Housing, I'll talk about how it was started and of course how you get your name on a waitlist.
What is New Hope Housing? 
New Hope Housing is the largest provider of SRO housing in the state of Texas. They provide affordable, permanent housing to individuals with low income.  
New Hope was created by the People of Christ Church Cathedral-Episcopal.
Before the days of light rails, Toyota Center or Critical Mass rides, downtown Houston was known for even more chronic homelessness than today.
Christ Church Cathedral stepped up big time and what began as a $1 for $1 contribution turned into the first 40 unit single room occupancy in Houston.
The rest is history. Now there are 8 New Hope Housing complexes throughout Houston.
Who is eligible for New Hope Housing?

 
Single Adults Only  
For starters only single adults are eligible for this housing program. Service animals are allowed, but not regular pets at New Hope Housing.
Most New Hope properties cannot accomodate families although the complex being built at 2605 Reed Rd will be the first.
Note: At the time of this article the Reed Rd complex is still accepting applications. If you have a family and are interested in New Hope Housing call them at 713.222.0290 and asked about placement on the "Reed Rd waitlist".
People who meet certain income requirements 
At each complex the rent is priced differently.
According to New Hope Housing rent is between $455 to $701.
As general rule is to qualify for housing you must make about 1.5 times your rent. If this statement is true then you would need to have a monthly income of between $682 and $1051 to be eligible for New Hope Housing.
Here is how I came to those figures:
$455 x 1.5 = $682

$701 x 1.5 = $1051
Note: This is where my math skills stop. Case managers you feel me right?  
These are just estimates to give you an idea whether applying for New Hope is something feasible. To get up to date rates call the complex you are interested in applying to.
I will provide you with both a listing of complexes and telephone numbers later in this article.
Pass background check  
New Hope will work with individuals with criminal records both misdameanors and felonies although there are some offenses that they do not accept.
How to apply for New Hope Housing

  
Now that you have a general idea of who is eligible for housing, lets talk about how you apply.
1. Find an apartment you like  
First you must find a complex that you are interested in.
Each complex has a different wait list. To reduce your waitime and increase the chances of you being accepted I suggest that you apply for housing at multiple sites.
Choosing the right place to stay is important. You have to consider bus routes, neighboring stores as well as quality of living.
I've been to every New Hope Housing complex and know each community well. In the next section I will provide you with a summary of neighborhood and amenities near you to help you make your decision.  
New Hope Housing Locations 
Brays Crossing 
This complex was built in 2010, has 149 unites and is located just off the Gulf Freeway.
One thing that is good about this location is a 12 minute walk to Wal-Mart off 45 and S.Wayside. Just across from Wal-Mart is a clinic called St. Mary's. Those who know me have heard me  brag about how wonderful St. Mary's Clinic is. St. Mary's is a good place to visit if you have no health insurance and need primary care.
Brays Crossing is located at 6311 Gulf Freeway Houston, TX 77023. Call them at 713.777.6311 for more information.
Canal Street Apartments
Canal Street apartments were built in 2005. This complex consists of 134 units and is located on Canal Street in Second Ward.  
You will find easy access to the Metro Bus here. The complex is minutes from downtown if you work there. This location is also close to medical homes like Cas De Amigos and Legacy Clinic in 5th Ward.
Canal Street Apartments are located at 2821 Canal Street Houston, TX 77003. For more information call 713.224.2821.
Congress Street Apartments
Congress Street Apartments is located in downtown Houston near the corner of Congress and Austin. This complex was remodeled in 2010 and has 57 units.
This apartment buts you blocks away from Metro's Light Rail. If you have doctors in the medical center transportation will be no issue. St. Luke's onsite Wellness Center also offers support services and a case manager to help you connect with community resources.
The complex is located at 1414 Congress Street, Houston, TX 77002. The phone number is 713.224.1414.
Perry Street Apartments
This complex is located in the Third Ward neighborhood off Cullen Blvd. The complex was constructed in 2012 and has 160 units.
Residents have access to the Metro Bus line, the Houston Texans YMCA and Harris Health's Dental Center is near by.
You can find Perry Street Apartments at 4415 Perry Street, Houston, TX 77021. Call them at 713.522.4415.
Rittenhouse Apartments
This complex is located off the North Freeway between Parker and Little York. It was built in 2013 and has 160 units.
This would be an idea location if your doctor was at Acres Homes Health Center.  The Metro 44 bus travels to and from this complex.
The address to Rittenhouse Apartments is 577 W. Rittenhouse Rd, Houston, TX 77091. Call them at 713.692.0577.
Sakowitz Street Apartments
Sakowitz Apartments are located in the Fifth Ward/Denver Harbor neighborhood.  The complex was completed in 2010 and there are 166 units.
The complex is a 10 minute walk from retailers like Fiesta and Burt's Meat Market. Burt's is so good, but I digress.
You will find Sakowitz Apartments at 2424 Sakowitz Street, Houston, TX 77020. For more information call them at 713.671.2424.
Harrisburg Street Apartments
This complex is located in the Second Ward neighborhood on Harrisburg and Sampson. This complex was built in 2018 and there are 175 units.
These apartments are literally 15 feet from a Metro Light Rail station. This gives you easy access to downtown Houston, the Medical Center or an occasional Astro's game at Minute Maid Park.
Harrisburg Apartments can be found at 3315 Harrisburg Blvd, Houston, TX  77003. Dial them at 832.971.6220.
In this seciton talk about the neighborhood each apartment is in and one thing you like about each complex.
2. Call the complex that you are interested in 
Contact the location you are interested and ask the following questions:
Ask if they have an open waitlist

Inquire about eligibility requirements
Ask about New Hope Housing 's Waitlist 
The first question you want to ask is if there is an open waitlist at the complex you are calling.
Remember each complex has a different waiting list. Canal Street apartments may have a 7 month waitlist while the Harrisburgh apartments is accepting tenants. You must call each complex to find out if their waitlist is open or not.
If the first complex you call has a closed waitlist, call your second, third, fourth options until you find one who does have a waitlist.
Once you reach a complex who has an open waitlist, your next questions should be regarding eligibility.
Make sure you are eligible for New Hope Housing 
Before investing any time viewing a complex or completing paperwork find out if you are even eligible.
New Hope Housing has 3 general rules for eligibility:
Be a single adult

Meet income requirements

Pass a background check
The intake coordinator will speak with you about each of these eligibility requirements and let you know if you are a good candidate for their complex.
If every thing checks out you will be invited to visit the property. During this visit you will to complete a New Hope Housing application.
3. Apply for New Hope Housing in person
Now that you've found a complex you like, that has an open waitlist and you meet eligibility requirements, you must complete an application.
There is no online application therefore you must travel to the New Hope Housing site of your choosing to complete paperwork.
Once you've completed your paperwork the intake specialist can answer any questions about the cost of rent and how long you will be on their waitlist. I've spoken to intake workers in the past and the waits seem to be 4-8 months.
Conclusion
Finding that perfect place to relax and gather your thoughts can take time.
The key to this is being both persistant and patient. If you can commit to routine follow ups with New Hope Housing its possible that you will find an apartment within a year.
Where many client's go wrong is they want housing departments to roll out the red carpet and give them a place to stay by the weekend. With at least 3,500 people who are homeless in Houston it just doesn't work that way.
If you're having a difficult time finding housing again be patient and persistent. It will pay off.
Before I go here is a link to stories about 5 New Hope Housing residents who turned their lives around despite addiction, unemployment, divorce and a series of other problems.
If they can turn their lives around so can you.
What are your biggest barriers to finding housing? Tell us about it in the comments section below.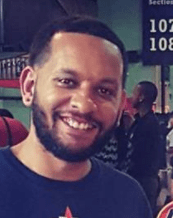 Nick Bryant is a Counselor with 11 years of experience working in community health. He enjoys concerts, walks with the doggo and wife, mocking Dallas Cowboy fans, and sharing community resources. Jump on the Houston Case Managers email list to receive weekly community resource guides delivered directly to your inbox.