19 Ways To Find Housing For Felons (In Any City)
---
In this community resource guide, you will learn about 19 ways to find housing in any U.S. city if you have a criminal record.
Finding adequate housing can be a difficult task especially if you have a criminal record. Landlords are sometimes more hesitant to rent to individuals with misdemeanors and felonies on their record. While this will make it hard to find felony-friendly apartments near you, it is not impossible. If you know where to search for landlords who are likely to work with you this makes the process much easier.
If you've become frustrated with your housing search continue reading to learn about 19 options for housing for anyone with a felony or misdemeanor on their record.
Finding Felony-Friendly Housing Near You
This article will offer you with some basic ideas for finding a place to live. It does not contain the names of specific organizations that you may contact since those choices are numerous in each city. You will however get a solid idea of how to find felony housing by reading this resource guide.
Each tip will offer additional information, but, generally speaking, if you're looking for housing for people with criminal records in your city, consider starting your search by talking to talking to people who work in housing authorities, ReEntry programs, your probation officer, and rooming houses.
1.) 2nd Chance Apartment Finders
Apartment hunting is hard enough, but if you have a criminal record, it can feel impossible. Many landlords run background checks and refuse to rent to anyone with a felony on their record.
However, there are resources available to help people with criminal records find felony-friendly apartments. Second chance apartment finders are businesses that specialize in helping people with criminal records find housing.
They typically charge a fee (equal to 3 times the monthly rent) and will use their relationships with landlords to help you find an apartment that meets your needs.
If you're struggling to find housing because of your criminal record, consider using a 2nd chance apartment finder. They are located in most major cities and you can find them by simply Googling "2nd chance apartment locators" in your city.
2.) Pay A Larger Deposit
If you're finding it difficult to rent an apartment because of your criminal record, there's a workaround that might help you secure a place to live. You can try offering to pay a larger deposit than what's typically required.
Most landlords require a security deposit equal to one month's rent, but if you offer to pay two or three times that amount, it may entice the landlord to look past your criminal record and rent to you.
Of course, this approach won't work in every situation, but it's worth a try if you're having trouble finding an apartment that's willing to overlook your criminal history. Money talks, so try to offer more than the required deposit and this might help you get an apartment.
3.) Search Craigslist For Felony-Friendly Housing
Craigslist is a great resource for finding an apartment to rent, especially if you have a felony on your record. Private landlords are usually more willing to work with felons than property management groups, and Craigslist is loaded with them.
Landlords who list their properties on Craigslist are less likely to require a background check when compared to apartment complexes. On Craigslist, money talks. You can often negotiate a lower rental rate with a private landlord by offering to pay a higher deposit or sign a longer lease. So if you're looking for an apartment and have a felony on your record, consider searching the Craigslist housing section.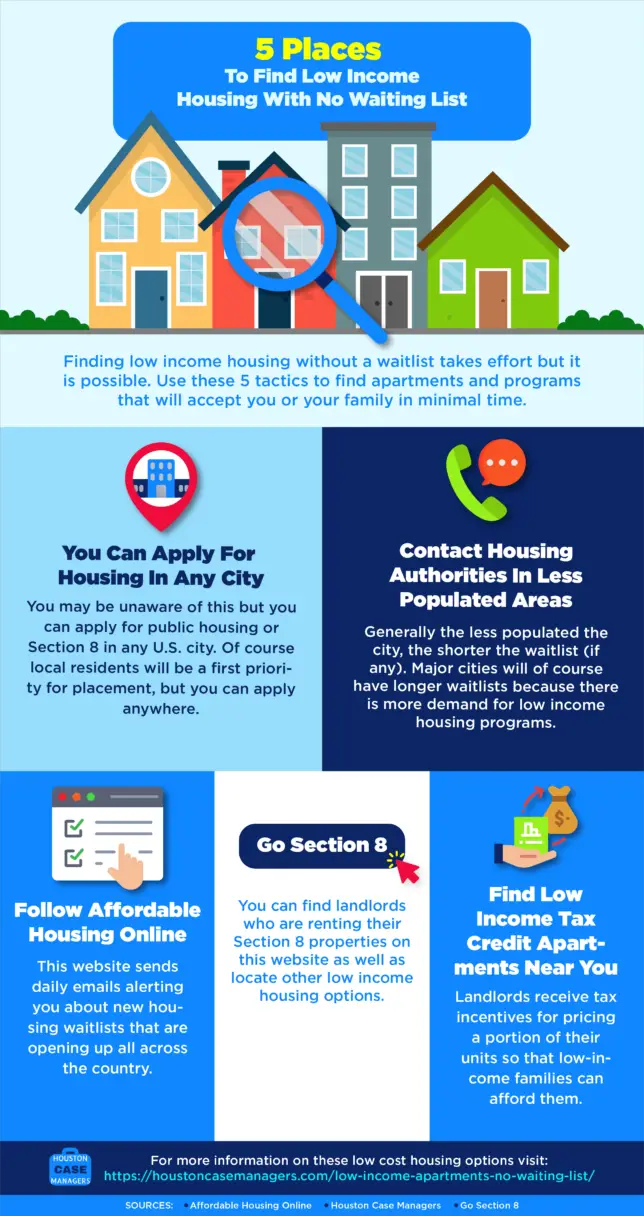 4.) Rooming Houses
Room and Boarding Houses offer an amazing opportunity for those with a criminal record.
Rooming Houses are cheaper than traditional apartments and don't require a security deposit. Additionally, rooming houses typically don't do background checks. This makes rooming houses the perfect option for those with a criminal record who are having difficulty finding housing.
If you're looking for an affordable place to live, room and boarding houses are a great option. You can find rooming houses in most major cities, and they typically cost between $150 and $200 per week.
Rooming houses offer private rooms, shared bathrooms, and shared kitchens.
5.) Buy A House (No Background Check)
You can buy a house even if you have a felony on your record. Lenders only care about your ability to pay back a loan, therefore they DO NOT run a criminal background check on you when are purchasing a home.
The three main factors when considering purchasing a home are:
Having money for an even down payment

An acceptable credit score,

And getting pre-approved for the mortgage
If you have concerns about buying a house with a felony, speak to a real estate agent or lender to discuss your options.
6.) Transitional Housing
Transitional housing can be a great option for felons who are looking for a place to stay. Transitional housing is a type of housing that helps people transition from one stage of life to another. It can be used to help people transition from prison to the community, or from homelessness to stable housing.
Supportive housing that aids in the fight against homelessness is known as transitional housing. Transitional housing is usually for a limited length of time. Stays can range from two weeks to twenty-four months.
Transitional housing is a type of housing that provides assistance to people who have experienced a crisis, such as homelessness, substance abuse, or domestic violence.
Transitional housing can also provide support and services like job training and counseling.
To find transitional housing near you, try Googling "transitional housing + your city." You can also use the Transitional Housing website to find local sober housing options.
7.) ReEntry Programs
Reentry programs help those coming out of jail or prison by providing them with information and resources related to housing.
Reentry programs typically have connections to felony-friendly apartments, which can be a great help for those trying to turn their life around after being incarcerated.
Many reentry programs are run by local health departments, non-profits, or county jail departments.
Reentry programs can provide much-needed support and guidance during this difficult time. If you or someone you know is coming out of jail or prison, don't hesitate to reach out to a reentry program for help with housing and other resources.
8.) HIV Housing Programs
If you have HIV/AIDS, you may be eligible for housing assistance through the Housing Opportunities for Persons with AIDS (HOPWA) program. This program provides funding to nonprofit organizations that help people with HIV/AIDS find and maintain housing. HOPWA housing can be either short-term or long-term and can provide rent assistance or help you find permanent housing. To learn more about HOPWA housing, contact a nonprofit in your city that works with HIV/AIDS patients. They will be able to tell you if you qualify for this program and how to apply for benefits.
9.) Homeless Shelters
Homeless shelters can provide a vital lifeline for people who have been convicted of felonies. They offer a safe and secure place to stay while you get back on your feet, and they also have connections to local housing programs that can help you find permanent housing.
People in homeless shelters are a high priority for housing programs, so if you're staying in a shelter, you're already at an advantage. In addition, homeless shelters often have other programs to help you get back on your feet, such as job training and financial counseling.
If you're struggling after a felony conviction, homeless shelters can provide the support you need to get started again. You can visit Homeless Shelter Directory to find facilities near you.
10.) Get Help From Your Church
Many churches offer ministries that can potentially help with housing for ex-felons. If you are currently struggling with housing, speak to someone in leadership at your church. This person may be able to connect you to a special ministry that can help you, or someone else in the congregation, with a room or garage house to rent. You will never know until you ask.
If you do not have a church home, consider contacting one of the many assistance ministries in your area. These nonprofits typically serve a particular area of town, so they may be able to offer you leads on housing for ex-offenders in your city. By networking with people in your church, you can find the help you need for housing as an ex-felon.
11.) Contact Your Local Housing Authority To Learn About Housing Options For Felons
If you have a criminal record, you may still be eligible to receive a Section 8 voucher. Vouchers are awarded on a case-by-case basis, and your criminal history will be taken into account. However, it is important to contact your local housing authority to learn about felony-friendly apartments in your area.
Many landlords are willing to work with individuals with criminal records, but they may not advertise their units as being available to those with felonies. As a result, it is important to reach out and ask about Section 8 voucher options if you have a criminal record.
A criminal record can affect your Section 8 application in a few different ways.
If you were arrested, but there was never a conviction, you have a better shot of receiving a voucher than someone who was convicted.

Individuals with a violent or drug-related conviction will face a difficult time qualifying for a voucher.

As a general rule, the further in the past your arrest or conviction was the better chance you have of qualifying. Convictions within the past year will likely result in you being denied a voucher.
The best practice is to be truthful and contact local housing authorities to learn about felony-friendly apartments. With proper research, you should be able to find an apartment that meets your needs.
To find a housing authority near you, simply search "housing authority + your city" to learn more about Section or Public Housing programs that are willing to work with people with criminal records.
If you are interested in getting Section 8, read this guide we wrote that talks about one tip you can use to get housing benefits in less than 30 days. 
12.) SRO Apartments For Felons
SRO apartments, or single-room occupancy residences, are a type of housing specifically for single adults. Many SRO apartments are willing to rent to individuals with criminal records. This makes SRO apartments an excellent housing option for those seeking housing for felons.
SRO apartments are often located in urban areas, making them convenient for those who need to be close to public transportation or city amenities. SRO apartments typically have rent that is based on income, making them affordable for many people. If you are looking for housing as a felon, SRO apartments may be a good option for you.
13.) Live With Family Members (A Garage If Necessary)
If you have a felony on your record, it can be difficult to find housing. Many landlords are reluctant to rent to people with criminal records, and as a result, many people with felonies end up homeless.
One possible solution is to live with family members. This might include your parents, grandparents, siblings, or cousins. If you do choose this option, be sure to contribute to the household. If you cannot offer money for rent, find other ways to be useful. This might include doing yard work, cleaning the house, taking your niece or nephew to school, or some other helpful tasks You can live in a spare bedroom or garage. Whatever they offer be grateful and make the best of your situation.
Also, try to have an exit plan. Let your family member know how long you need to stay and what you are doing to establish self-sufficiency. By following these tips, you can make the most of your situation and eventually get back on your feet.
14.) Buy A Trailor House Or A Tiny House
If you have a criminal record, finding affordable housing for felons can be a challenge. Traditional apartments and houses often require a background check, which can disqualify people with a criminal record. However, there are other options available that are much more affordable.
Trailer houses, tiny houses, and campers provide an affordable way to have your own space without the high cost of the rent. Campers can be purchased for around $10,000, and tiny houses typically cost between $8,000 and $30,000. That's a fraction of the cost of a traditional house or apartment.
Plus, trailer houses and campers can be moved if you need to relocate for any reason. If you're looking for an affordable housing option and have a criminal record, a trailer house or tiny house may be the perfect solution for you if you are on a budget.
15.) Rent A Garage Apartment
You may be able to find garage apartments that accept felons by searching on Craiglist or other websites.
Some landlords may not run background checks, so it's worth inquiring about the policy before you apply. If you're faced with opposition due to your criminal record, try sweetening the deal by offering a higher deposit.
With a little bit of research and perseverance, you should be able to find a garage apartment that will welcome you despite your past.
16.) Talk To Your Probation Officer
If you're on probation and struggling to find housing, your probation officer may be able to help.
Many probation officers have connections to landlords who are willing to work with people with felonies on their records. This can be a great option if you're having trouble finding housing through other channels. Probation officers can also provide resources and advice on finding housing that meets your needs.
So if you're struggling to find suitable housing for felons, be sure to talk to your probation officer about your options.
17.) Jobs Where You Live Onsite
If you're looking for jobs that allow you to live on-site, there are a few options to consider. Many storage facilities, lumber yards, farms, and resorts offer on-site housing for employees, which can be a great perk if you're looking to save on rent or travel costs.
In addition, jobs that require you to be on call 24/7, such as security jobs, often provide on-site housing to ensure that employees can respond quickly to any needs that arise.
If you're interested in jobs that come with the perk of on-site housing, you can start by looking at websites like Indeed.com.
18.) Live At A Motel Or Extended Stay
Another option for finding housing if you have a criminal record is to live at a motel or extended stay hotel. While this isn't the most ideal situation, it can provide you with a safe place to live while you work on securing permanent housing.
Motels and extended stay hotels typically have weekly or monthly rates, which can make them more affordable than traditional apartments. Additionally, many motels and extended stay hotels offer basic amenities like kitchenettes and laundry facilities, which can make your stay more comfortable. I
If you're struggling to find housing because of your criminal record, live at a motel or extended stay hotel until you're able to secure permanent housing.
You can find the cheapest rates on motels by using the Google travel search.
19.) Live In A Van Or Box Truck If You Cannot Find Housing For Those With Criminal Records
Van life has become an increasingly popular option for people in this situation.
Living in a van or box truck gives you the freedom to move around as you please and doesn't require you to go through a background check. Of course, van life isn't for everyone. It can be difficult to find places to park overnight, and you may have to deal with bad weather and uncomfortable sleeping arrangements.
But if you're desperate for housing and can't find anything else, van life may be worth considering.
Conclusion
There are many different ways for felons to find housing, and the options vary depending on your city. You can try working with a 2nd chance apartment finder, talk to your probation officer about housing, find rooming houses, or buy a camper if you have the means. In this article, we've listed 19 different ways to find housing that accepts those with a criminal record, so there are plenty of ideas.
No matter what your situation is, there's likely a solution out there that will work for you. Keep looking until you find something that feels right, and don't be afraid to ask for help from friends or family members. With a little bit of effort, you should be able to secure housing that meets your needs and makes you feel safe.
Similar Articles That May Interest You:
Nick Bryant is a Counselor with 11 years of experience working in community health. He enjoys concerts, walks with the doggo and wife, mocking Dallas Cowboy fans, and sharing community resources. Jump on the Houston Case Managers email list to receive weekly community resource guides delivered directly to your inbox.